Cars
Rally WRC2: Skoda's new high-flyer
The competition usually lags behind. Skoda driver Andreas Mikkelsen is the reigning world champion in the WRC2 category and also European champion. Last season, the national champions drove the Fabia Rally2 in 21 countries from Argentina to Australia. Nevertheless, the Czech brand has shifted up a gear and just presented the next generation. "The new one is faster than the old one," Mikkelsen warns the competition.
Skoda has been the most successful brand in Rally2 for years. In this class, the rally cars are technically relatively close to the base model. The 1.6-liter turbo engine (around 290 hp) must come from a production engine. Retrofit all-wheel drive and sequential five-speed gearbox are freely available standard parts.
In the world championship, privately used Rally2 vehicles only play second fiddle to the Rally1 works cars (hybrid drive, over 500 hp). After all, there is a separate classification with world championship titles for drivers and teams (WRC2). But from the European championship down, Skoda Fabia, Hyundai i20, Ford Fiesta, Citroën C3 and VW Polo are the top class almost everywhere. Also in Germany.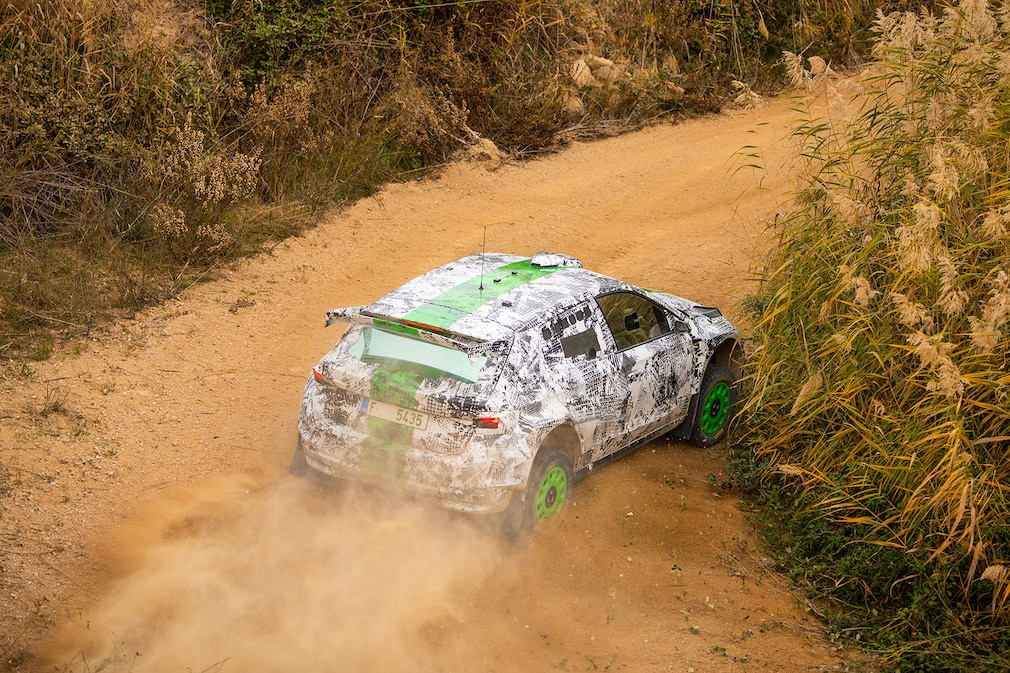 A lucrative business. Skoda has sold almost 470 Fabia Rally2s to customer teams all over the world since 2015 – at a unit price of well over 200,000 euros, depending on the equipment. The fact that an expensive new development was now necessary is due to the model policy of the brand. The production vehicle has been based on a new platform since 2021 (MQB-A0, like the VW Polo, for example). The racers had to follow suit.
The technicians took the opportunity to make numerous improvements to the racer now called the Fabia RS Rally2. The longer wheelbase (plus 94 millimeters) gives more leeway in weight distribution and should also bring advantages on fast routes and jumps. The outer sign of the optimized aerodynamics is the larger roof spoiler.
"The engine is completely new, now based on the TSI engine that Skoda uses in some RS models," adds chief engineer Aleš Rada. Mikkelsen confirms: "The new engine has more torque, I don't have to change gears as much." In addition, the four-cylinder has been specially adapted to the synthetic fuel that has been mandatory in the World Cup since this season.
It is unclear when the Skoda Fabia RS Rally2 will compete for the first time. The current disruptions in the supply chains are also causing problems with the procurement of parts in Mladá Boleslav. "We're aiming for the beginning of September," Motorsport Director Michal Hrabánek remains vague.
Then the Acropolis Rally in Greece is on the agenda. WRC2 champion Andreas Mikkelsen can hardly wait. His title defense has stalled after the last two failures.