Cars
Raymond Ayoub: From car shipper to classic car dealer
It's a bit like those dishwasher careers you know from America. When Raymond Ayoub came to Germany on July 29, 1997 at the age of 19, the Lebanese didn't speak a word of German. He wants to study, takes language courses – and also works as a car loader in the port of Hamburg to finance his life. Up on the ship, off the ship. "Cars, cranes, excavators. Anything with wheels," says Ray.
Back then, Germany was the promised land for him. His father has a car repair shop north of Beirut and repairs the numerous old Mercedes taxis that drive in Lebanon. Ray got behind the wheel himself at the age of 13, driving around the village in his father's white 1964 Chevy Impala. At 15 then to the beach. Occasionally also with the line eight of the family. "The war was just over and everything was a bit wild," says Ray today.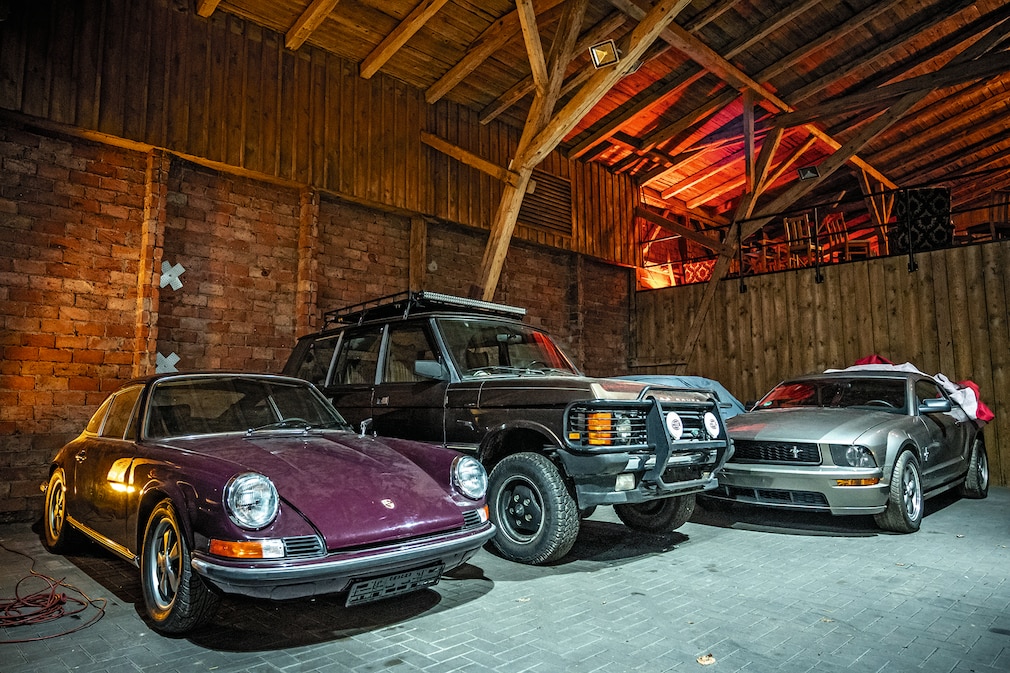 After graduating from high school, he trained as a car mechanic in Beirut – of course, at Mercedes. "I thought, then I'll go to Germany, learn something new – and come back at some point and open my own workshop, according to German standards."
It turns out differently. He stays in Hamburg, moves in 2013 outside the city gates to Welle in the North Heath. Rents a former VW car dealership, rebuilds everything. And now a dream is being fulfilled there – with the sale of unusual cars.
Ray personally travels to America to major auto auctions
Next door in the workshop is a Toyota Land Cruiser FJ45 pick-up that he imported from Dubai. Unbreakable and unrestored for just under 17,000 euros. A hall further on, his foreman is working on a blue Datsun 280Z. The Japanese is little known in this country. It was sold exclusively in the USA between 1975 and 1978, with a 2.8-liter straight-six under the long hood. Ray gets everything customers want.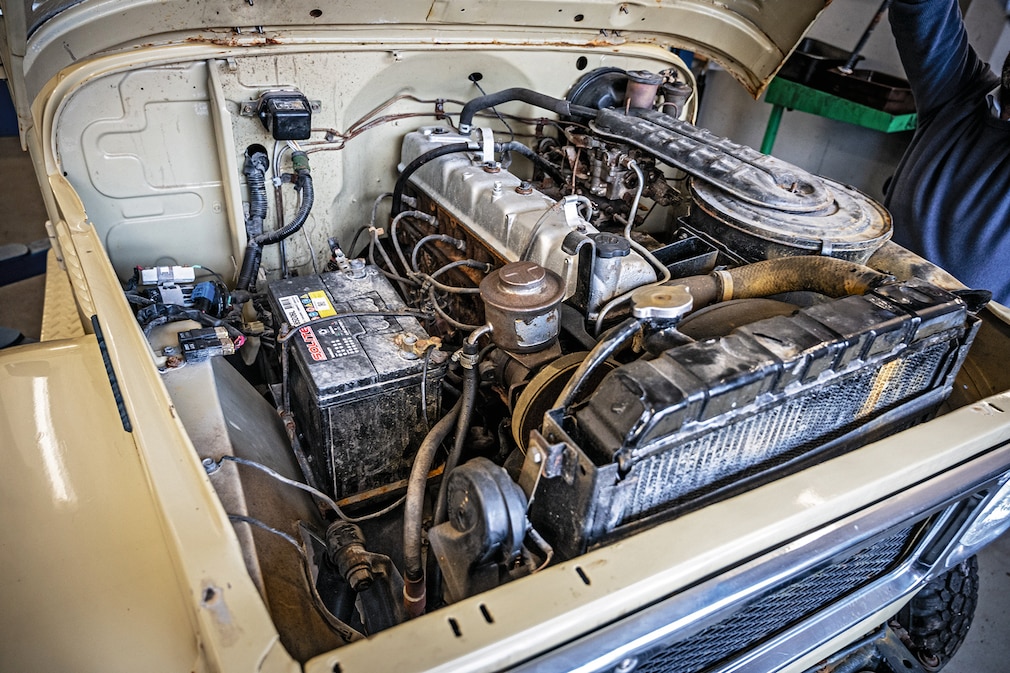 Because of his work in the port, he knows how to ship cars to Germany. And so Ray travels personally to the big car auctions in America. "I had no idea how this works," says Ray. At first he just watches, then he makes contacts, bids, buys goods, brings them to Hamburg and restores them. No US cars, but Japanese and European makes.
Porsche, VW and again and again Datsun.
"Then you sit there, drink two, three gin…"
The tickets for the big shows hang on his wall. It was in Scottsdale, Arizona, one of the most spectacular classic car auctions in the world (a Mercedes 300 SL Gullwing sold there for six million euros a few weeks ago, Ray didn't buy it…). He was in Fort Lauderdale, Florida and in Monterey, California. "You sit there and have two or three gins – and watch a Ferrari sell for $46 million."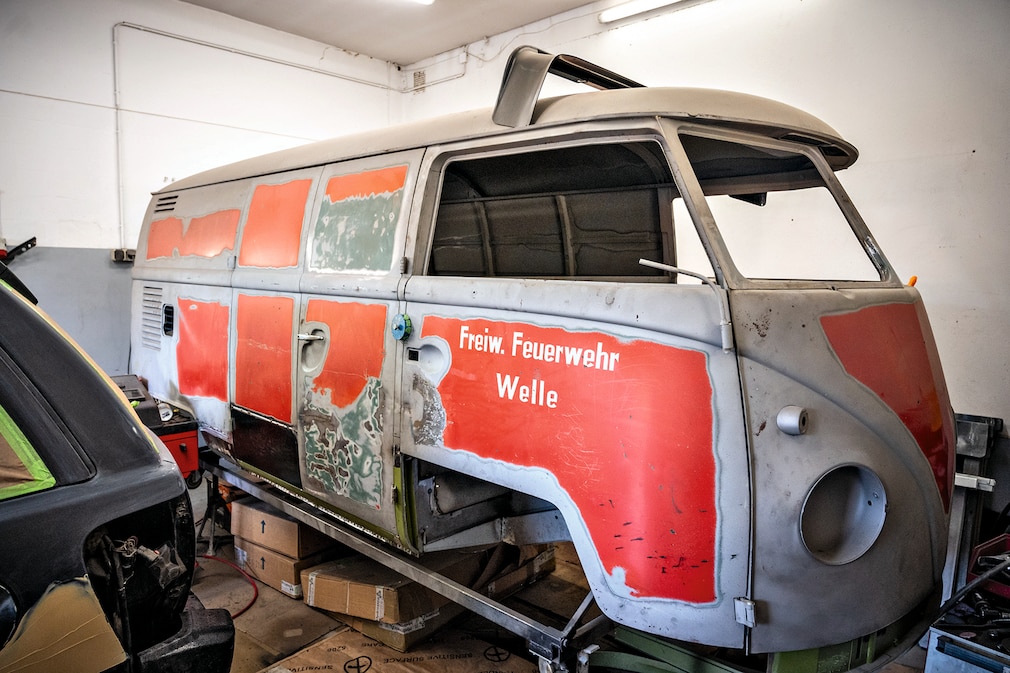 Werkzwei is Ray's company. "I want to give the cars a second life, that's how the name came about." He rented and converted a barn for the finished vehicles. Among other things, a VW T1 is currently parked there as a Samba bus from 1963 for 69,000 euros. Ray brought it back from Japan and restored it.
Corona prevents imports

His team: body builder Jens Meier (62), former Rally Cross driver in a Ford Escort RS2000. His son Patrick (34) as a painter and Alex Reichert (22) as a mechatronics engineer.
The business is as difficult as the bodies are shiny and classy. "I struggled to survive financially for a long time," says Ray. He couldn't travel through Corona, couldn't import anything. And so today he also sells everyday cars, used Ford Transits or Opel Mokka to keep the business going.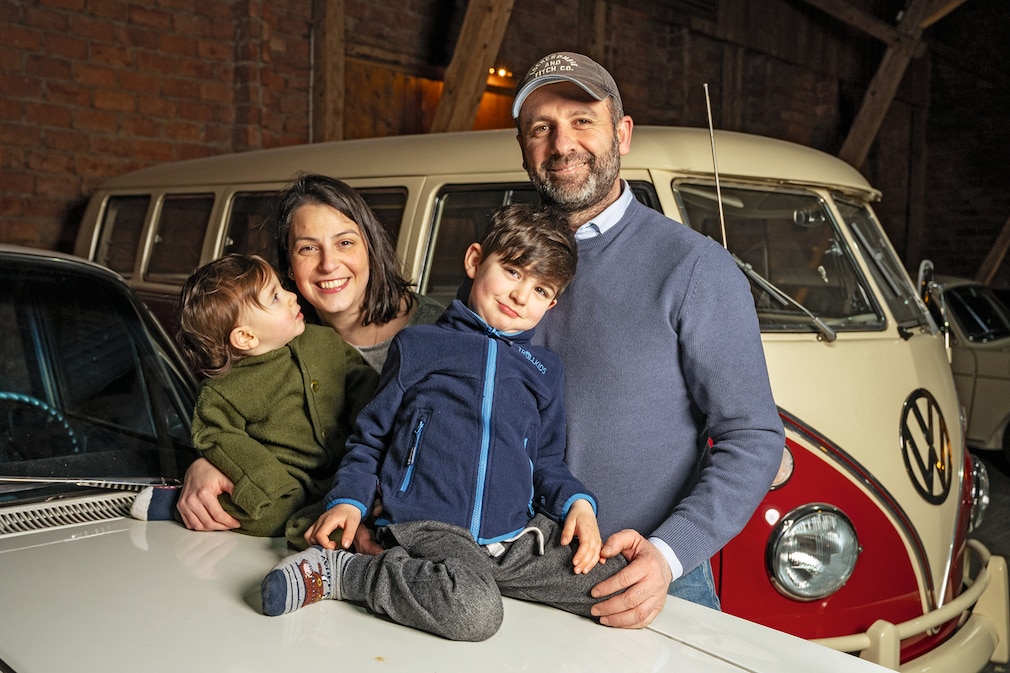 "But now I'm living my dream," says Ray. And his own fleet? Among other things, he owns an old Range Rover – and a Chevrolet Impala, a road cruiser from the 1960s like his father used to drive in Lebanon. At that time Ray sat on his hood, today his children pose on it. But they are not allowed behind the wheel yet…
About: Raymond Ayoub
Born in Lebanon in 1978, has lived in Germany since 1997. Marries Lebanese Carla, a graphic designer (she designed the company logo), in 2011. The couple lives with their two children in the countryside near Hamburg. In Lebanon, Ray has his own FJ40 (built in 1981).