Cars
Renault Zoe 22 kWh: immediately available, used Renault Zoe
Those who shy away from the currently extremely long delivery times for a new electric car may find their immediately available electric car on the used car market. There are models like the Renault Zoe for reasonable prices. Nice: The Frenchman is considered very solid and is also well suited as a second car. If the courage for the final e-switchover is still missing.
A Renault Zoe that looks very interesting at first glance is currently for sale on eBay. It is a black Renault Zoe with 88 hp and a 22 kWh battery. The car was previously used as a second car. The price tag is 8950 euros.
The offered Renault Zoe was apparently treated properly
The seller describes his car as used but very clean and undamaged. The photos published in the advertisement support this positive first impression. According to the information, the small Renault was used as a second car and therefore only has 59,500 kilometers on the clock. The TÜV is just fresh. The next date for the exam is therefore not until June 2024.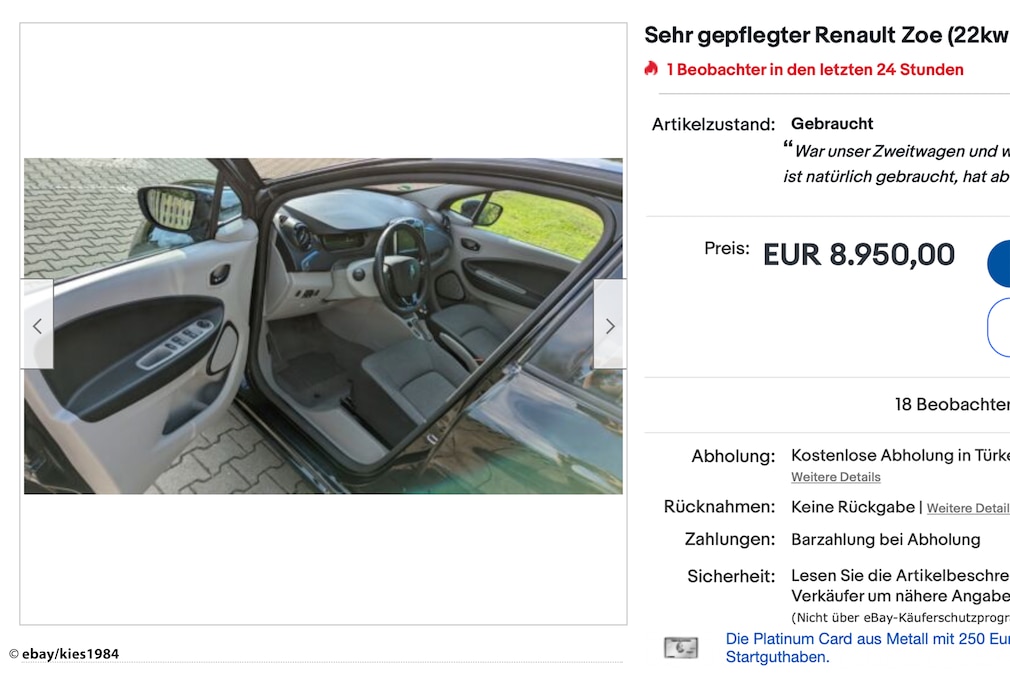 The battery is rented. According to the on-board computer, it still has a range of 125 kilometers. On board the Zoe there is, among other things, a navigation system, electric windows, automatic climate control, parking sensors, auxiliary heating and cruise control.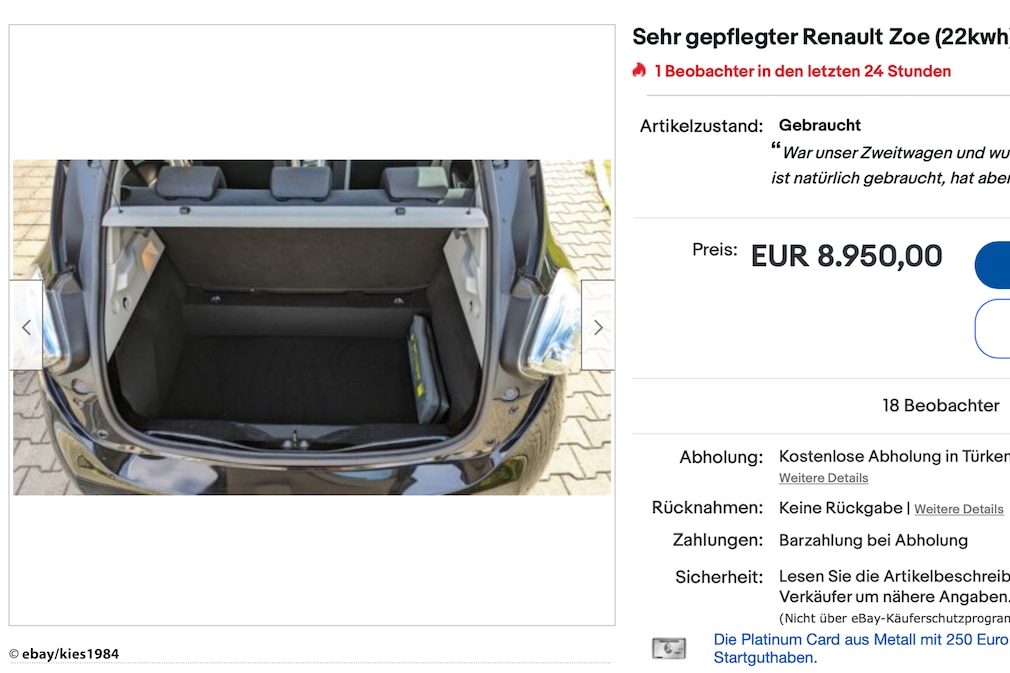 Here's what you should know about the Renault Zoe
The fact that many kilometers can hardly do anything to the Renault Zoe has not only been shown by the AUTO BILD endurance test over 100,000 kilometers. An AUTO BILD reader reeled off more than twice the distance with his Zoe and had no problems whatsoever. New axle joints and a new 12-volt battery were needed, otherwise nothing worth mentioning happened.
Sure, the long journey didn't leave the little Renault untouched. Here and there the body began to rattle, and the seats noticeably lost their resilience. But the folder with the workshop invoices remained thin. The currently offered Renault Zoe is not suitable for long distances with its small battery. You should keep that in mind.