Cars
Robeta Kronos: RV test – autobild.de
–
Pretty perfect: this is how vanlife works in Slovenian
Robeta is rethinking box vans. The manufactory not only relies on high quality and fine details, but also on special lightweight construction technology.
D.
he word mobile home is called avtodom in Slovenian. In the brand name Robeta, which stands for premium box vans from the Eastern European Republic, there is none of this. But if the question comes up to Günther Jauch, you now know. The
High-end motorhomes based on Fiat Ducato and Citroën Jumper
. But Robeta has only been known in Germany since the Caravan Salon 2019.
Five different models in vehicle lengths of 5.40 to 6.36 meters
have the Slovenes in their program. What demands the developers have on their vehicles becomes clear from the names: Dionysus, Ares, Helios, Apollo and our test car Kronos are not only the names of the variants, but also Greek deities.
With the lightweight furniture, the Kronos saves 200 kilos in weight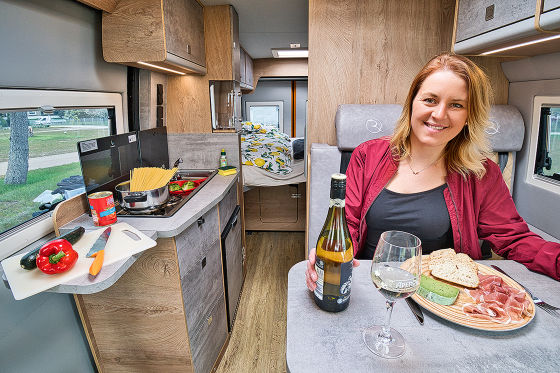 Lots of storage space in the kitchen and showcase. That fits the
Claim of the noble van. The interior with a lot of wood and concrete looks a bit gloomy.
© AUTO BILD
That's him: The father of Zeus. And a Six-meter box van with lengthways single beds and a classic floor planwhich is intended for two people in its base. A Pop-up roof with two additional beds (6,999 euros) can be retrofitted on request, as can the all wheel drive by Dangel. What immediately catches the eye is the right one conservative look of the expansion. Although the different living worlds can be combined with one another, dark wood decor, concrete optics and brown tones are predominant here. The elegant glass showcase in the kitchen area also makes it clear who Robeta wants to address: solvent customers who appreciate a good wine. It gets really exciting when it comes to material. The basic Robeta are available with conventional timber construction. Those who want to save weight are better off opting for the Air variant (2999 euros). The Furniture made from a very stable and light material from recycled PET bottlesthat are pressed together with pressure and temperature using an adhesive specially developed by Robeta. Thanks to the scratch- and waterproof HPL veneer, the difference can only be seen on the scales in the end: According to Robeta, the Kronos is a whopping 200 kilos lighter than the basic models!
Technical specifications
Motorization
MultiJet2 160
power
118 kW (160 PS) at 3500 rpm
Displacement
2287 cm3
Torque
380 Nm at 1750 rpm
Top speed
k. A.
Gearbox / drive
Six-speed manual / front wheel
Tank capacity / type of fuel
90 l / diesel
Length Width Height
5990/2050/2580 mm
Wheelbase / tires
4035 mm / 225/75 R 16
Empty weight ready to drive / payload (test mobile)
3010/490 kg
Trailer load (braked / unbraked)
750/3000 kg
Material wall / roof / floor
Sheet steel / sheet steel / sheet steel
Lying area rear L x W
1870 x 1500 mm
refrigerator
75 l
stove
2 flames
Board battery
100 Ah
Fresh / waste water tank
112/95 l
Gas supply / heating
2x 11 kg / Truma Combi 4
Base price
from 49,290 euros
Test car price
82,576 euros
Robeta responds to the individual wishes of the customers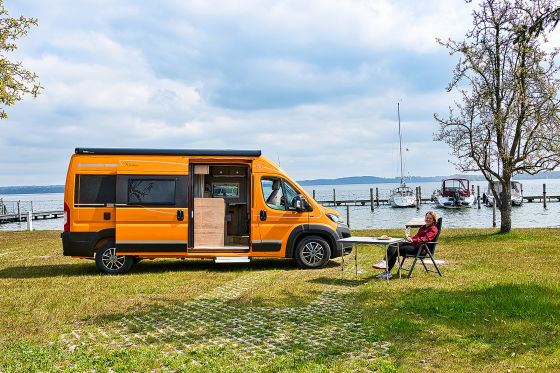 Our test car costs almost 30,000 euros more than the basic model. But it also has a whole arsenal of amenities on board.
© AUTO BILD
He has: Except for the powerful 160 hp engine (Fiat only), a 90 liter diesel tank and the leather-clad rear and side doors quite narrow standard equipment. This is part of the concept, because as a manufacturer Robeta goes for the individual wishes of customers a. Our test car costs almost 30,000 euros more than the basic model. But it also has automatic transmission, chassis package, plus package, reversing camera, airline rails, awning, solar system, inverter, lithium battery and two rear windows on board. This is how he drives: To be honest – we seldom had a panel van on avenues in Mecklenburg was so quiet! That says a lot about the quality of the finish. The one delivered from the factory 160 PS Ducato with the seven-speed automatic (2690 euros) is a dream and transforms the Kronos into a true everyday escape vehicle. (Overview: Campervans at the Caravan Salon 2021)
Conclusion: Robeta vans are not perfect – but they are pretty close! The quality is absolutely convincing, the details are (mostly) well thought out. The look is not for young customers. But neither is the price. Totally ingenious and a real selling point: the lightweight furniture made from recycled PET bottles. Verdict: 4.5 stars out of five.
Camping accessories
to offer

Reimo sun canopy Mauritius

Price *: 149.00 euros

Skandia Moonchair Sirkka

Price *: 69.95 euros

Frankana Freiko Resty garbage separator

Price *: 17.50 euros

Paramondo awning

Price *: 499.00 euros

Wacaco Nanopresso portable espresso machine

Price *: 89.90 euros
* Price: Amazon price on September 7th, 2021