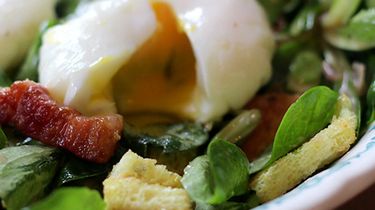 You can wake us up for French classics. Take the salad aux lardons: a simple salad with fried bacon, but suddenly very special due to the French flavor.
Ingredients
For 2 persons:
Lettuce (e.g. butter lettuce or frisée lettuce)
200 grams of bacon, preferably cut into strips yourself
1 shallot
2-3 tablespoons of vinegar
1 large teaspoon of mustard
Pepper and salt
2 very fresh eggs
2 sandwiches (may be a bit older)
Vegetable oil
This recipe does not contain many ingredients or difficult techniques, but there are a number of steps that you need to go through. Because you know: the simpler the dish, the more important it is that all components are perfect.
This is how you make salad aux lardons
Cut the slices of bread into square pieces and roast in a frying pan or in the oven with some oil, pepper and salt to crunchy croutons. Set aside.
Then cut the bacon. You do not want such thin strips as the supermarket sells ready-made: it is better to have some thicker pieces. Preferably buy a block of bacon (often sold as sauerkraut bacon, without rind). Fry the bacon strips in a large frying pan over a low heat, slowly very nice golden brown. Frying it longer will melt the fat better – which you will need for the dressing.
Chop the shallot as finely as possible. Remove the bacon from the pan and drain on kitchen paper; keep the fat in the pan! Fry the chopped shallot on a medium-low heat until it is translucent and very light golden brown. Then pour the entire contents of the pan – the shallot with all the fat – into a small bowl.
In a large bowl, beat 2-3 tablespoons of vinegar and 1 large teaspoon of mustard with a whisk. Add the fried shallot and the fat and continue to beat. Optionally, you can add vegetable oil to make a thicker dressing. Pour this in a thin stream and keep beating. Season with salt and pepper. Put the lettuce (eg butter lettuce or frisée lettuce) in the bowl on the dressing, but do not mix it up yet.
Poach the eggs. Hold for about 3 to 4 minutes for a nice running yolk.
Add the fried bacon and crispy croutons to the large bowl of salad and toss well. Serve with the poached eggs.
NewsABC.net