Cars
Schaeffler builds the magic axle for electric cars
A new high-tech axle from Schaeffler makes electric vehicles more powerful and efficient than ever. The new 4-in-1 axle integrates the electric motor, power electronics, transmission and thermal management in one axle drive, which not only saves space and weight, but also brings additional comfort to the vehicle.
Schaeffler develops and manufactures the electric axle for the electrification of medium-duty pick-ups, especially for the North American market. These are vehicles like the Ford F-150 Lightning that Ford recently released. The electric motor, transmission, power electronics and the entire rear axle are combined into one unit and delivered ready for installation.
A particularly efficient thermal management also ensures that an electric car equipped in this way can drive further with one battery charge and charge faster than with a conventional drive unit. "Electric axles are a central component of our electromobility strategy," says Matthias Zink, Member of the Executive Board Automotive Technologies at Schaeffler AG.
Thermal management integrated directly in the axle

Heat is a scarce and particularly valuable commodity in electric cars because, for example, there is no waste heat from the combustion engine to heat up the interior. The range and fast-charging capability also depend to a large extent on whether the battery can be kept within a suitable temperature window.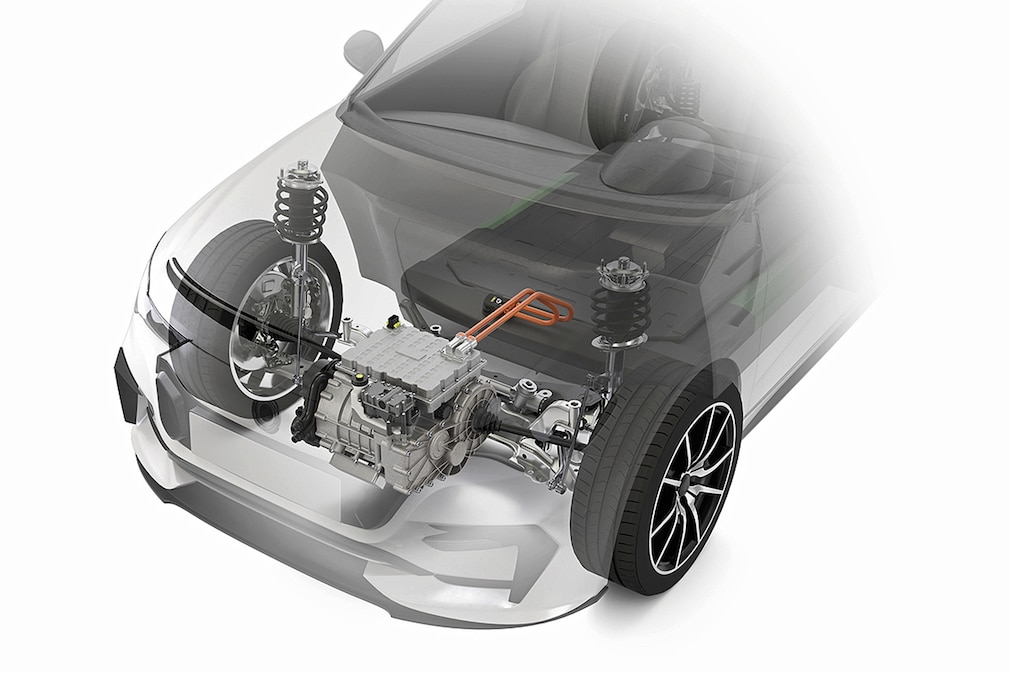 "The thermal management has a significant influence on the efficiency and comfort of the vehicle," says Dr. Jochen Schröder, head of the Electromobility division at Schaeffler. Schaeffler has been offering thermal management systems for all types of vehicle drives for a long time. What is new here is that previously mostly separate thermal systems were combined with the drive parts of a classic electric axle. "The result is a highly integrated and compact overall system that requires significantly less installation space than non-integrated solutions," says Schröder.
Since there are no unnecessary hoses and cables, less energy is lost in the form of heat. "Apart from the compact design, the biggest advantage of the 4-in-1 system is the optimization of the interaction of the individual subsystems," explains Jochen Schröder. An intelligent controller ensures that excess heat from the power electronics and electric motor can be efficiently dissipated and used to heat the vehicle interior.
The efficiency is up to 96 percent

The supplier is realizing further efficiency advantages with a new heat pump that works with the natural refrigerant carbon dioxide. Not only does it pollute the environment significantly less than conventional refrigerants, it
has
physical properties that allow vehicles to be heated and cooled more efficiently. "Thanks to our 4-in-1 e-axle with integrated thermal management, we achieve an even higher efficiency of the overall system," explains Schröder. With an optimally designed system, up to 96 percent efficiency is possible.
The axles are more than two meters wide and weigh around 300 kilograms. Schaeffler manufactures the components of the electric axles at several locations. In September 2021, the plant in Szombathely, western Hungary, started work. The production site is the first purely e-mobility plant of the Schaeffler Group worldwide and at the same time a new competence center for the production of electrified drives.
Selected products in tabular overview

| | | |
| --- | --- | --- |
| BMW iX | RRP from EUR 77,300, savings: up to EUR 13,386 | |
| Kia EV6 | RRP from EUR 44,990, savings: up to EUR 14,069 / in leasing from EUR 274 | |
| Mercedes EQS | RRP from EUR 97,807, savings: up to EUR 6,152 | |
| Hyundai Ioniq 5 | RRP from EUR 41,900, savings: up to EUR 12,280 / in leasing from EUR 234 | |
| Audi Q4 e-tron | RRP from EUR 41,900, savings: up to EUR 12,420 / best leasing price: EUR 89 | |
| Skoda Enyaq iV | RRP from EUR 34,600, savings: up to EUR 11,584 / best leasing price EUR 124 | |
| Mazda MX-30 | RRP from EUR 34,490, savings: up to EUR 13,035 / in leasing from EUR 90 | |
| Smart EQ for two | RRP from EUR 21,940, savings: up to EUR 8,240 / in leasing from EUR 77 | |
| Tesla Model 3 | RRP from EUR 46,560; Savings: up to EUR 7,975 / best leasing price EUR 289.00 | |
| Opel Corsa-e | RRP from EUR 30,400; Savings: up to EUR 11,920.00 | |
| Volvo XC40 Recharge | RRP from EUR 48,650; Savings: up to EUR 9570.00 | |
Components for e-mobility and the integrated electric axle drives are also manufactured in Taicang, China. Another production facility is located in Wooster, North America, where hybrid modules are already being manufactured today. The new global lead plant for electric motors is currently being built in Bühl, the headquarters of Schaeffler's automotive division.