Cars
Seat Ibiza FR CNG for 359 euros a month at Like2Drive
Whether E5 or E10, whether Super or Super Plus – the price displays at the gas stations are currently moving in one direction: upwards. Gasoline often costs around two euros again. Diesel even more. The main reason for this is the expiring tank discount. It ends on the last day of August. From September, motorists will again be able to tap without government support. And that means skyrocketing fuel prices.
What to do? If driving less or not at all is not an option, if you are dependent on the car for commuting and you simply do not want to do without it, a new car with the lowest possible consumption or alternative drive is the first choice. But they have long delivery times and high prices. An elegant solution against long availability times and galloping fuel prices is a car subscription for a car with natural gas drive. Although there are currently reports of supply bottlenecks and sharply rising natural gas costs, CNG is surprisingly cheap at the filling stations. CNG stands for Compressed Natural Gas and can easily be burned by petrol engines if they are designed for it and the car has a pressure tank. Unfortunately, the range of CNG models from the manufacturers is very manageable.
Seat Ibiza FR CNG subscription at Like2Drive from 359 euros per month

The subscription company Like2Drive is currently offering the Seat Ibiza FR CNG at an attractive monthly rate from 359 euros. The term is six months, 10,000 kilometers are included. If you want to drive 15,000 kilometers, you pay 399 euros per month. And if that's still not enough, Like2Drive also offers a kilometer package over 20,000 kilometers. In this case, the monthly rate is 439 euros. As is usual with car subscriptions, this includes all costs such as taxes, insurance, tyres, inspections and registration. The subscriber only has to pay for the fuel.
A kilo of CNG is currently quoted between 95 cents and 1.10 euros per kilo at the filling station (as of August 29, 2022). This is significantly cheaper than petrol or diesel. Plus: the energy content of one kilogram of CNG corresponds roughly to that of 1.5 liters of petrol and 1.3 liters of diesel. Or to put it another way: not only is it cheaper to fill up with natural gas, you also get further than petrol. In short, less coal for more range.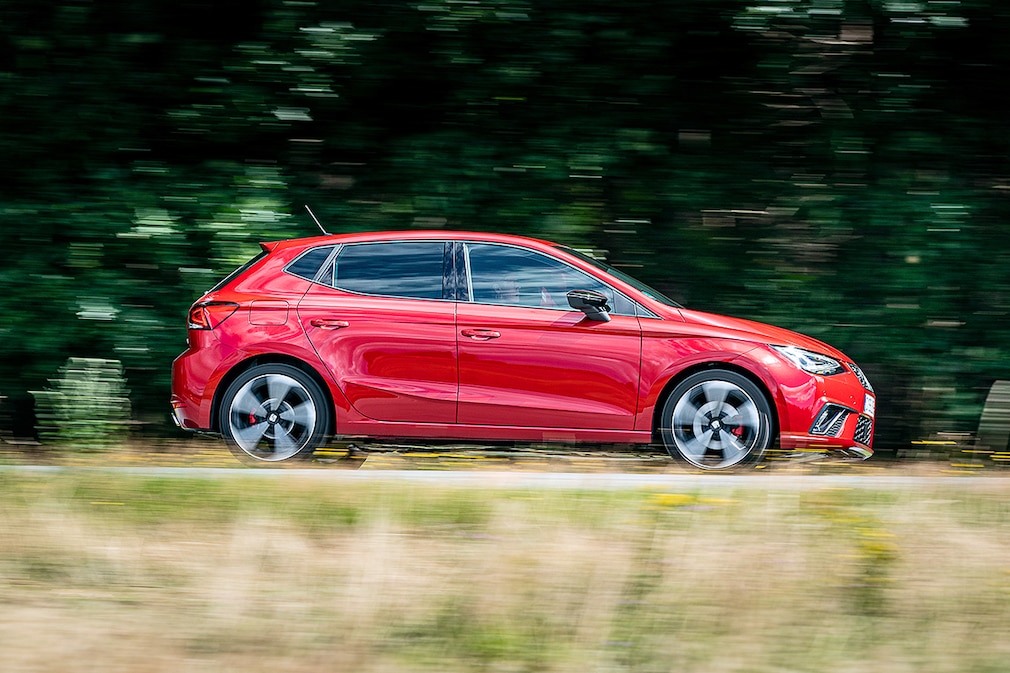 The subscription Ibiza with FR equipment is a well-equipped small car with a 90 hp engine. His tank almost 14 kilos of CNG. Filling up once means about 14 euros. This means that the Seat handlebars can travel 370 to 400 kilometers with a cautious driving style. The pure fuel price per 100 kilometers is around four euros. With a comparable petrol engine, on the other hand, the 100-kilometer fuel costs are more than ten euros.
Natural gas burns cleaner than petrol and diesel
But the Abo-Ibiza does not only provide convincing arguments from the point of view of costs. If you drive the sister model of the VW Polo with a CNG engine, you are also doing something good for the environment. Because natural gas burns significantly cleaner than petrol and diesel. Its CO2 emissions per kilometer are 95 grams; that of the 95 hp petrol engine weighs 110 grams. And that's not all: a number of natural gas filling stations sell CNG labeled "100 percent organic". Then the gas comes, for example, from food waste and liquid manure. This fuel, known as biomethane, is chemically equivalent to fossil natural gas and burns in the car in a virtually CO2-neutral manner.
Unfortunately, you only have to look for the CNG filling stations. Your network is unfortunately relatively thin. Currently only around 900 to 1000 gas stations nationwide have one or more natural gas pumps. Before taking out a subscription for the natural gas Seat, it is therefore important to check whether there is a corresponding station nearby. The same applies to trips abroad. Availability is particularly good in Holland and Italy. In Eastern Europe, France and Spain, on the other hand, insufficient.