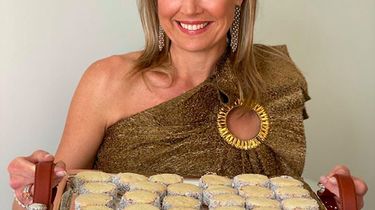 In honor of her birthday, Máxima shared her favorite recipe from her childhood on social media. It was an instant hit.
The birthday queen Máxima shared a recipe on Sunday afternoon via social media of the typical Argentine super sweet delicacy alfajores, made with "dulce de leche". She did this via the social media channels of the Government Information Service. In the photo series she shows how the cookies are prepared. She adds that she created them to celebrate her 49th birthday, which she "celebrates at home today," the queen wrote on Facebook.
All of Holland Bakes?
The recipe is a hit on Instagram. Almost 48,000 followers viewed the post in an hour and a half. And they are all very enthusiastic. "This is only possible in the Netherlands: the queen who shares a baking recipe … great!" Someone writes. another says to definitely try the recipe. Other followers also let us know that they are going to make the alfajores. Many link to the successful TV program Heel Holland bakken: "She can participate in this way," says one of the people who responded.
"At this time I celebrate my birthday at home with a typical Argentinian delicacy: Alfajores from dulce de leche. I'm…

Posted by The Royal House am Sonntag, 17th May 2020
RVD / Facebook
Freshly made
"I grew up with alfajores, they are my favorite cookies! I bake them according to my mother's recipe, which I like to share with you. So that you can also bake them at home! "Queen Máxima wrote on social media. She did not mention that her mother, Maria del Carmen, has been in the Netherlands for several months and can help her daughter in the kitchen. After all, as she once said, Máxima is not really a kitchen princess. The queen does not always make the alfajores herself, but she also buys them from time to time Melly's Cookie Bar next to the Royal Palace in Amsterdam. There the alfajores are made fresh.
Incidentally, it is a busy day on the Instagram account of the royal house. On Sunday morning, a new portrait of Máxima was already posted for her 49th birthday. More than 45,000 followers had already looked at it on Sunday afternoon.
NewsABC.net