Cars
Simracing: Racing Unleashed – full throttle at the airport
High-speed action at the airport! The season finale of the Racing Unleashed Competition takes place on a virtual track at Zurich Airport. The track was developed by the Swiss sim racing company Racing Unleashed and integrated into the game Assetto Corsa Pro.
The Racing Unleashed competition is a sim racing championship that takes place in high-tech simulators. The state-of-the-art cockpits are located in seven different Racing Unleashed lounges, in addition to Zurich also in Munich and Madrid. The grand finale starts on Sunday. The races will be live on Sunday Twitch transfer.
However, until Wednesday noon the pilots did not know on which track the final would be held. The sim racers only got to know the course during the official presentation.
Another new feature is that the pilots are only allowed to train for a maximum of two hours on the 7.6-kilometer route. The preparation time is checked in the respective lounges. With a lap time of just under two minutes, a maximum of around 60 training runs are possible.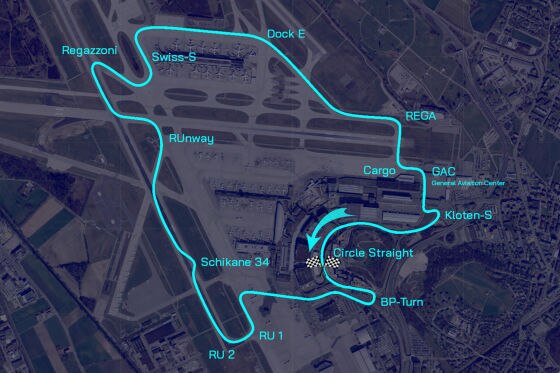 What is special about the virtual course on the airport site: At 7.6 kilometers, the route is even longer than Spa. And: The start / finish area is not in a straight line, as usual, but in a long left bend. A section that is reminiscent of the wide left curve around the Olympic site in Sochi. At Zurich Airport, on the other hand, the drivers circle around the circle in which one of the Racing Unleashed lounges is also located.
"The course is unique. There are some routes next to, but not at, airports, "explains Monisha Kaltenborn. The virtual Swiss piste, which offers both high-speed sections and technical passages, should not remain the last self-designed piste. Kaltenborn: "Our goal is to design more routes. We have all the freedoms there is and so there are no limits to our imagination. It is important for us that we also work together with the community. "
It's hard to pick a favorite on a new course with limited training time. The championship situation in the Racer and Challenger League is clearer. Alejandro Sanchez leads the Racer League with 23 points ahead of the Czech Michal Smidl. A ninth place is enough for him to secure the title.
Javier Loro's points cushion is even more comfortable with 24 points in the Challenger League, where the pilots start with driving aids. The Spaniard can make everything clear with a tenth place. Rival David Cid has to win the race and hope for a zero Loros.
Former Formula 1 driver and Racing Unleashed Ambassador Karl Wendlinger, who has already completed a few laps at the airport, has a tip for the finale. "First you have to learn the design and save the curve radii in your head. Then you can feel your way to the limit, "the Austrian analyzes in the simulator.
An overview of the Zurich times
9.30 a.m. to 9.40 a.m .: Warm Up Challenger League
9.40 a.m. to 10.30 a.m .: Qualifying Challenger League
10.45 a.m. to 11.20 a.m .: Challenger League race
11.55 a.m. to 12.05 p.m .: Warm Up Racer League
12.05 p.m. to 12.25 p.m .: Qualifying Racer League
12.45 p.m. to 1.20 p.m .: Race Racer League