Cars
Simson Schwalbe KR 51: Schwalbe with all original documents
The 1990 unification treaty between the FRG and the GDR contained a major highlight for fans of mopeds: such vehicles, including the Simson two-wheelers, were allowed to reach speeds of 60 km/h in the GDR. And thanks to this unification treaty, they are still allowed to do so today!
This also applies to the Simson Schwalbe KR 51, which is offered for sale on eBay for 3290 euros. But the Suhler two-wheeler from 1970 not only knows how to impress with its top speed. There is also a possibly comprehensively verifiable history.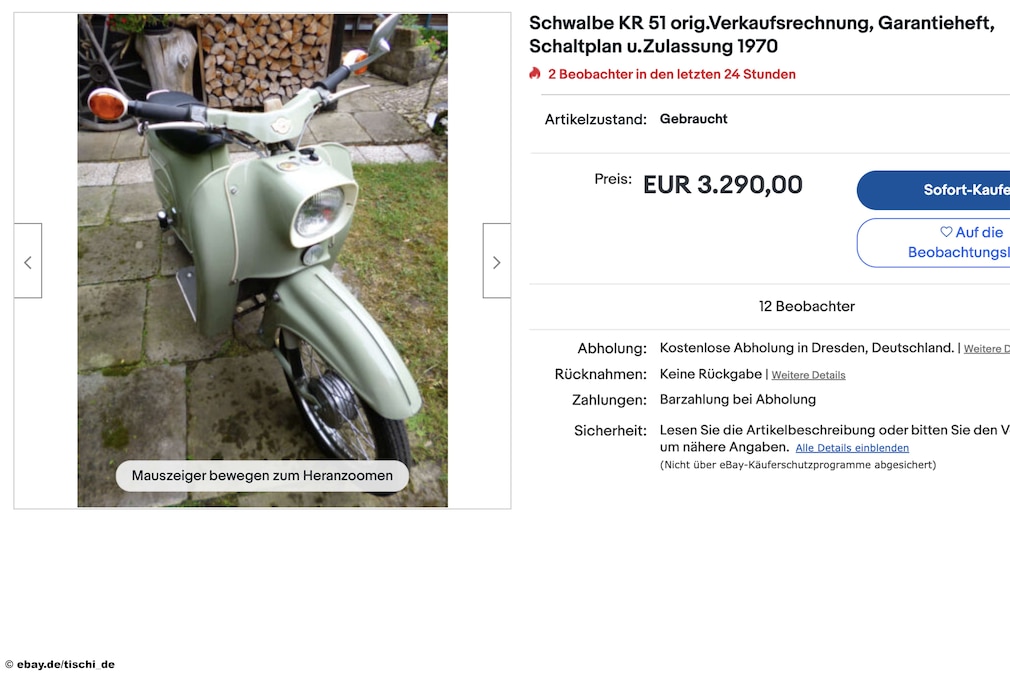 This swallow drives up with the original papers

The seller describes his cult vehicle in a nutshell. But all the important information is there, and it makes you want more. The swallow dates from 1970. The original sales invoice from December 23, 1970 is available.
The circuit diagram and the guarantee booklet from the IFA-Kombinat are also still available and are included with the purchase. In addition, the Schwalbe comes with the registration certificate (approval) from May 4, 1971 and, among other things, a tax card from 1986 to 1990.

The engine and transmission were reportedly revised. The electrical system is completely new and has apparently been upgraded to twelve volts. The seller swapped the wheels. According to the description, the paint and seat are in the original color. This does not explicitly state whether the swallow has already been restored. But it does indicate that.
The speedometer is still the old one, so as not to change the Schwalbe's identity. Dresden is specified as the location.

Those who can screw or know screwdrivers have an advantage

If you want to discover the hobby of DDR two-wheelers for yourself, you don't have to worry. The vehicle industry of the GDR and the manufacturer Simson no longer exist. But the enthusiast scene is big. There are special workshops everywhere, clubs and amateur mechanics anyway. The Internet is full of sites that offer spare parts for the various Simson models, some even originally from the GDR.
Of course, mechanics who have already overhauled an engine have an advantage. Even more so if you deal with the matter in detail. But beginners can also find their way into the world of Suhl's cult two-wheelers, if in doubt with support.
There's just one downer: the days when you could swap a swallow for a crate of beer are long gone. Nowadays you have to invest several thousand euros for a good example. And it is best to have a lockable parking space.