Cars
Skoda Fabia vs. Skoda Scala in the test comparison: is bigger better?
Anyone who buys a Skoda Fabia wants to drive a small car. If you buy Skoda Scala, you drive – yes, what actually? The direct successor to the Rapid Spaceback that was discontinued in 2019 is a bit caught between two chairs. Like the Fabia, it is based on the "small" MQB-A0 kit, but with a length of 4.36 meters it easily stretches into the compact class.
Selected products in tabular overview

| | | | |
| --- | --- | --- | --- |
| | Skoda Fabia 1.0 TSI Style | RRP from EUR 23,390, savings of up to EUR 3,905 | |
| | Skoda Mazda2 e-Skyactiv-G 115 Sports-Line | RRP from EUR 27,200, savings of up to EUR 4,930 | |
In the interior of the Scala, there is plenty of legroom, even when fully occupied, and the trunk has a volume of at least 467 litres. However, the narrow platform brings with it a rather small interior width, so that a somewhat tube-like feeling of space arises.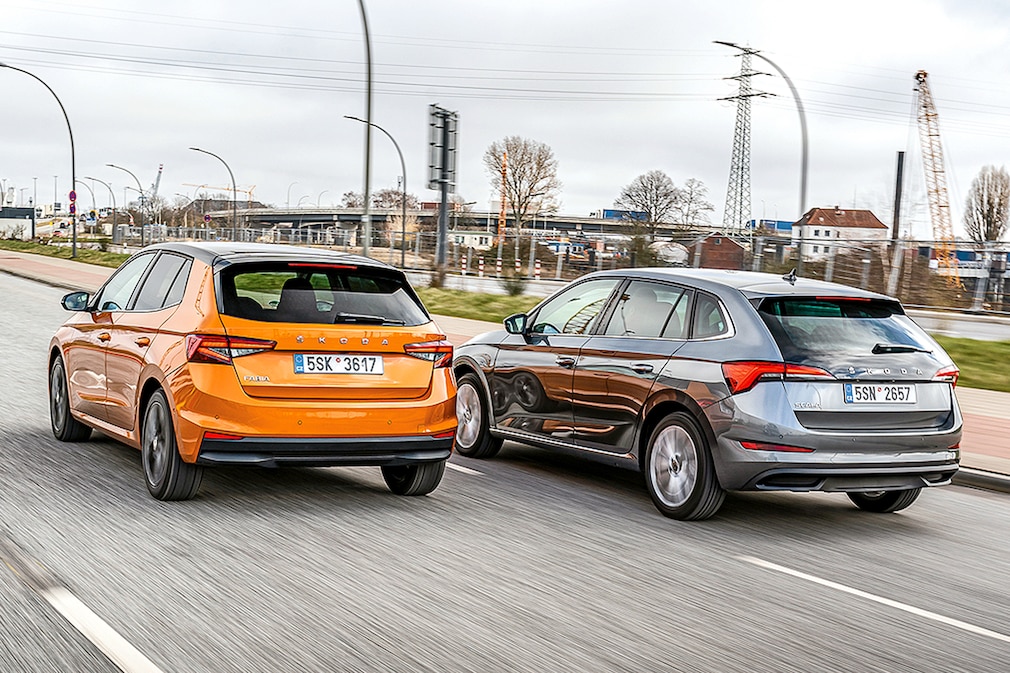 The Fabia presents itself in the classic and, at 4.11 meters, noticeably more manageable format. And yet: 380 liters of cargo space are on par with a Golf 7. The fact that the small car is also suitable and should be suitable as a full-fledged four-seater is confirmed by the air vents for the rear passengers, which are atypical in this class (standard with "Style").
The 1.0 TSI with three cylinders is now even doing its job in the Octavia, while 110 hp drive the Fabia and Scala with sufficient vigour, if required. The Fabia is audibly quieter, especially under load. The seven-speed DSG likes to surf the 200 Newton meter wave in both, often switching up at just over 2000 rpm.
However, the Scala is plagued by a strange starting weakness: either it sneaks or it sprints, everything in between requires a very sensitive right foot. The somewhat lame automatic start-stop system is noticeable in both cases.
Consumption and price speak for the Fabia

That engine and gears of the Fabia work better together is also noticeable at the gas station. Despite the slightly higher curb weight, it consumes 0.2 liters less per 100 kilometers. And at the checkout? Separate the two about 4000 euros price difference. Almost everyone would then like to drive a Fabia.