Cars
Skoda Karoq and Yeti in the used car check
The Skoda Karoq and its predecessor Yeti pass the TÜV more often than the average, but especially the one
yeti
weakens on some points.
The most important information for used car buyers from the AUTO BILD TÜV report!

Skoda Karoq
Construction time: 2017 until today
Engines: 110 PS (1.0 TSI) to 190 PS (2.0 TSI / 2.0 TDI)
Price: from 22,000 euros
Occupant safety (Euro NCAP crash test 2017): five stars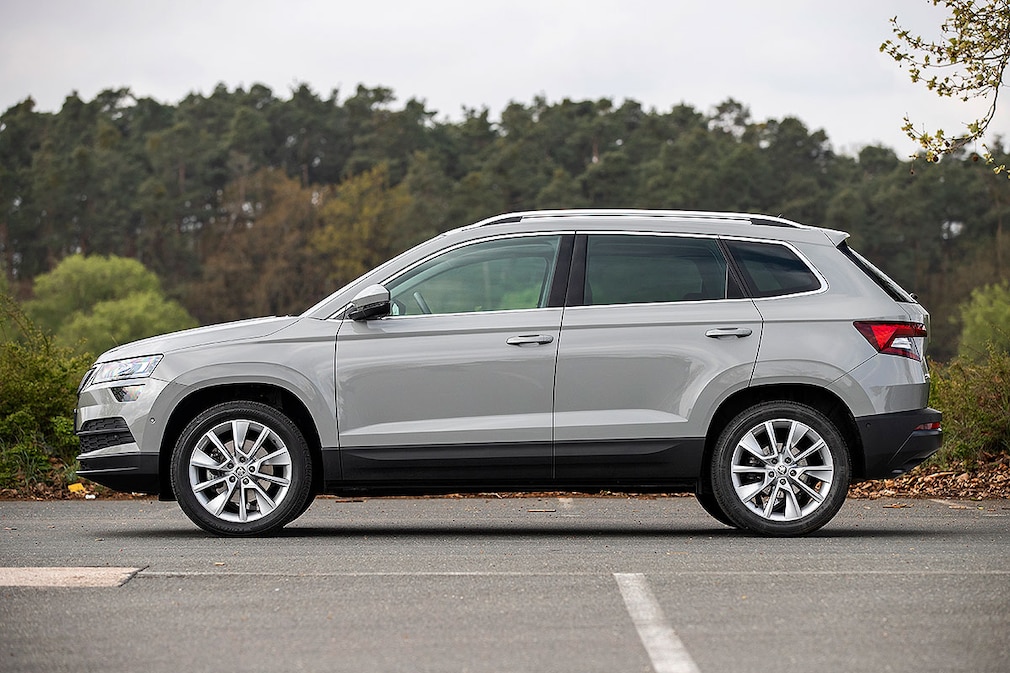 That's him: Less box-shaped than its predecessor yeti, but almost as practical. on 4.38 meters in length small families find reasonable space, the trunk swallows a comparatively generous 479 to 1810 liters of luggage. The two-liter engines (TSI and TDI up to 2020) with 190 hp each, available since 2019, have all-wheel drive and seven-speed dual clutch transmission and can hook up to 2.1 tonnes. The safety equipment of the compact Czech is generous (seven airbags, multi-collision brake and emergency brake assistant standard), an adaptive cruise control is also available for an extra charge.
He can do that: Even with a full load and courageous cornering, the Karoq keeps going easy to control and always safe. The stiff chassis has its part in this, but it can sometimes cause unrest in the car in the event of major distortions. The 1.0 basic petrol engine with 115 PS (from 2020: 110 PS) is sufficient for the bare minimum, diesel (2.0 TDI) and petrol (1.5 TSI) with 150 PS each offer significantly more reserves and definitely driving pleasure.
That causes trouble: According to KBA, recalls due to faulty rear headrests, cracks in the driver's seat attachment, brake pedal plates coming loose, airbag problems.
Skoda Yeti

Construction time: 2009 to 2017
Engines: 105 PS (1.2 TSI) to 170 PS (2.0 TDI)
Price: from 4000 euros
Occupant safety (Euro NCAP crash test 2009): five stars

That's him: Expired in 2017, but a sought-after type as a used vehicle: compact like a Golf, practical like a Caddy, off-road like a Tiguan. Impresses with all-wheel drive as a towing vehicle. It owes the impressive amount of space to the straight cut of the body. Thanks to the Varioflex seating concept, the rear seats can be arranged in all possible positions.

He can do that:
Run 200 km / h on the autobahn in the large TDI or 1.8 TSI, if need be. Front-wheel drive takes those who don't rummage on dirt roads, but rather the one
yeti
as a family friend and as a van replacement. the
Facelift at the end of 2013
changed face and interior. The suspension stayed tight, it doesn't like short bumps.
That causes trouble: The timing chains are a major weakness – especially with the 1.2 TSI and less so with the 1.4 TSI. Tip: if it rattles, do not start the engine; otherwise it will crack when pistons and valves kiss. The ADAC reports defective ignition coils and broken spark plug connectors. Coked EGR valves of the TDI are annoying, the injection lines of the 2.0 TDI built up to 2011 can break. Otherwise: loose rear door seals, corrosion on the black decorative panels, paintwork defects.

TÜV judgment
landing gear
That is called a solid result: the two Czechs hardly know the subject of rust, and the testers hardly ever complain about the steering or drive shafts. Springs, dampers and suspensions are criticized, but are always better than average.
light
The examiners criticized the dipped beam more often on average at the second and third HU; the indicators also show increased deficiency rates. The front lighting of older models often weakens. Everything remains inconspicuous at the back.
Brakes
As early as the second HU, the brake disks with scoring and rust are more likely than average to be noticed negatively, here he has
yeti
a problem. Over all years of construction
yeti
and
Karoq
Brake hoses and lines appear flawless, foot and parking brakes are more rarely complained about than on average.
environment
the
yeti
can't hold the oil. Different from that
Karoq
it spills excessively often in all years. The emissions test prepares neither
Karoq
still
yeti
Problems, including the exhaust systems, turn out to be problem-free.