Cars
Stainless VW Golf 2 GTI at a low price
A VW Golf 2 GTI 1984 cost almost 24,000 marks in the base. And while the Golf 1 is not only a sought-after collector's item as a GTI, with a bit of luck the 2 Series is still available at affordable prices. An example of this is this black copy in its original condition. However, there is a catch: the GTI is not sold in Germany!
The three-door VW Golf 2 GTI on offer was first registered in April 1990 and has covered an impressive 274,000 kilometers in the last 32 years. Nevertheless, according to the seller, the 1.8-liter four-cylinder should run smoothly and have full power. It is important to mention that this is the less popular 8V version with 112 hp (107 hp as a cat version). From 1986, VW also offered the GTI as a 16V with 139 hp (129 hp with cat).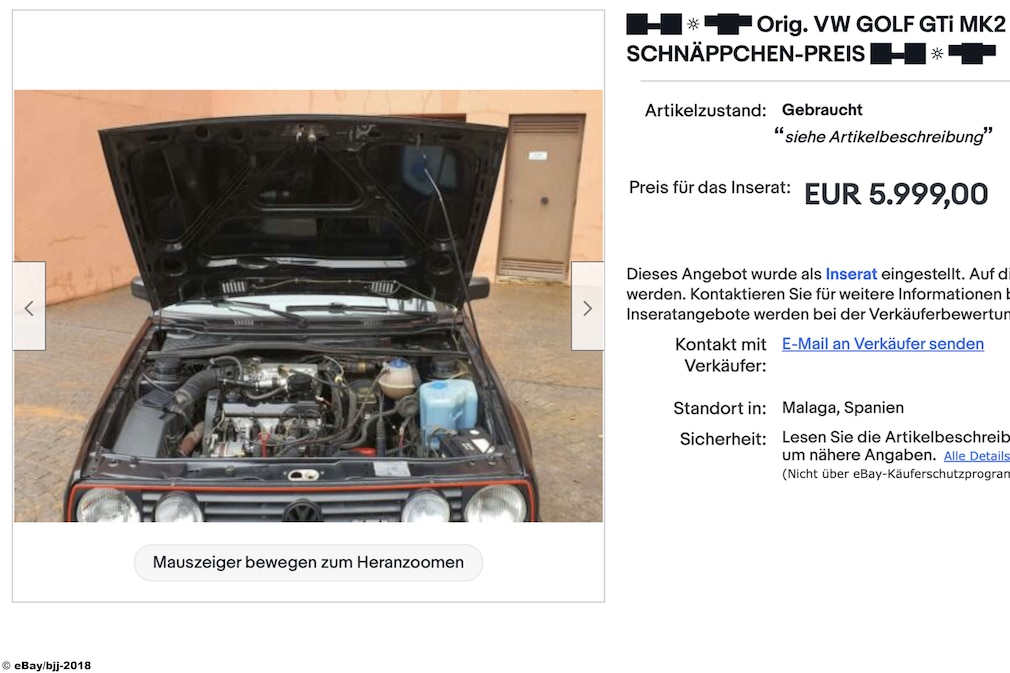 In addition, the GTI is not sold in Germany but in Spain. What may seem negative at first glance can also speak in favor of this GTI, because cars from Spain, Italy or the south of France are often less affected by rust or not at all due to the milder climate. This GTI should also be absolutely rust-free – according to the owner, all critical areas such as window frame, wheel arches, tank filler neck, tailgate, license plate recess and so on should be free of rust.
The Golf GTI is said to be rust-free

The 32-year-old GTI makes a well-kept impression in the pictures, but ultimately those interested should definitely take advantage of the offer to visit the Golf in Malage. It is nice to see that the Golf is largely in its original, untouched condition – something that is rarely the case with local 2-series GTIs.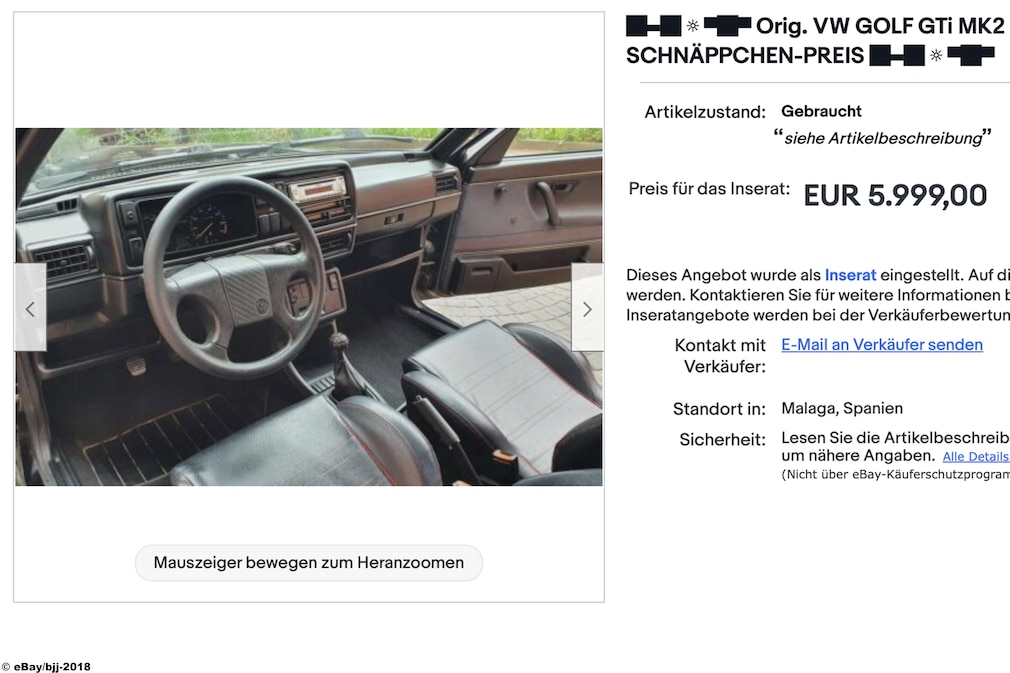 The interior also seems to be in good condition. The dashboard is not cracked and the headliner is not sagging. Over the years, the front and rear seats have been fitted with protective covers. It would be interesting to know what the fabric underneath looks like. The radio is also no longer original, but these are small things.
Less nice: According to the advertisement, the clutch has to be replaced and the history of the Golf (previous owner, checkbook, no accidents) is not discussed further. Interested parties should definitely check again here.
The Golf will cost 5,999 euros

But the price is very attractive: the Golf 2 GTI should cost 5999 euros. In addition (if desired by the buyer) about 790 euros for an insured transport. Including TÜV and a new clutch, the Golf could be registered and ready to drive in Germany for 7,000 to 7,500 euros, provided that no major repairs are still pending. Ideally, prospective buyers should convince themselves of this on site, because buying a used car over the Internet abroad is a not inconsiderable risk.
However, if everything fits, there could be a sporty Daily Driver with good substance at a fair price. Because in this country there are isolated 2er GTI from about 5000 euros, but we are talking more about parts donors or project cars. Rust-free VW Golf 2 GTIs in their original condition now cost around 10,000 euros in Germany. Classic Data even shows up to 14,000 euros for a 2-series GTI 8V in condition 2.