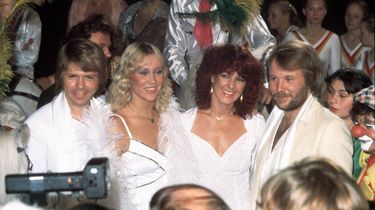 The undisputed number 1 in Eurovision history is of course ABBA met Waterloo, the timeless hit that is probably all in your head now.
Despite the fact that the major annual European music event is being postponed for a year, plenty of attention is being paid to Eurovision 2020 in many ways. There are all kinds of podcasts, the election of the best European hit is done online and there is also a real Eurovision Top 50. Friday night this list full of oldies and sing-alongs can be heard on NPO Radio 2. The number 2 is one of homegrown.
⭐️ This is the official running order for the Second Semi-Final that we used in the #Eurovision Song Celebration tonight!

Eighteen massive songs, but which one do you love the most?

? Rewatch the show here ? https://t.co/k0cb78g5fq#ESC2020 pic.twitter.com/k6HZWMw6vg

– Eurovision Song Contest (@Eurovision) May 14, 2020
Most votes
It may come as no surprise to many: ABBA takes first place in the Songfestival Top 50. The song Waterloo received the most votes from listeners and tops the list that can be heard on NPO Radio 2 on Friday evening.
The song with which ABBA won the Eurovision Song Contest in 1974 is closely followed by last year's winner: Arcade by Duncan Laurence. Third place is also a Dutch entry: The Common Linnets with Calm After The Storm. Ilse DeLange and Waylon came second in 2014 with the song. In total there are fourteen homegrown listings in the list.
Coronavirus
The winner of 2012, Euphoria from Swedish Loreen, is in fourth place in the Eurovision Top 50. Number five follows Ding-A-Dong, with which the Dutch Teach-In won in 1975.
The Eurovision Song Contest, which would be in the Netherlands this year, was postponed until next year due to the corona virus. To ease the pain a bit, the Songfestival Top 50 can be heard on NPO Radio 2 on Friday evening between 6 PM and 10 PM. The presentation is in the hands of Bart Arens, Wouter van der Goes and Frank van 't Hof.