Cars
Sustainability at BMW: now packaging is saved
Various projects at BMW aim to significantly reduce CO2 emissions in production and transport together with suppliers. Recycled material has been used for packaging in the European plants for years. The recyclate quota for new orders for reusable packaging will be increased from around 20 to over 35 percent in 2022.
The use of sustainable materials, the reduction of disposable packaging and less transport also contribute to reducing emissions. Overall, BMW and all its brands want to reduce CO2 emissions per vehicle in the supply chain by 20 percent by the end of the decade. "Through innovative approaches, we are consistently reducing our use of resources and thus reducing our CO2 footprint," says Michael Nikolaides, who is responsible for the production network and logistics at BMW.
Small cars with cheap maintenance costs

Selected products in tabular overview

| | | |
| --- | --- | --- |
| Dacia Spring Electric | RRP EUR 22,550 / savings of up to EUR 9,710 / costs per month: EUR 366.00 | |
| Dacia Sandero | RRP EUR 9600 / savings of up to EUR 146 / costs per month: EUR 391.00 | |
| Mitsubishi Space Star | RRP EUR 10,380 / savings of up to EUR 3,862 / costs per month: EUR 409.00 | |
| Skoda Fabia | RRP EUR 14,540 / savings of up to EUR 5,412 / costs per month: EUR 435.00 | |
| Mazda 2 Skyactive-G | RRP EUR 14,990 / savings up to EUR 4024 / costs per month: EUR 446.00 | |
| Suzuki Swift | RRP EUR 16,700 / savings of up to EUR 3,544 / costs per month: EUR 455.00 | |
| Seat Ibiza | RRP EUR 16,490 / savings of up to EUR 5,130 / costs per month: EUR 455.00 | |
An example of new ways of working is the use of recyclate in so-called EPP packaging (EPP: expanded polypropylene). A proportion of 25 percent recyclate is currently used in newly developed EPP packaging. EPP is used, for example, as a special container with a suitable geometry for packaged components to enable safe transport.
280 tons of CO2 per year can easily be saved

Around 360,000 such containers are required annually. With the 25 percent share, almost 280 tons of CO2 can be saved per year. This is by no means the end of the story, and the first pilot tests with 100 percent recyclate are already underway.
A further 680 tons of annual savings in emissions can be achieved through the use of covers and small load carriers with a 50 percent reuse percentage. The focus of these measures is currently on the European markets; however, this is to be extended to locations in Mexico, the USA and China.
Oversized collapsible boxes replace steel mesh boxes

The BMW Group achieved even greater success in reducing emissions with the introduction of oversized collapsible boxes. Instead of lattice boxes made of steel, foldable plastic alternatives with over 90 percent recycled content are now used.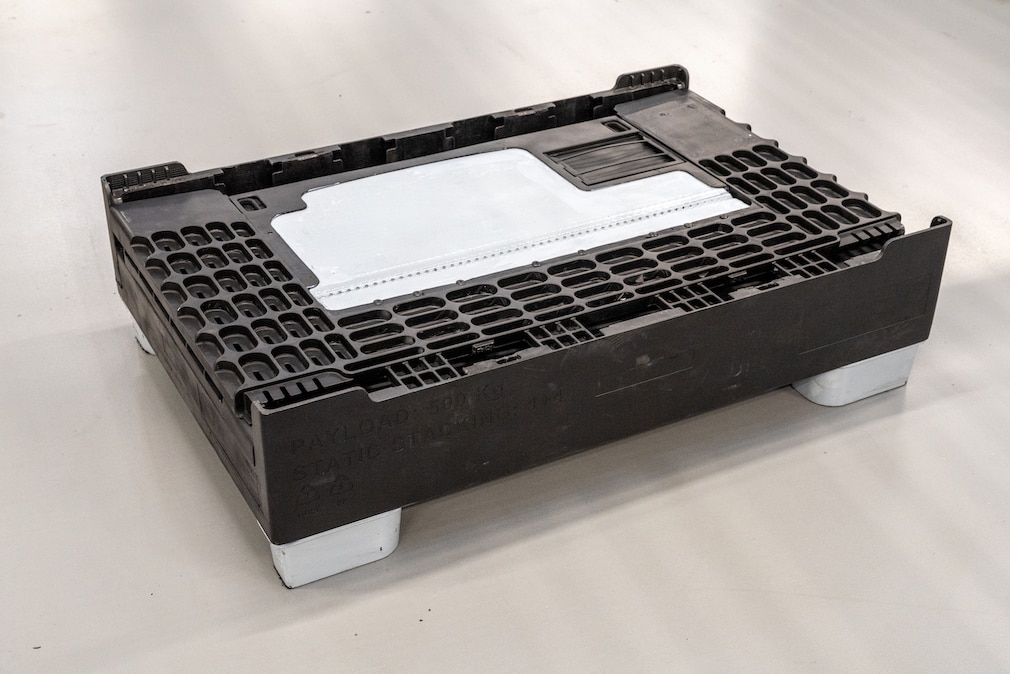 These work like collapsible shopping boxes – when they are empty, they are folded up and are therefore easier to transport. 15,000 of these innovative containers lead to a CO2 reduction of around 3,000 tons per year.