Autos
SUVs with significant defects in the TÜV (BILDplus)
–
Beware of these used SUVs!
Used SUVs with a risk factor: In the TÜV report, five SUVs with some significant defects are noticed. In addition to the Nissan Qashqai also a VW!
S
Are you looking for a cheap used car and would you like an SUV? These five models are popular, but they are noticed in the AUTO BILD TÜV Report 2020 with an above-average number of "significant defects". If you do not know the critical points when buying a used car, you often pay later. Cars with many defects in the TÜV include Nissan Qashqai, Dacia Duster and also a VW.
Read in the BILDplus article what weaknesses these SUVs have!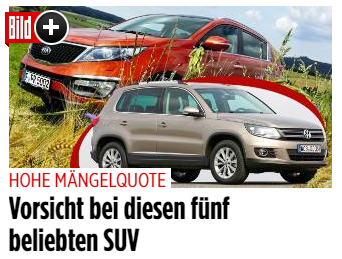 Beware of these five popular SUVs
Even a VW is there: These popular SUV models often have "significant defects" – which you should know before buying a used one.