Cars
Suzuki GSX 1300 RR Hayabusa: Can you manage 300 km / h with it?
French, Danes, Japanese: I feel sorry for them because they miss them German Highway. No perfect one without the Autobahn Hayabusa-Happiness. No other motorcycle in the world should have one Speed ​​limit be as poisonous as for the – officially called Suzuki GSX 1300 RR – Superbolids with the falcon's nose. Where else should you pull this thing out?
As a reminder: The Hayabusa ("Peregrine Falcon") was the first in 1999 Series motorcycle, the above 300 km / h ran. Now the 2021 model stands in front of us and runs more than 135 things – in first gear.
Powerful and elegant ride on the Suzuki Hayabusa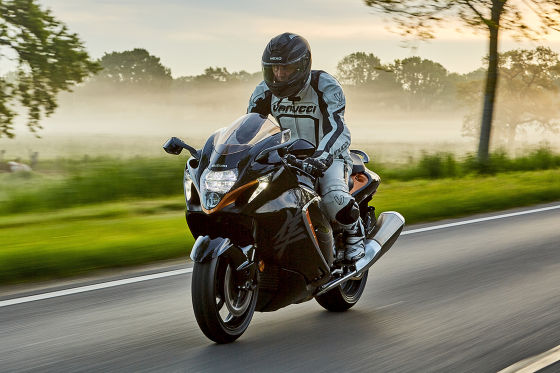 So nothing for Denmark. But for Dägeling. This is the name of the next departure. It is 4.25 a.m. and the A23 north of Hamburg as if swept empty. I want to go to Dägeling Full throttle keep. You have to try it Vmax ride on the black cannonball. Smoother Ride out was already on the previous evening. One thing is certain: the Hayabusa is also really good at this. the 264 kilogram heavy 1340s drives elegantly. she springs fine, laces velvety, steams stoic through curves and presses breathtakingly emphatic. With a wonderfully massive presence. Everyone listens, everyone looks, many inquire. They are alone 18,490 euros basic price value. In addition, Suzuki trumps when it comes to Driver assistance on. Launch control, Cornering ABS, Wheelie control, Combination brake, adjustable Engine braking effect, Driving modes and a Shift assistant (up and down) are on board ex works.
Hesitation on the gas acts like an emergency stop at 270 km / h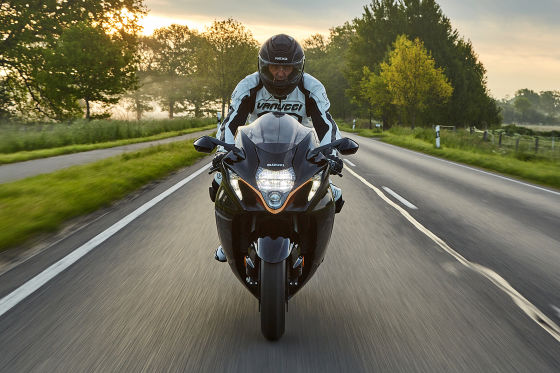 But now the moment of truth has come: I want this maximum Hell pace test the Busa. Dägeling is just under 30 kilometers away, which should be enough for several sprints. At the moment, however, it is raging inner Bastard how crazy. He barks around in every nerve cell, he growls up every arm hair. Everything in me is begging: Just open your right fist, then the gas roller snaps back, the rest is done by the headwind. Because hesitating on the gas works like one Emergency stop with a Vespa – that's how strong the inhibition is from 270 km / h upwards Air resistance. Not easy when you have it in your back and, at 1.86 meters, is too tall to put your elbows in front of your knees and your head elegantly behind the flat disc. An unworthy exercise.
The speedometer of the Suzuki only goes up to 290 km / h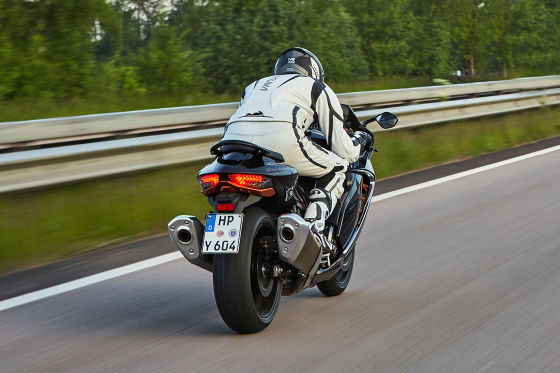 The slightly wavy one Top edge of Helmet visors blurred with the dark-toned Pane edge of Cockpits, there are distorted images instead of perspective. The whole thing is still whisked by the hearty ones Vibrations the machine and the angry wind pulling at the top of the helmet. Ultimately, all that remains is a kind of gray visual pulp. Meanwhile he's crazy Speedometer. It only goes up to 290. I do a rollover based on speed: 3500 are at 100 km / h in fifth gear. So mathematically, at 10,500 tours, this makes 300 top. About the 280 I'm way over it now, that Tachometer continues trembling towards deep red. Now the sixth corridor pure? Or from Limiter at around 11,000 rpm? Eh don't care.
Suzuki Hayabusa 2021: technical data, plus / minus
Technical specifications


Engine: R4, liquid cooling • Displacement: 1340 ccm • Power: 140 kW (190 PS) at 9700 / min • Max. Torque: 150 Nm at 7000 / min • Top: 295 km / h • Tires: v./h. 120-70 ZR 17 / 190-50 ZR 17 • Seat height: 800 mm • Weight: 264 kg • Tank capacity: 20 l • Price: from 18,490 euros

Plus minus


+ Performance and smoothness in every situation, confident driving behavior, lavish equipment

– high price, lush weight according to the performance, tachometer scaled very small

Because there is diving just before the curvature of the earth a car on. From here to horizon in the Hayabusa world only two Seconds. I like to lift – as much as I haven't for a long time. In the end the fight is won. Our Satellite recording documents real 301 km / h. The autobahn is slowly filling up with commuters who will be stuck bumper to bumper in a traffic jam in Hamburg at the latest. I'm sorry for you too.