Cars
Suzuki JimnyTest: Happiness is in the little things
You rummage through advertisements, look for a Suzuki Jimny as a new car – and are shocked. Dealers demand 27,499 euros, 30,900 euros, 32,499 euros, even up to 37,900 euros for the small SUV from Japan.
Mind you: The list price from Suzuki Germany for a fully equipped Jimny ex works is currently 23,915 euros. What's going on there?
As a cynic, one could now say: Demand determines the price – an irrefutable principle of the free market economy. On the other hand, if you have at least a minimum of empathy in your soul, you will be overcome by a bad feeling: Here, deals are made with the shortage and the plight of the buyer is shamelessly exploited.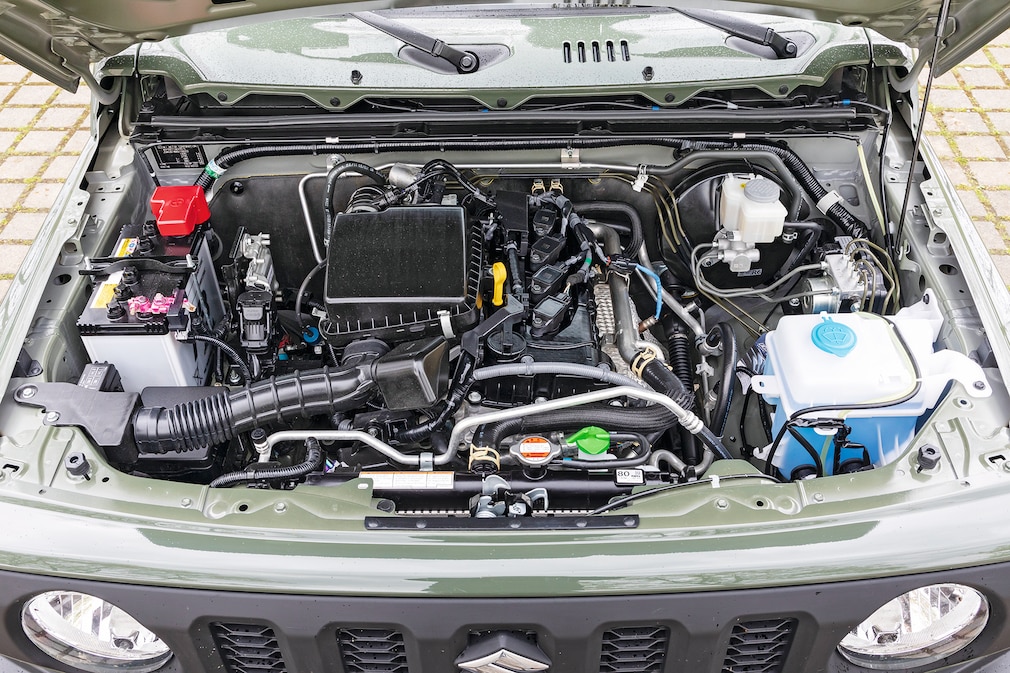 In truth, someone interested in Jimny has practically no choice because they cannot switch to a comparable competitor's product that would be available in a stable manner.
Jimny lives up to expectations
But they are long gone as new cars. The only alternative in the same price segment as the Suzuki is the Dacia Duster; but it is much larger and wider. And in terms of design, it is a modern SUV with a semi-permanent all-wheel drive without gear reductions and a delicate car chassis.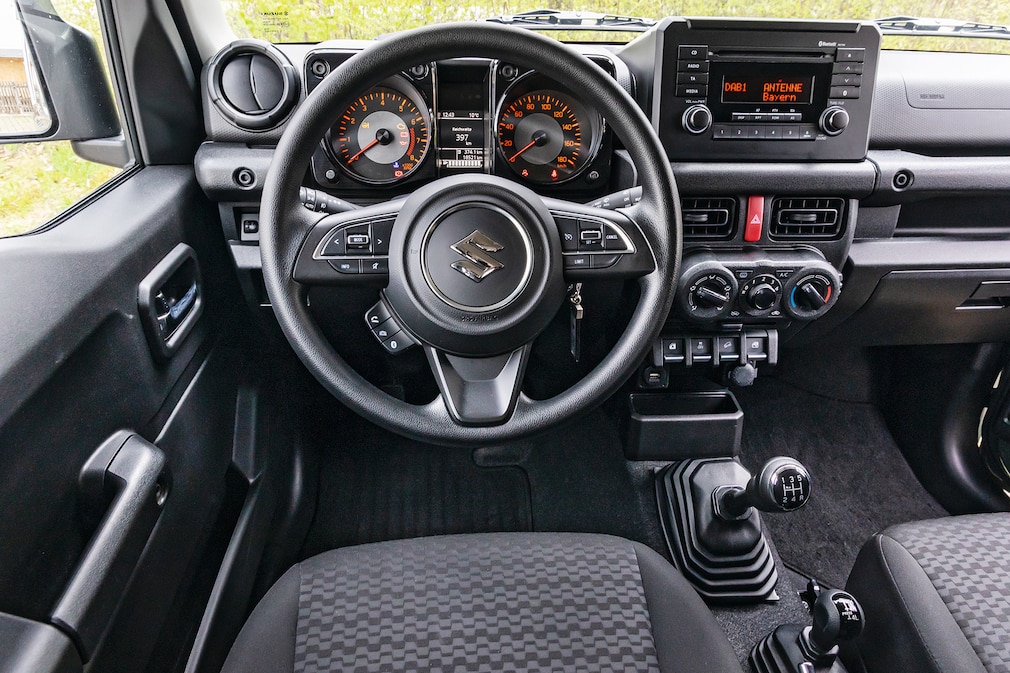 Suzuki, on the other hand, has also built the current Jimny according to classic off-road vehicle principles: load-bearing ladder frame, bolted-on body, chassis with robust rigid axles and a simple, but also under harsh conditions assertive, all-wheel drive plus off-road reduction, which halves the driving speed in the gears of the manual transmission, but Engine power and engine braking effect doubled.
And so the Jimny fulfills exactly the expectations that are placed on a real off-road vehicle without any restrictions: The technology is simple, but it doesn't give up.
All-wheel drive/power distribution v:h
Trailer load braked/unbr.
Standard CO2 emissions (WLTP)
Standard CO2 emissions (NEDC)
Four-cylinder, in-line, petrol engine
75 kW (102 hp) at 6000 rpm
195/80 R 15 S/ Bridgestone Dueler H/T D684 II
Rear-wheel drive, front-wheel drive selectable while driving/ 0:100 or 50:50
el. brake intervention v. + h.
163 km/h at 5275 rpm (5th gear)
Even hours of digging in bottomless morass or heavy cardboard snow do not push the clutch, engine or all-wheel drive to their limits.
The Jimny, which weighs less than 1100 kilograms, turns with playful ease over difficult and soft surfaces, where two-ton solid off-road vehicles have long since sunk up to the axles and helplessly scrape with their spinning wheels.
The Jimny driver circles such wrecked vessels on the same ground and doesn't understand at all why the others don't drive on. Even a small engine with only 102 hp and only 140 Nm of torque can be quite sufficient if only a small amount of mass has to be moved and the manufacturer has also selected the appropriate gear ratios.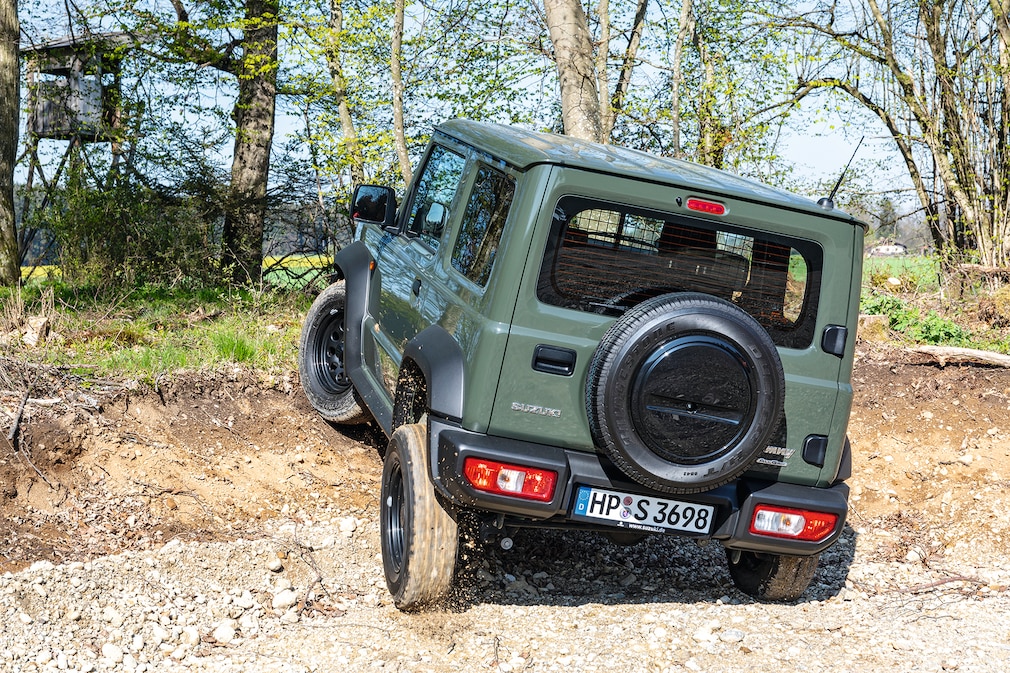 And Suzuki did that cleverly. Well, on the road you might want a sixth gear from a speed of 120, so to speak as a speed-reducing overdrive. But the good old Suzuki manual transmission, which has been so familiar for decades, only has five gears; a sixth would simply not have had space and would have required a costly new construction.
But it also works that way, even on unlimited German autobahns. There, the Jimny immediately reveals to its courageous driver the elegant understatement of a traditional vehicle manufacturer from Japan: because the factory specifies a top speed of 145 km/h, but in reality the little Suzuki is already running at a real 162 km/h on the flat.
1.5-liter four-cylinder is thirsty fellow
And it turns in fifth gear with 5275 tours still far from the red area of ​​the rev counter, which starts at 6250 rpm. So there are still reserves for downhill stretches without having to worry about the engine.
This 1.5-liter four-cylinder is generally a cheerful and at the same time energetic fellow. It reacts spontaneously to movements of the gas pedal and makes the light Jimny appear almost lively up to a speed of 140.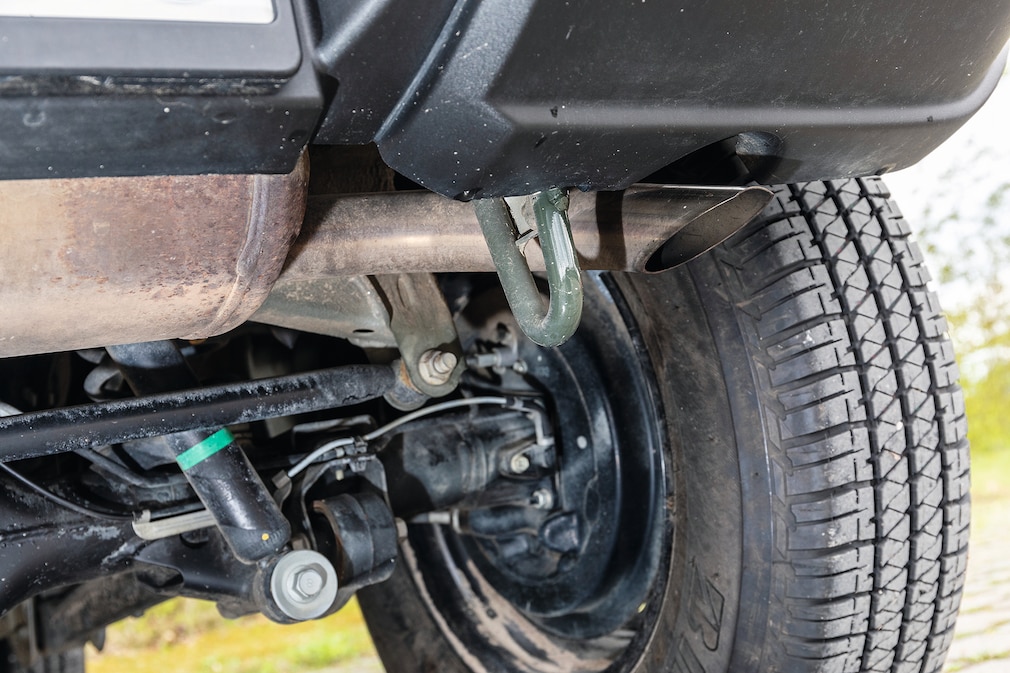 Its torque is even sufficient for lazy shifting: you can already drive at 60 km/h in fifth and thus highest gear and even then experience a noticeable increase in speed when accelerating.
Fortunately, you can also experience this lightness of being at the gas station. Because if you don't mercilessly and constantly use the small four-valve engine's high revving ability, you achieve our test consumption of 7.8 liters/100 km and get around 500 kilometers despite the small 40-liter petrol tank.
Only consistent lead foot drivers, who let the small four-cylinder constantly rotate over 4500 revs and accept its dedicated, but then just loud trumpeting, drive the consumption to over 10 liters / 100 km. Conversely, drivers with a particularly gentle gas foot and a voluntary speed limit of 100 km/h can hope for 6.5 liters/100 km.
Turning circle left/right
Test consumption Average of the 155 km test lap by AUTO BILD ALLRAD
That saves money at the gas station. And the low fixed costs due to low ratings for vehicle tax and insurance now also fit in with this.
That wasn't always the case, because at the beginning of the Jimny II's steep career in 2018, the skeptical insurance companies still classified the Jimny in the comparatively expensive fully comprehensive class 23.
There are no longer rear seats in the Jimny
But the accident statistics have long since given the insurance companies the all-clear. Jimny owners apparently drive carefully, which is why the comprehensive insurance class could be reduced from 23 to a very reasonable 12.
Are there no disadvantages at all with the Jimny? Yes, there are. First of all, there is a relatively new disadvantage: the limited legroom for long-legged drivers.
Practically everyone who measures more than 1.75 meters sits cramped behind the wheel. At least since last year, when Suzuki only offered the Jimny in Europe as a two-seater commercial vehicle version with (fortunately only screwed, not welded) dividing grilles between the seats and the cargo area.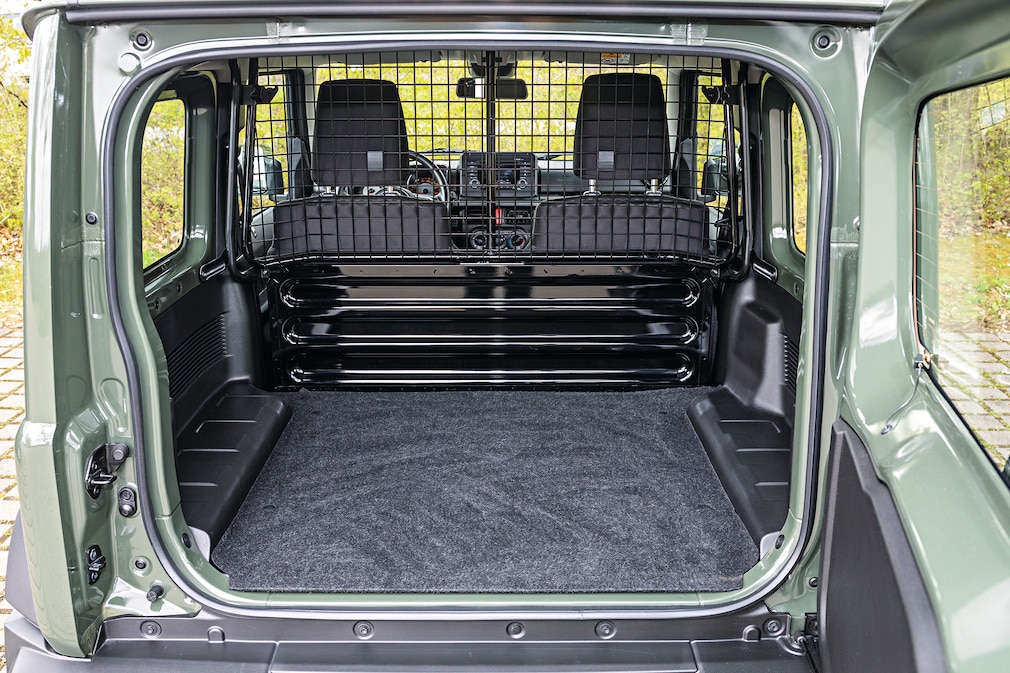 Suzuki does this to save several thousand euros in fines to the EU for comparatively high CO2 emissions according to standard measurements. There are no more rear seats in the Jimny, and no jump seats either; it is and remains a pure two-seater.
The tight adjustment range of the driver's seat with the partition grille installed greatly reduces seating comfort. On the other hand, the Jimny springs surprisingly well despite the chassis with the comparatively heavy rigid axles.
The Suzuki people succeeded in tuning the suspension. However, the Jimny benefits from the standard tires with high and therefore well rebounding sidewalls.
From today's point of view, the standard tires with an 80s cross-section and classic-looking profile with not so bad off-road capability, which seem almost vintage-like, increase the braking problem of the Jimny. The effect of the brake system, which has been kept emphatically simple, is hardly up-to-date anyway, and the standard tires naturally increase the problem.
The result is braking distances of well over 40 meters from 100 km/h – that means maintaining an above-average distance from the vehicle in front.
Not that easy in practice, because the small and supposedly slow Jimny apparently tempts those behind in a hurry to overtake, who then cut into the gap at the front, which was laboriously maintained, and reduce it again.
Quite a few also use the Jimny as an original-looking city car. Of course, with a length of only 3.65 meters (including the spare wheel mounted on the outside), it is even 40 centimeters shorter than a modern small car like a VW Polo and can therefore be parked without any problems.
The narrow width of 1.65 meters not only makes it easier to walk around trees on forest paths, but also around concrete pillars in parking garages. Nevertheless, at around ten and a half meters, the turning circle is relatively large for a car of this size.
Increased cross wind sensitivity in the Jimny

As a long-distance car, on the other hand, it is only suitable for the intrepid. Not only the cramped seating position and the loud wind and engine noise from a speed of 120 eat into the condition of the driver, but also the moderate straight-line stability.
There is no point trying to keep the Jimny exactly in the middle of the lane with constant steering corrections. Sometimes he dances a little to the left, sometimes a little to the right.
Better to steer like a boatman: look far ahead and only operate the rudder when the load deviates too much from the desired course. All off-road vehicles with a front rigid axle drive and steer in this way.
But because apart from the Jeep Wrangler and the Jimny there are hardly any anymore, you're just not used to it anymore and you're surprised. In addition, the Jimny is more sensitive to side winds – due to the low weight and the high, angular structure.
From this point of view, the Jimny should actually be cheaper than today's 23,915 euros. But demand drives the price up.