Cars
Techart Porsche 911 Turbo S: 710 hp tighten the face
Porsche hp count twice. Anyone who has ever experienced what a spectacle a 911 Turbo S pulls off with its 650 hp will confirm this wisdom from the regulars' table. Tuner Techart nevertheless saw potential for optimization and, in addition to the carbon body kit and other tuning parts, developed various performance levels for the 992 generation. Up to 785 hp are currently possible in Germany. At Techart, the latest with 710 hp now marks the entry into the Turbo S tuning world, but has absolutely nothing to do with words like "basis" or "waiver". We drove the tuned 911 in local Leonberg areas! (This is how the Techart Porsche 911 GT3 Touring drives.)
Carbon and blue trim parts en masse

But before you start driving, a short tour around the car. Techart refines the Turbo S with a complete carbon body kit, consisting of front and rear apron, side skirts, front hood, mirror caps, rear wing and covers for the rear air intakes in the fenders. In-house Formula VI light-alloy rims in a mixed format of 20/21 inches rotate in the wheel arches. Depending on your taste, decorative strips in all possible colors can be attached to the rims and body kit. Our test car wore Miami blue make-up, which went great with the carbon and gray paint.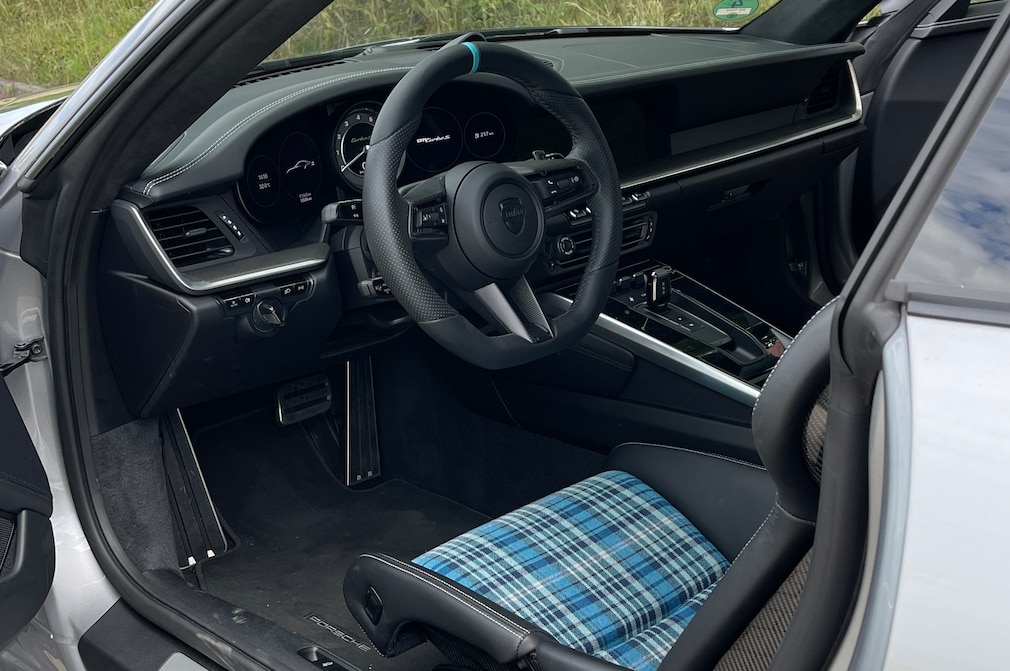 Inside, there are roll bars with cross braces, a newly cast sports steering wheel with blue accents and Porsche's carbon bucket seats. Techart has added blue checkered seats to the latter.
The acceleration is extraterrestrial

When the key is turned, the 3.7-liter biturbo boxer wakes up, we roll from the yard. In normal mode, the Techart drives like any other Turbo S. Gentle throttle response, ceramic brakes that can be easily dosed and the sports exhaust that is reserved with the flaps closed make rolling through towns easy.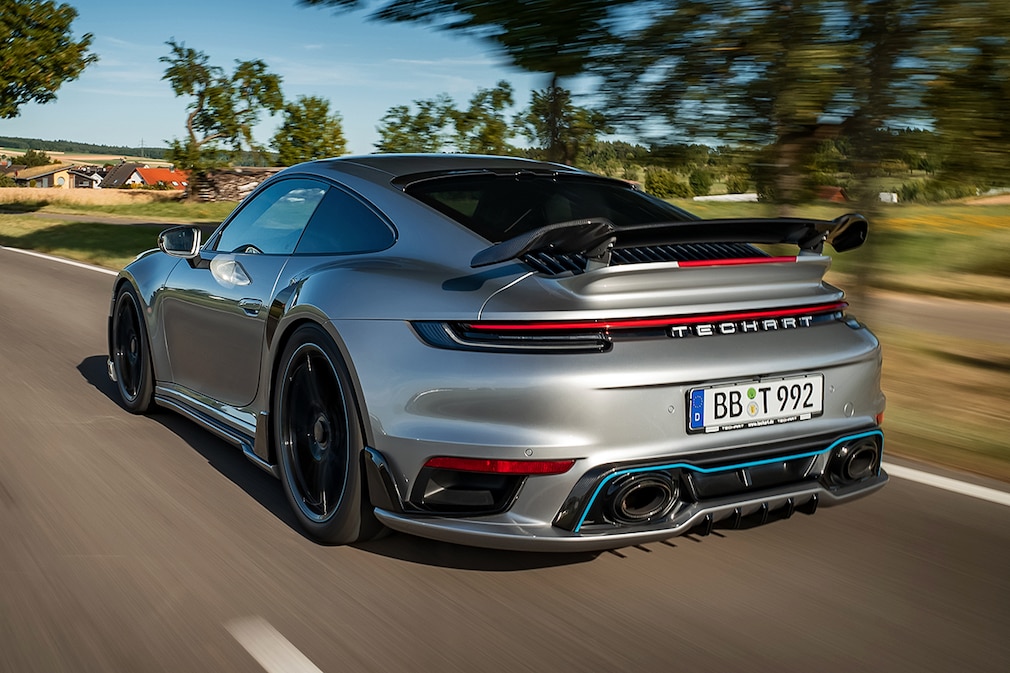 But alas, you turn the driving mode switch to Sport. Then the additional control unit responsible for the extra power releases the additional 60 hp, instead of 800 there are 900 Nm of torque. Techart states 2.6 instead of 2.7 seconds from 0 to 100 km/h, 8.1 instead of 8.9 to 200 km/h. However, driving is a thousand times more spectacular than it reads. The way the four-wheel drive grips the asphalt during kickdown and this part jumps forward is simply out of this world. The engine hangs extremely directly on the gas, like a rubber band that is constantly stretched under full tension and is released at the slightest pedal command. Accompanied by exhaust hissing and wastegate chirping, this Porsche shoots you from curve to curve.
The Techart Turbo S belongs on the Autobahn

That's almost too much for the country road. Sure, steering and chassis are a poem. But in principle this thing belongs on the Autobahn. Said and done. Turn onto the A8 Direction Karlsruhe, no speed limit, go. Again, it nails our skulls to the headrest, the facial skin gets a lift. Intermediate sprints in higher gears are easy anyway. And something else is striking: how clean and manageable the additional service is provided. No deep turbo lag followed by a heavy kick, but constant pressure in all situations. Top!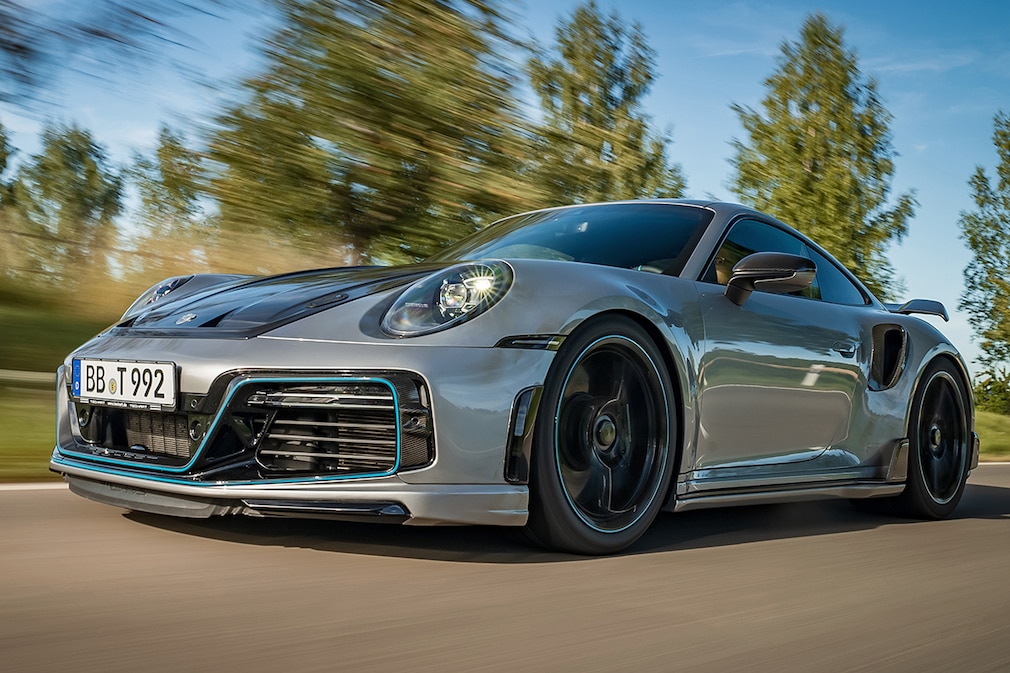 The chassis and steering are superbly balanced, allowing the car to remain stable on the track even at high speeds. Even after several hard decelerations, the brakes cannot be broken. The Techart Turbo S is the king of the Autobahn, slowed down only by consumption. Refueling stops every 250 kilometers should be planned for those who constantly spur on the beast.
Price of around 300,000 euros

On the way back we switch back to normal mode. The chassis dampens binding, the exhaust holds back, consumption drops noticeably. Everyday? No problem. The Turbo S cannot only be cheap. Starting at just under 217,000 euros when it was launched, at least 231,183 euros have to be invested today. For the tuning package, Techart demands another 70,000 euros including installation and TÜV approval. In view of the performance, part quality and development effort, the surcharge is justified. Because driving a Porsche has never been cheap. The price also counts twice for this brand. (Visit the Techart factory.)