Cars
Techart: Tour of the Porsche tuner's manufactory
At Porsche tuner Techart, "hands on" is not just an empty phrase. Ever since the refiner opened its doors in 1987, sports cars from Zuffenhausen have been tuned near Leonberg in Höfingen, Baden-Württemberg. It all started with the in-house saddlery. A workshop and carbon manufactory have been added to this day. 67 employees sew leather, cast steering wheels, develop performance upgrades and bake carbon. AUTO BILD visited the tuner and looked behind the scenes. If you want to watch the video tour in full length, you can find it on our YouTube channel.

In the showroom is splurged

In the showroom we meet Kevin Rohrscheidt, racing driver and press officer at Techart, who is taking the lead for us today. "Here, our current sweethearts are available for the customers." Today there are two 992 911s, a GT3 Touring and a Turbo S with a body kit and a whopping 710 hp. But the showroom is about more than just the cars.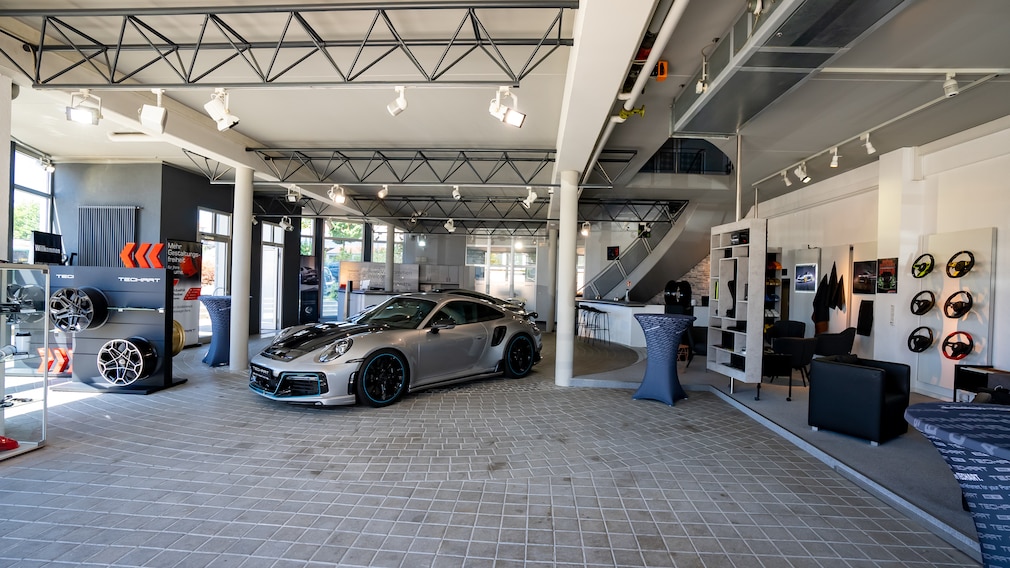 A wide variety of steering wheels, leather and decorative stitching samples, wheel rims, control units and more are also on display. Customers sit on armchairs and sofas from Rolf Benz. A reminder of the former cooperation between Techart and the furniture manufacturer, which, however, only bore limited fruit. Exactly two vehicles are said to have been created, both Cayenne with ruffled fabric in the interior.
Workshop for development and service

We continue to the workshop, where things are really busy. One of 87 Techart GT Street R is about to be delivered and will be checked one last time on a lifting platform. The customer of the 800 hp car has opted for a garish turquoise interior that stands out starkly against the gray paintwork.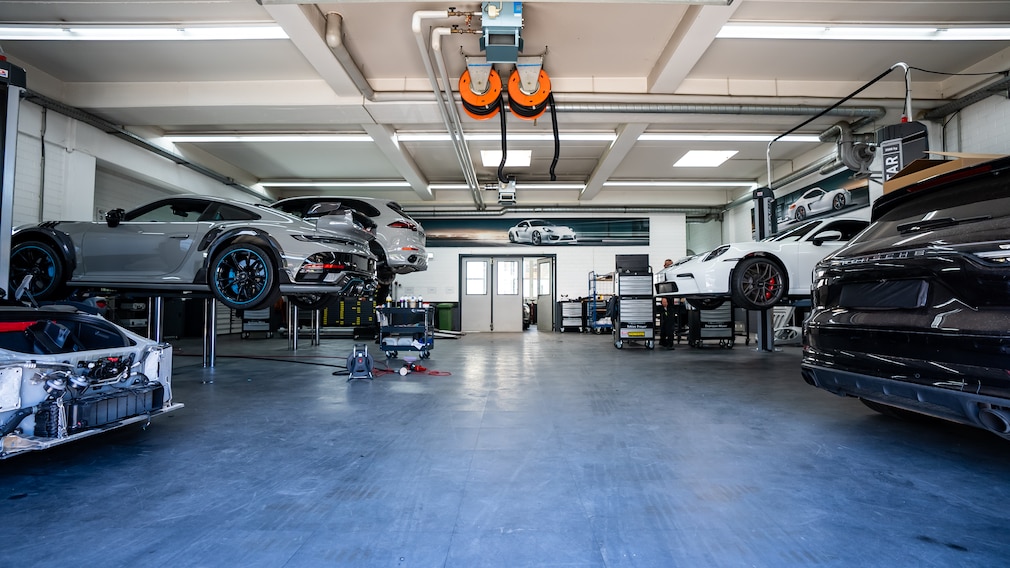 Gray seems to be in: next to it sits a Cayenne 92A facelift with a completely disassembled interior – the customer wants a cockpit in different shades of gray to match the exterior paintwork. "Not only cars are converted here. Customers can also simply bring their vehicles to the service," explains Kevin. But the development and testing of performance kits, chassis and other technical parts is also done in our own team.
Even the child seat is covered in leather

The saddlery is directly connected to the workshop. The smell of fresh leather goes with the huge tanned animal skins of various colors hanging around everywhere. Patterns for all possible interior parts of various Porsche models are made and archived here so that the right templates are available immediately if the customer requests them. On a shelf we then discover the gray interior of the Cayenne from the workshop, including a child seat. In addition to leather, microfiber and fabrics in all possible patterns are also possible.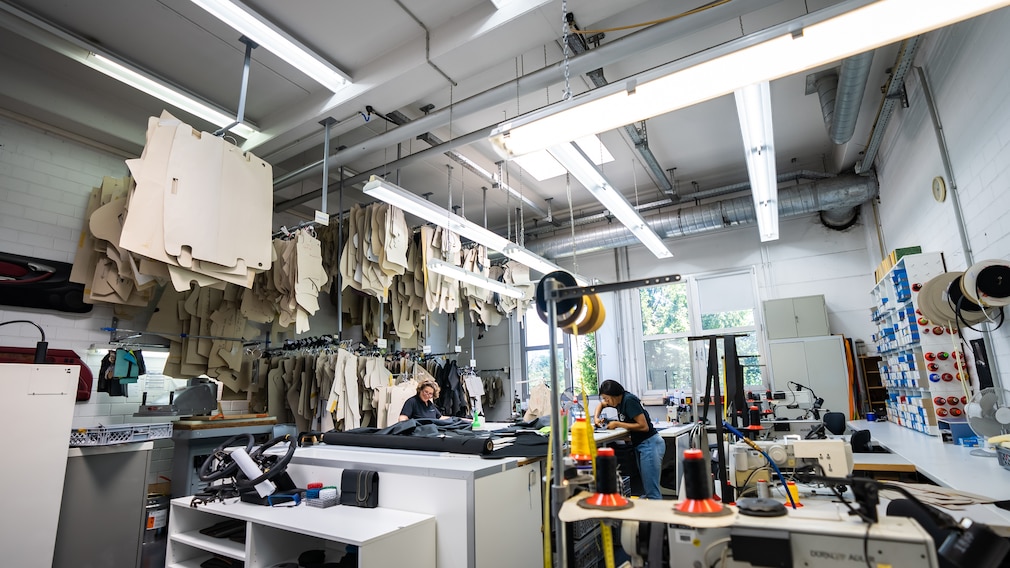 Steering wheels as a bestseller

The Techart steering wheels, which are obviously particularly popular with customers, deserve special attention. Reason: Porsche only offers round steering wheels with a relatively thin rim, without individual shaping. The tuner can help here. For this purpose, the series parts are completely cored down to the metal structure and provided with a newly cast rim – thicker, flattened at the bottom and with different ergonomics.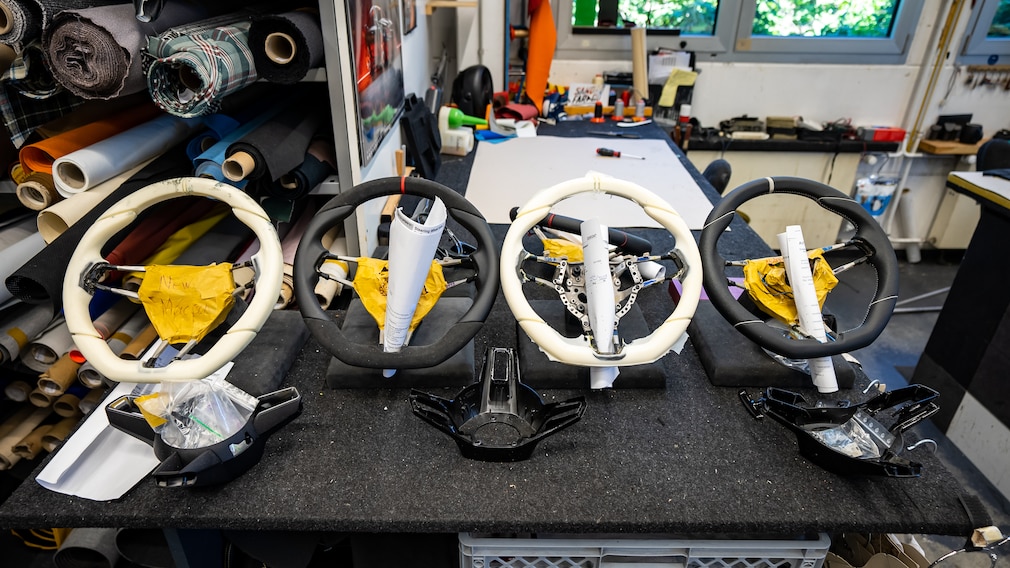 Customers can then choose between various covers, colors, accents, decorative stitching, carbon parts and much more. "You can have every little screw in a different color, the driving mode switch in Alcantara, the width of the center marking is selectable, you can really let off steam there," explains master upholsterer Marco Reucci.
When it comes to carbon, there are no limits to your wishes

The carbon factory is just a few house numbers away from the headquarters. Above all, decorative parts for the interior and smaller body parts are manufactured here. Larger parts such as hoods or spoilers are produced externally due to the limited furnace size. However, the development process is always the same: design a positive molded part, derive a negative carbon mold from it, which in turn serves as the production basis for the actual carbon end product.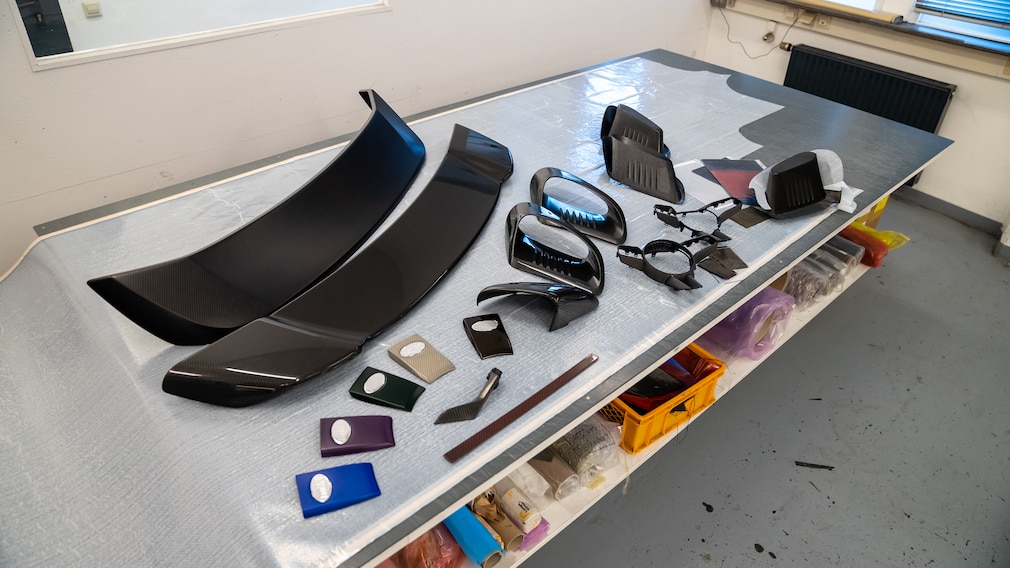 "In the design area, we can play as we please. We can glaze the surfaces with colorful clear coat, weave colorful threads, present different finishes or other woven and pressed structures, such as forged carbon," says team leader Chris Zinth. If possible, everything that customers want is implemented. "I'm currently in the process of trying out something completely new that hasn't been seen before in the tuning sector," Chris grins meaningfully. He doesn't want to reveal what that is just yet.
Two 911s as the crowning glory

After the extensive tour, Kevin takes us back to the showroom. It suddenly appears much emptier than before. You remember GT3 Touring and Turbo S? They just rolled outside and are warming up, ready for us to test. Let's see if all the in-house developments were worth it! (You will soon find the driving reports here!)