Cars
Tesla Model 3 in the everyday test: emotional roller coaster ride
Electromobility, is it really for me? First time Tesla, I'm unsure will everything work? I've driven many different vehicles, but I haven't had a high-tech Tesla among them.
In the beginning there is curiosity
So this is what this little Elon Musk spaceship looks like from the inside – very minimalistic. There are hardly any buttons, but there is a huge display in the middle, which is used to control everything in the car. Everything can be changed, from the seat adjustment to the horn tone.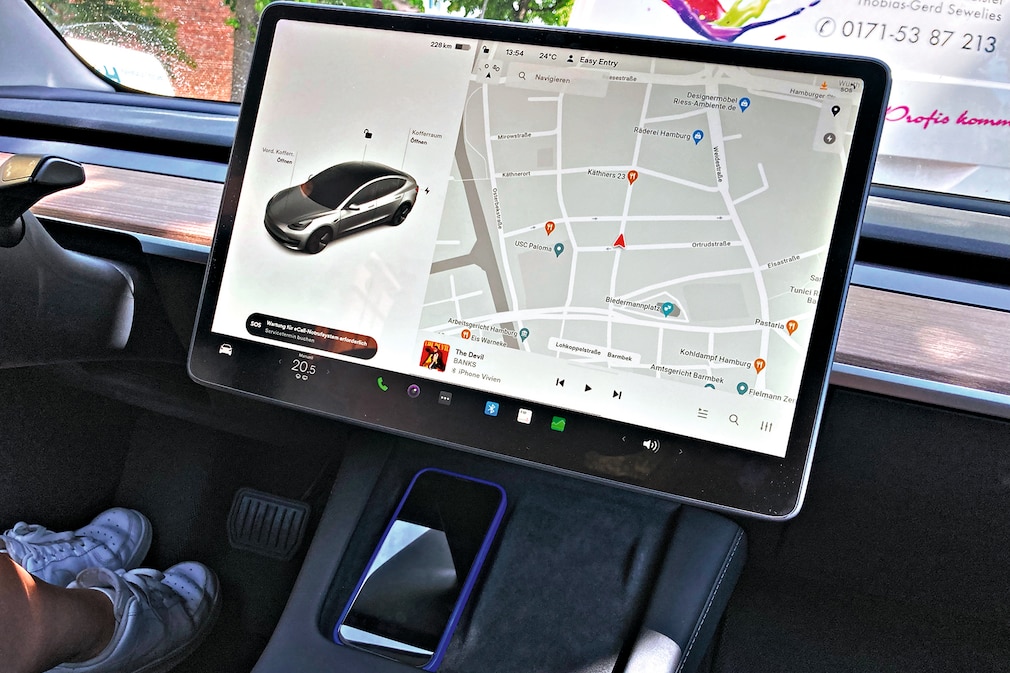 It takes me a bit to figure out that there is an induction charging pad for the phone under the display. The biggest change for me: There is no speed display, the speed is only displayed small in the middle of the screen. Dangerous, because I have a tendency to drive fast anyway.
Driving means relaxing
My first ride. I silently leave the underground office car park and jet to my apartment. I think the all-round view plus the cameras, which show me the entire cycle route, are great.
Why don't all cars have such great "eyes"? The driving experience is relaxed, and the acceleration at traffic lights is pretty brisk. What fascinates me the most is that I can see traffic lights, pedestrians and even cones on the display.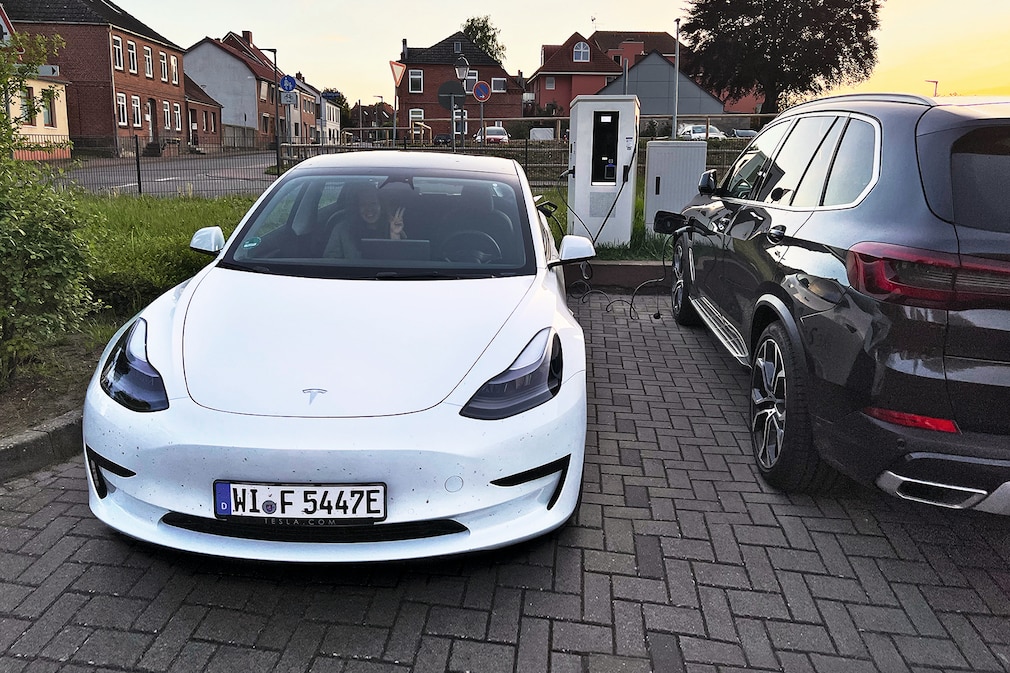 Loading can bring frustration
I live in Hamburg-Barmbek and have a charging station near me that is often free. That's practical, in other parts of the city it's a little different. At first I thought I wouldn't have any parking problems with a Tesla.
Super Charger inspire
So get out of town. On the way from Hamburg to Ahrensburg, I stop at the supercharger in Siek on the A1. It's easy. Park, open the tailgate and off you go.
There are many free spaces there, and there is a bakery directly opposite. A good place to have breakfast – the loading time flies by.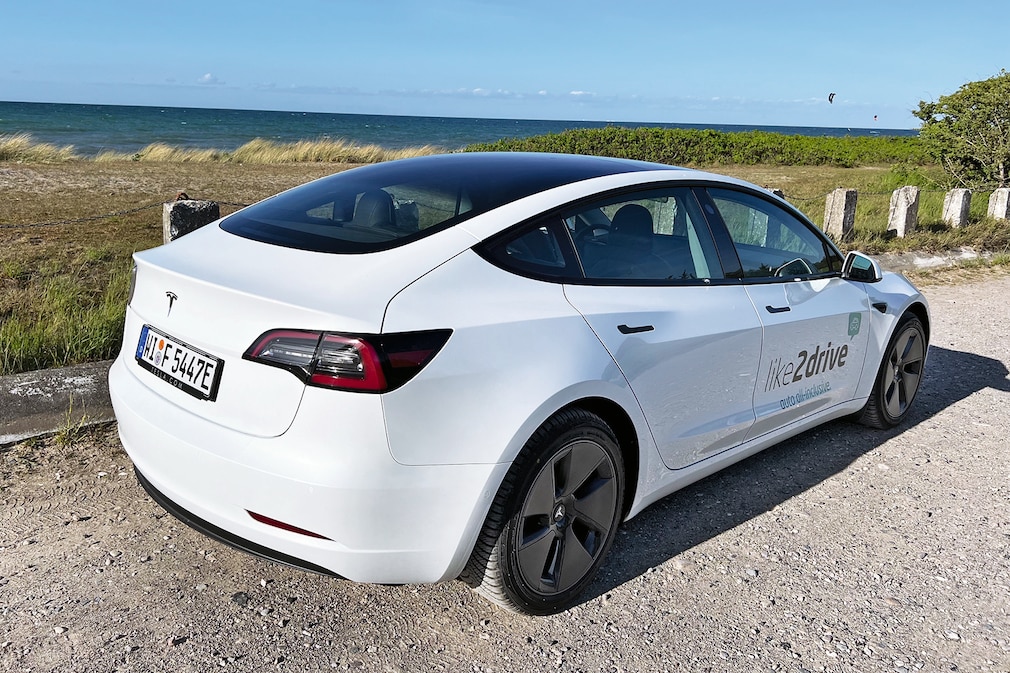 Off to Fehmarn
With this super-supercharger experience, I dare to go on a day trip to Lemkenhafen/Fehmarn in an e-mobile. I often spend time there with my family. To be on the safe side, I'll take a friend with me in case I get stuck.
The Tesla drives well on the Autobahn, I like the cameras when changing lanes, they offer a good overview. We quickly mastered the 147 kilometers and I am delighted with the range. We started in Hamburg with a range of 409 kilometers and arrived at 174 kilometers. Despite brisk driving, often at speeds of 150 to 170 km/h.
Unfortunately, there are no charging stations in Lemkenhafen, so charging is not possible during the day. In general, the density of charging stations on Fehmarn is rather low. As a smart woman, I planned this and selected a supercharger in Heiligenhafen in advance.
However, my plan doesn't work out because it didn't say anywhere that these charging stations belong to the hotel. Stupid when you have to find out that at 9 p.m. in the evening with a remaining range of 100 kilometers.
With two additional stops (one charging station is defective, then 30 minutes to get an emergency ration), the last few kilowatts are taken to the next supercharger in Reinfeld. To bridge the loading time there and to lift the spirits a bit, there is still ice cream at McDonald's.
All's well that ends well
I like Tesla, it's fun to drive around. And like camper drivers, Tesla drivers greet each other – funny. Unlike with a combustion engine, however, tours need to be well planned and always within reach. Then it's on with the e-mobile.
relationship status
Commute: No problem at all with the range. Points: 5/5
Shopping: That's fine, even the family needs go with it. Points: 3/5
Transport: The small boot lid sets limits early on. Points: 2/5
Vacation: It works, but a small load can trigger a suitcase fight. Points: 3/5
Hobby: Join in everything that isn't too spontaneous or extreme. Points 4/5
family life: Kids love it, parents appreciate it. Points 4/5
In a nutshell
What will the neighbors say if I drive up? Don't you miss the sound of the engine?
Why would I recommend the car to my best friend? Because the Model 3 and the Superchargers work wonderfully – but there needs to be more.
What do I remember? The grandiose cameras on the passenger and driver side. Even in the dark, they deliver really good pictures.
Specifications and price: Tesla Model 3
• Battery capacity 60kWh
• Perfomance 239 kW (325 hp)
• trunk 561+88 l in front
• 0-100km/h 6.1s
• Top 225km/h
• Consumption (WLTP) 14.4kWh/100km
• Price from 52,965 euros