Cars
Tesla Model Y tuned: coilover kit from the German tuner KW
Electric car tuning? That still sounds like new territory. In fact, a lot is happening here. Tuning specialist KW Automotive from Fichtenberg / Swabia has currently developed a special chassis for the brand new Tesla Model Y, which should bring more comfort and safety, but also save energy. The Variant 3 coilover kit is "Made in Germany" and costs from 2519 euros including a TÜV certificate.
Lowered by up to 50 millimeters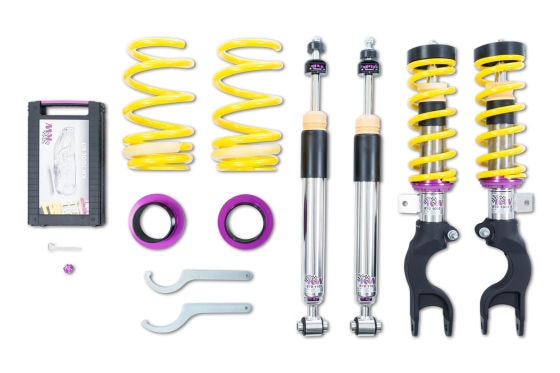 Lowering a car, many think that's cool. There is also a useful side effect: the air resistance decreases and with it the consumption. With the help of the new Variant 3 coilover kit, the SUV from the electric car pioneer from the USA can duck up to 50 millimeters closer to the asphalt. The term coilover kit refers to a sports suspension with variable height adjustment. The ground clearance of the KW product cannot be varied from the cockpit, but must be set directly on the dampers. The driver can choose between 25 and 50 millimeters. Even the basic setting of 25 millimeters leads to considerably more driving comfort, according to KW.
The two-stage multi-valve system dampens the car on transverse joints, cracks and potholes better than the original chassis. "The car is more comfortable on the road," explains KW spokesman Christian Schmidt. That also means more ground contact, more drive power goes straight to the road. With the Tesla Model 3, KW has demonstrably managed to do this: In a test by the electric car rental company Nextmove, the range of the US mid-range could be increased by seven percent with the sports suspension from the Swabian tuner.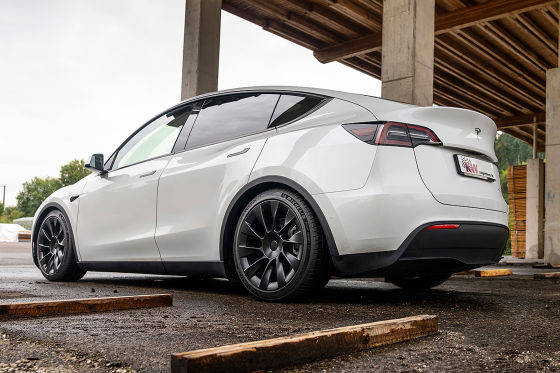 Only for
Model Y

with AWD


KW relies on mechanical damping because Tesla has not yet offered an electronic chassis. "Anyone who wants adaptive dampers would have to lay sensors and a complete cable harness," said KW spokesman Christian Schmidt. According to his information, however, electronics would not noticeably improve the effect. The new Variant 3 coilover kit has been developed for the two all-wheel drive models Tesla Model Y Longe Range AWD and Model Y Performance AWD. A corresponding sports suspension with height adjustment for the variants with rear-wheel drive is in preparation.