Career
That's how you make an impression with a sleek video CV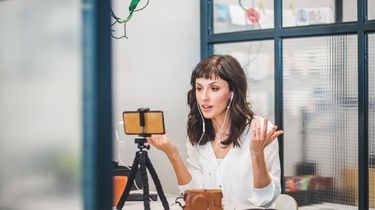 Certainly now that we have as few real encounters as possible for the time being, your job interview will often take place via a video. The video resume is also a good way to present yourself. Here are some points to pay extra attention to.
1. Know what you want to say
Recording a video resume flawlessly on the first take may sound like an impossible task, but you can greatly reduce the time you spend recording the footage by getting ready. That is mainly about explaining well in advance what you want to tell in your video. If necessary, write down the text in advance, and it will look good in your head.
2. Contents
You are of course completely free to fill in a video CV yourself as best as possible. However, according to the recruitment agency Walters People, there are a few points that should not be missed when you make a video CV.
Introduction: who are you? What do you like to do? Tell who you are in a few short sentences.
Your work experience: what were your duties and responsibilities and what have you learned? What can you? Tell what skills you have and what you excel at. What makes you unique?
Your own ambition: what do you want to do in your next job? What makes you enthusiastic and energetic?
A strong conclusion: it is very easy to close with "thank you for watching my video resume". However, this is not very catchy. You want to persuade your potential employer to invite you for an interview. So at the end of your video, ask if the viewer will contact you. Provide clear contact information, make it easy for people.
3. Technique
You will probably record the video with your phone. Make sure your phone is stable and not moving during filming. Do not hold your phone as if you are taking a selfie, but put it against something. Don't have a tripod? Then ask a housemate or your friend for help or stack a few books on your dining table. Make sure your phone battery is full. It would be a shame if your phone suddenly fails in the middle of that fantastic recording. Finally: film horizontally and make sure you look representative and professional.
4. Environment
It is important to look at your surroundings before recording. You want to be visible in your video. Therefore, pay attention to good lighting: make sure that the light comes from the front or from the side, not from behind. For example, if you stand with your back to a window, the viewer will see a dark spot instead of your face.
Also provide a quiet background, such as a wall. There may be something in the background, for example a plant or a painting. But keep it professional: don't record your video in your bedroom with your unmade bed in the background. Also avoid background noise. Record your video at a quiet time of day and keep your windows and doors closed.
5. Position and posture
Do not stand too far away from the camera, this is impersonal and so you connect less with the viewer. Place the camera at eye level, stand in the center of the frame and maintain the distance you would normally keep when speaking to someone face-to-face. A good guideline is to make sure that your face and shoulders are visible in the picture.
Record the video while standing. This way you automatically appear more confident and stronger. If you prefer to sit, make sure you sit upright, preferably on a chair without a backrest. Speak calmly and clearly and make sure you are clearly understood. Important: It may feel a little uncomfortable, but look into the camera. It looks like you are looking straight at someone. Finally, keep a smile on your face. Cheerfulness is infectious.
So it's up to you to make a top video resume with these tips. Although you shouldn't overdo it…