Cars
These are the champions of e-car fast charging in Germany
If you start your holiday trip by electric car, you often need patience, despite good planning. Because a charging stop takes a lot of time – and queues can form in front of the charging stations not only during the holiday months.
Charging is accelerated on the car side by the fast charging capability – and on the charging station side by High Power Charging (HPC). Because such charging points press the current with 150 kilowatts or more charging capacity into the battery. The 95 kWh battery of an Audi e-tron 55 quattro, for example, is ideally full again after 45 minutes of fast charging and is ready for an (official) range of 441 kilometers.
These are the best electric cars
Selected products in tabular overview

| | | |
| --- | --- | --- |
| BMW iX | RRP from EUR 77,300, savings: up to EUR 13,386 | |
| Kia EV6 | RRP from EUR 44,990, savings: up to EUR 14,069 / in leasing from EUR 274 | |
| Mercedes EQS | RRP from EUR 97,807, savings: up to EUR 6,152 | |
| Hyundai Ioniq 5 | RRP from EUR 41,900, savings: up to EUR 12,280 / in leasing from EUR 234 | |
| Audi Q4 e-tron | RRP from EUR 41,900, savings: up to EUR 12,420 / best leasing price: EUR 89 | |
| Skoda Enyaq iV | RRP from EUR 34,600, savings: up to EUR 11,584 / best leasing price EUR 124 | |
| Mazda MX-30 | RRP from EUR 34,490, savings: up to EUR 13,035 / in leasing from EUR 90 | |
| Smart EQ for two | RRP from EUR 21,940, savings: up to EUR 8,240 / in leasing from EUR 77 | |
| Tesla Model 3 | RRP from EUR 46,560; Savings: up to EUR 7,975 / best leasing price EUR 289.00 | |
| Opel Corsa-e | RRP from EUR 30,400; Savings: up to EUR 11,920.00 | |
| Volvo XC40 Recharge | RRP from EUR 48,650; Savings: up to EUR 9570.00 | |
Okay, that's a significantly longer waiting time than when filling up with petrol and diesel – but it's definitely suitable for everyday use. Incidentally, not only for vacationers on the Autobahn ride, but also for business travelers on long journeys; or for those in a hurry in urban centers.
HPC charging network is being expanded more and more

Fortunately, the HPC fast charging network in Germany (this is how turbo charging works) is being expanded more and more. As of July 4, 2022, AUTO BILD – together with the charging market specialists from Charging Radar and the technology consultancy P3 – took a close look at the infrastructure in Germany. After the world of charging services in the E-Mobility Excellence Report, this time it's about the "hardware" of the charge point operator (CPO).
Who has the largest fast charging network?

Which charging station operator has the largest fast charging network? Who has the most large charging parks with ten or more HPC charging points? And who is the highway champion, has locations on or in the immediate vicinity of highways (max.
500m
away from an exit or service area)? The following map provides an overview of the largest fast charging parks on travel routes in Germany; all results in detail are in the table (below).
Which offer is "exemplary"?

When it comes to the number of charging points, two players on the growing German market are currently shining with an "exemplary" offer: the Baden-Württemberg energy giant EnBW has earned the title "Largest HPC charging network" with a total of 1489 fast charging points. In addition, with 202 locations, it has a large presence near the motorway, which also earns it the title of "Autobahn Champion".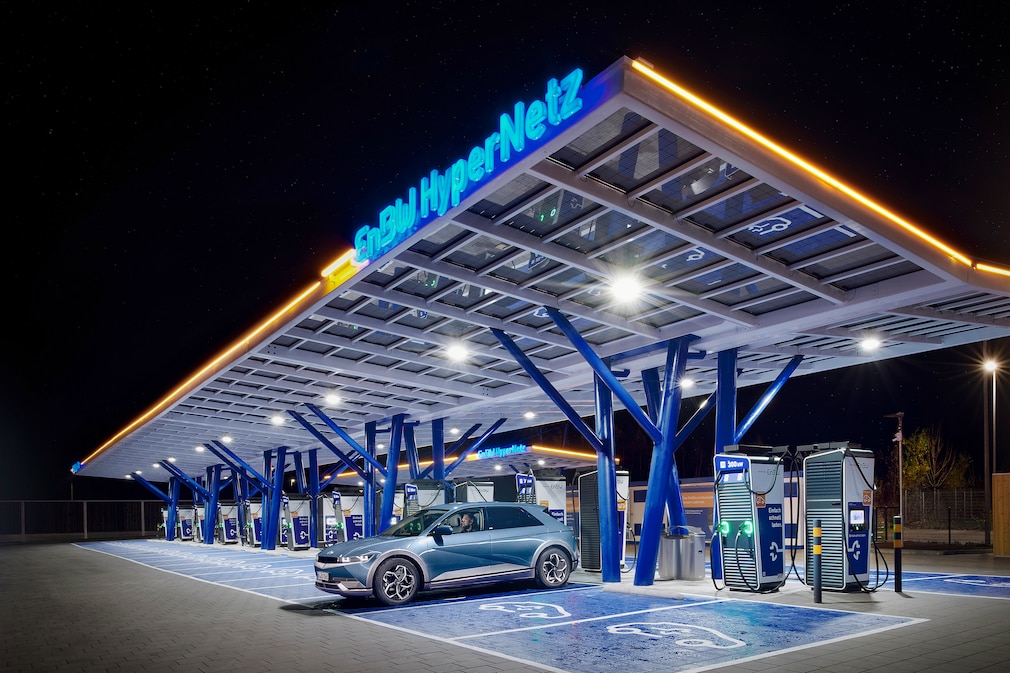 How many fast charging points does Tesla offer?

When it comes to HPC network coverage, e-car pioneer Tesla performs even better with 1,688 fast-charging connections in Germany. However, most charging points are still reserved for Tesla drivers; The American supercharger network is only slowly opening up to vehicles from other brands.
Important terms for fast charging
HPC


High Power Charging = charging with an output of 150 kW or more.
Maximum loading speed


Depends on the car and how full the battery is. E-cars with an 800 V electrical system can charge the fastest. The charging rate can be accelerated by conditioning the battery, either by internal preheating or by high power output, i.e. fast driving.
roaming


All charging networks (except Tesla with its own network) are roaming-capable. This means: A charging service (EMP) enables access to the charging infrastructure of different providers.

connector standard


The CCS connector is catching on, a few suppliers/car manufacturers still rely on the CHAdeMO connector.

How many Superchargers can be freely used?

According to the report, there are currently 322 charging points in Germany that can be used freely after installing the Tesla app. Tesla therefore ranked first with an asterisk with its own supercharger network. Also positive for all users: 95 locations offer at least ten superchargers and thus the best prospect of little or no waiting time. So Tesla is also "exemplary" when it comes to charging opportunities.
Why is Ionity a special case in fast charging?

Another special case is Ionity. The car manufacturer association (Audi, BMW, Ford, Hyundai, Kia, Mercedes, Mini, Porsche, Skoda and VW) is also prominently represented (458 charging points) at motorway service stations and truck stops. There it guarantees green electricity everywhere with the excellent charging capacity of up to 350 kW – even if two vehicles are tapping into one charging station.
The restrictions: You can only charge at Ionity for 35 cents/kWh with a contract, non-brand customers pay a lavish 79 cents. In addition, only a few high-priced electric cars are capable of charging more than 150 kW.
How good are regional fast charging providers?

But some regional CPOs also offer a very impressive range of quick charging options and at least get the grade "satisfactory". For long-distance travelers, the HPC charging stations of more locally oriented operators are not sufficient, but that is irrelevant for many e-car drivers. You use the charging points of the national autobahn champions via roaming contracts.
The best HPC charging network operators

Tesla Supercharger (for all brands)
IONITY (highest charging power)
Three questions for the charging network expert Ludwig Hohenlohe

AUTO BILD: How do you rate the current fast-charging network? Ludwig Hohenlohe: The network of HPC charging points already offers more charging power than the majority of current e-cars can charge at all. The fast charging infrastructure is better than its reputation.
When is the opportunity for fast charging along the Autobahn greatest? The HPC charging points are particularly in demand at weekends. If you want to charge immediately, you should drive to a charging station between 7 p.m. and 9 a.m. On Fridays it is often open until after 8 p.m.
What tip do you have for fast charging? If you drive to a charging park whose charging stations always have two connections, it is better to use a completely free one. Otherwise you have to expect that the charging capacity will be halved.