Cars
These are the highlights and trends of the Essen Motor Show 2021
The fair itself is a highlight! The 53rd Essen Motor Show takes place under 3G rules plus a mask requirement and numerous visitors came on Preview Day. A good atmosphere paired with the joy of one of the few car events for almost two years. Although some manufacturers canceled, the organizers made clever use of the free space. This leaves more space for the stars of the fair, the vehicles. And what are the highlights and trends?
Sidney gets a lot of praise for GT3 carbon kit
Sidney Hoffmann is certainly one of the most famous faces of EMS. With a trimmed beard and black polo, the Dortmund resident presents himself as a likable businessman with high-quality tuning. At his stand, Sidney will be showing the Porsche 992 GT3 with a carbon package and a film that refers to many previous projects. The perfectly fitting parts such as the bonnet and diffuser in matt carbon cost just under 43,200 euros in the overall package. But the quality is right, as many trade visitors testify to the stand.

JP with eye-catchers, Kaess with RS-4 comeback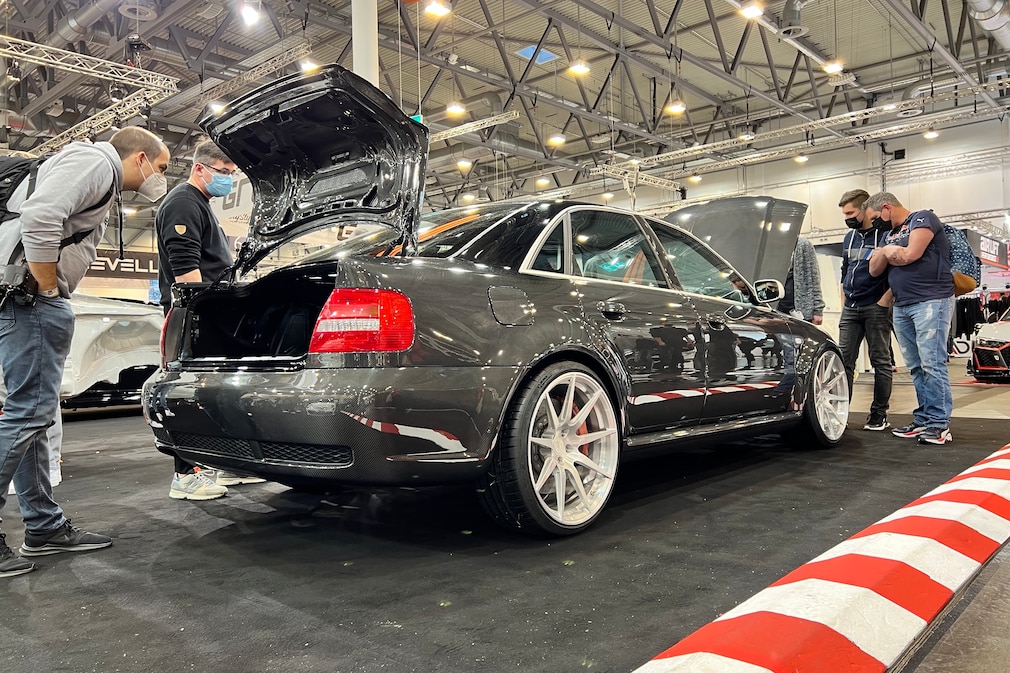 The iconic Nissan GT-R R35 and Toyota Supra with colorful foiling are on display at the JP Performance booth. Absolute eye-catchers, however, are the Thunderbunny, a Golf 2 GTI with a rear engine and the VW Beetle GT from Gran Turismo, which was created in collaboration with Prior Design. The Audi RS 4 sedan from Philipp Kaess with a carbon body is just a few meters away! At the end of 2019, the tuner's 1300 PS strong RS 4 B5 burned down. Since then he has been working on the comeback.
Toyota GR Yaris, Cupra and Tesla strongly represented
The Toyota GR Yaris became an absolute hit in 2020 and 2021 and is unfortunately now sold out. For all those who still got one, various conversions are offered. Also frequently seen are models by Cupra, such as the Formentor and Leon. The Audi RS 3 is very fresh on the market and has already been changed. Whether with an increase in performance from MTM, the 612 PS and 710 Nm from the sedan or lowering it from H&R. And e-mobility is still on the advance. The Startech Tesla Model 3 isn't the only modified Tesla on the EMS. The manufacturers are reporting increasing requests for modifications for Tesla models.