Cars
This Mercedes C 270 comes with Brabus optics
How do you combine a practical, almost indestructible station wagon with a special look? Probably not with a Mercedes C 270 — unless you are lucky and find a C 270 with a Brabus optics package!
If you are looking specifically for this car on the used car market, you will most likely not find it. A quick look at various portals is enough to determine that the station wagon is not offered very often anyway – but not at all in Brabus optics.

The rare equipment is particularly evident in the interior

But what does "Brabus-Optik-Package" actually mean? First of all: As the name suggests, only the design has been touched, the technical data have not changed. So 170 hp, five-speed automatic, diesel and rear-wheel drive. The five-cylinder in-line engine with a displacement of 2.7 liters has also remained unchanged. This vehicle has run 207,000 kilometers. So there's still a lot of room, because even three times as much shouldn't be a problem for the Benz.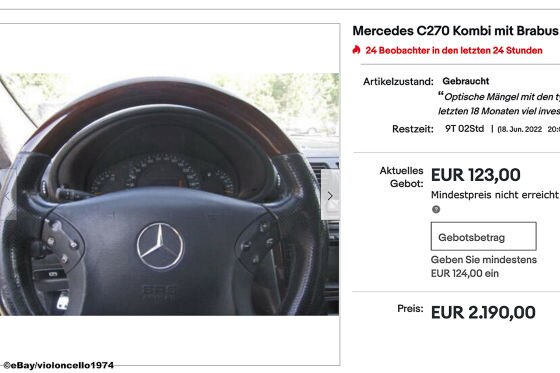 And these things are different with the eBay Mercedes than with the others in this model range! In the interior, the sports steering wheel made of leather, which is decorated with wood in the upper and lower area, immediately catches the eye. (The normal steering wheel of the C 270 is made entirely of leather.) The pedals, the shift knob and the entire leather interior are also part of the Brabus look. From the outside you can only tell from the double exhaust tailpipe and the discreet roof edge spoiler that "something is different".
Shown is the station wagon with 17-inch alloy wheels. It is also for sale with these, but for an (undisclosed) additional charge, 19-inch Brabus rims can be purchased.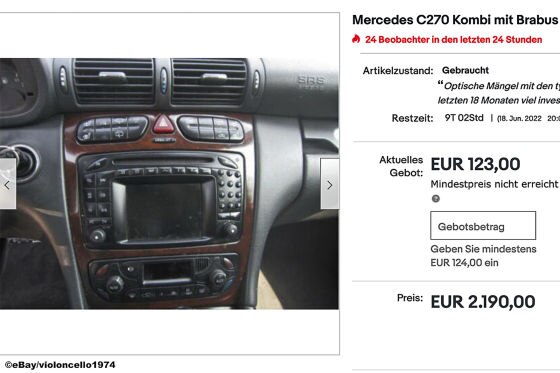 Even apart from the Brabus extras, the equipment is impressive. Comfort is the focus here: electrically adjustable seats, power windows, height-adjustable steering wheel, climate control, parking sensors, power steering and heated seats.
Much has been renewed in the last two years

The seller declares his car as a hobby vehicle. Why, that remains open. Because the same paragraph states that the car only suffers from a few rust spots and a deep scratch on the rear door on the driver's side. Otherwise, a lot has been renewed and repaired in the past 18 months. Including a new turbocharger, a new servo pump and a new air conditioning compressor. The star bearer has TÜV until May 2023.

According to the current status (June 10, 2022), the offer will expire in eight days. The highest bid so far is 131 euros, but an immediate purchase is also possible. Then the station wagon should cost 2190 euros. For comparison: models with a similar mileage cost between 2,000 and 4,500 euros. But they come without the rare optics package!