Cars
This Renault R4 converted to an electric car has a range of 170 km!
As a world saver, as a solar advocate and wind power supporter, as a sustainability fan and nuclear power fighter, can you find green cars good?
Sure, of course! This is the story of Thomas Pade (60) and his Renault R4 (56). Pade used to organize the resistance against nuclear power plants in Aachen ("Loud against nuclear power"), now he has fully trimmed his car to be eco-friendly.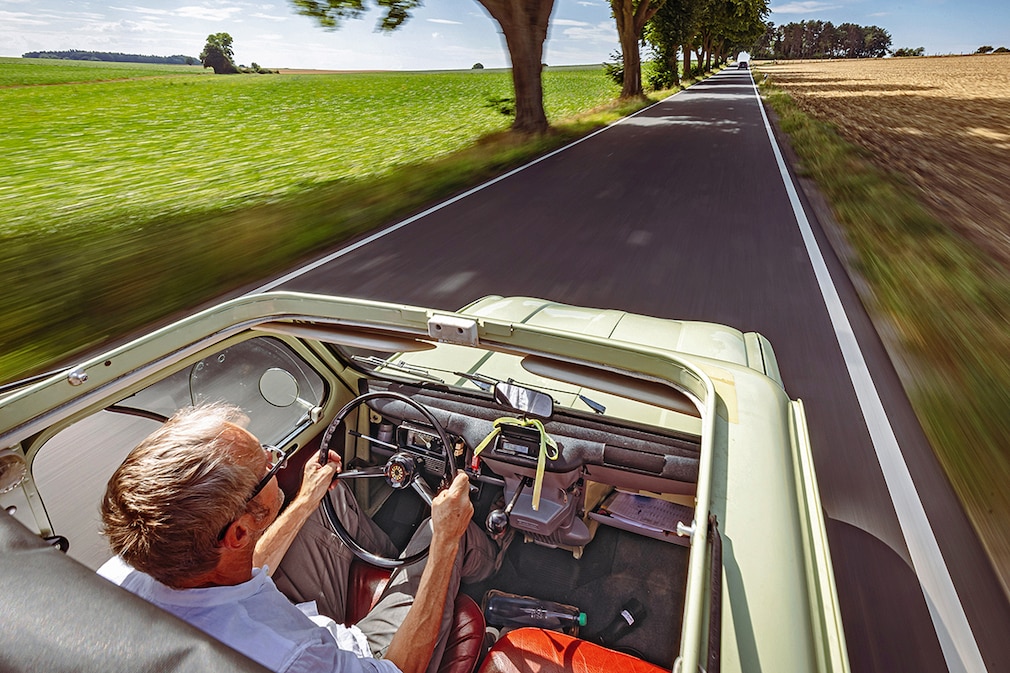 AUTO BILD in 52074 Aachen, he is parked in the front yard of the terraced house: Renault 4, built in 1966, license plate AC-P 824 E. While we pay attention to the "E" in the license plate, we only know it from Tesla and Co.
Pade bought the R4 in 2011

Thomas Pade, tall, slim, white linen shirt and brown Birkenstocks, opens the bonnet and smiles mischievously: "I worked on it for three months, the conversion didn't take place IN, but BEFORE the garage." His "Project R4" started eleven years ago. That's when the 60-year-old bought the eleventh R4 of his career as a driver.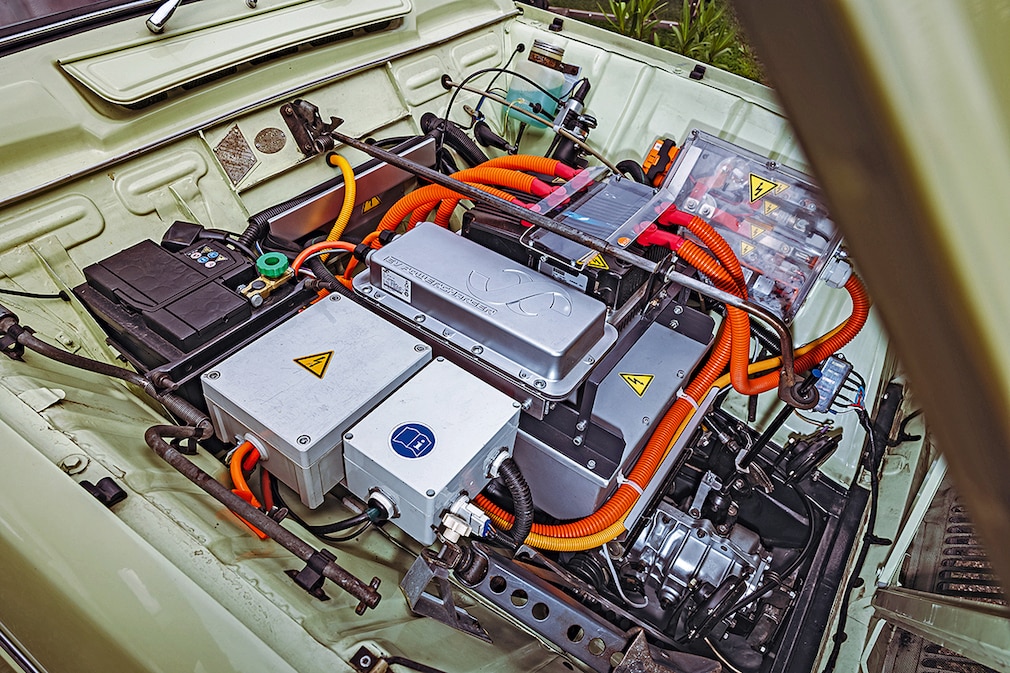 He used to know every screw, he used to drive all the way to Greece with 30 hp and a revolver gearshift. At some point he had to have another one, it was clear. It took 1,500 hours for his little box with four doors to be finished, Pade even taught himself how to paint, masked the specially rented cowshed with foil, carpeted the floor and moistened it.
The currently best electric cars
Selected products in tabular overview

| | | |
| --- | --- | --- |
| BMW iX | RRP from EUR 77,300, savings: up to EUR 13,386 | |
| Kia Niro EV | RRP from EUR 47,590, savings of up to EUR 11,164 | |
| Kia EV6 | RRP from EUR 44,990, savings: up to EUR 14,069 / in leasing from EUR 274 | |
| Mercedes EQS | RRP from EUR 97,807, savings: up to EUR 6,152 | |
| Hyundai Ioniq 5 | RRP from EUR 41,900, savings: up to EUR 12,280 / in leasing from EUR 234 | |
| Audi Q4 e-tron | RRP from EUR 41,900, savings: up to EUR 12,420 / best leasing price: EUR 89 | |
| Skoda Enyaq iV | RRP from EUR 34,600, savings: up to EUR 11,584 / best leasing price EUR 124 | |
| Mazda MX-30 | RRP from EUR 34,490, savings: up to EUR 13,035 / in leasing from EUR 90 | |
| Opel Corsa-e | RRP from EUR 30,400; Savings: up to EUR 11,920.00 | |
| Smart EQ for two | RRP from EUR 21,940, savings: up to EUR 8,240 / in leasing from EUR 77 | |
| Tesla Model 3 | RRP from EUR 46,560; Savings: up to EUR 7,975 / best leasing price EUR 289.00 | |
| Toyota bZ4X | RRP from EUR 47,490; Savings: up to EUR 10,520.00 | |
| Volvo XC40 Recharge | RRP from EUR 48,650; Savings: up to EUR 9570.00 | |
Then he alternately points to the front and rear seats. The back seat is original with imitation leather, the front is real leather. He discovered that eleven years ago during his lunch break: "There was a huge sofa landscape on the street by the bulky waste, so I just took out my pocket knife and helped myself."
You can see the history of the R4

The nice thing about this early R4, which in the first phase between 1961 and 1967 still wore its round eyes to the left and right of the radiator grille and not IN, is its originality. Carefully but not perfectly restored, the paintwork is smooth but not shiny like a new car.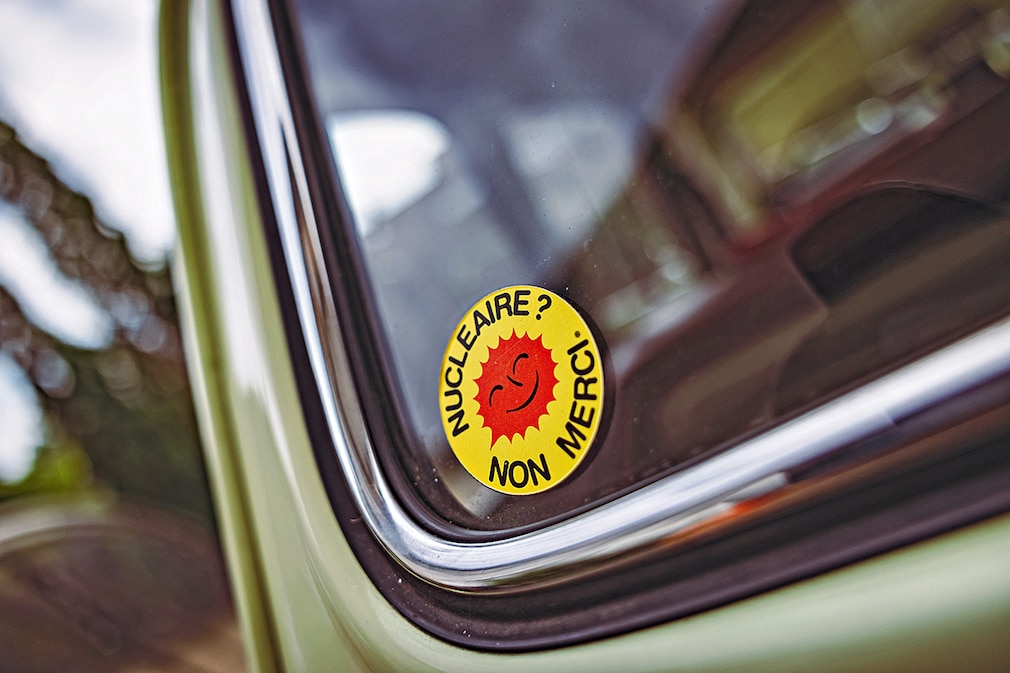 When you look at it, you get an idea of ​​what he might have experienced in his 56 years – we humans also carry our history with us. He recently transported 300 kilograms of wood in the R4 trunk, removing the back seat for it. The Familien-Golf-Plus would never have made it, says Pade, "the loading floor would probably have broken through".
And "of course" he also drives the R4 in winter, "we used to do that too". Except that, unlike in the past, he has now injected kilos of fluid into the cavities to protect against rust. We're still standing in front of the open bonnet, it folds forward like it used to at BMW. Pade points to cables in orange, which we average drivers should never, never, ever touch. High voltage, danger to life!
The classic car friend is an electric autodidact

Pade is a mechanic and industrial clerk, but not an electrician. "I'm self-taught," he explains, "and Google is a wonderful invention." He read for a year and a half, bought used parts and met new people who introduced him deeper and deeper into the subject. At some point it was clear: I need these parts. How they got into the car was improvisation.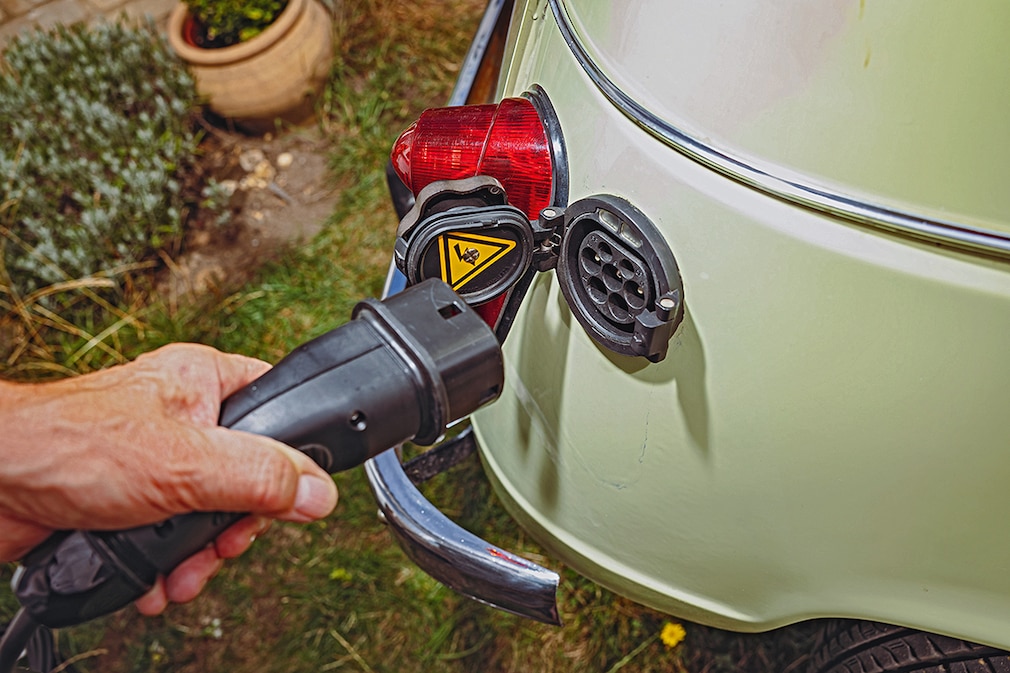 The original three-speed gearbox has remained, although Pade never uses first gear: "0 to 70 km/h in second gear, then up to 120 kph in third." The clutch bell is home-made, the engine the size of a shoe box, has 22 hp nominal and 71 hp peak power and – please note: 194 Nm of torque.
The batteries come from the BMW i3, one module is located at the front above the engine and under the switch boxes, for the other two modules Pade has partially flexed away the corrugated sheet metal in the trunk and is very proud that the difference in height is almost imperceptible. So better than some modern plug-in hybrids, whose batteries cause a bulge in the trunk, as if hobbyists had been at work. No, it's different here.
The R4 weighs 30 kilograms more as an electric car

The R4 has 30 kilograms more weight due to the conversion to E, is 700 kilograms; i.e. about as much as the batteries in the Audi e-tron weigh. If Pade had bought all the parts new, he would now be 15,000 euros poorer. Of course he didn't, a lot of second-hand, a lot of imagination. Then we have to drive. "170 kilometers are possible with the 15.8 kWh batteries," says Gyro Gearloose from Aachen, "but charging is only possible at home, not at the column on the way."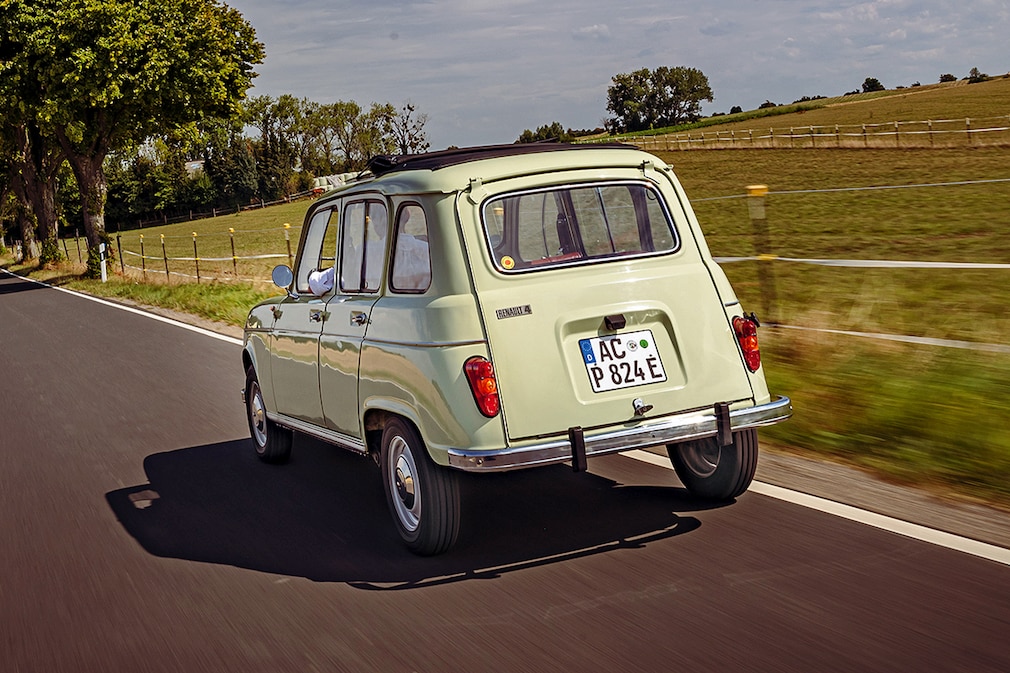 The little car (3.66 meters short!) Hisses off as if he wanted to win the Tour de France. Pade has pushed back the folding roof, doesn't hear a motor, doesn't smell any exhaust fumes. Then we stop at a field in front of wind turbines, the eco-activist peeks out of the roof and smiles: "Sustainability shouldn't be forced or renounced, it has to be fun for everyone."
Of course he continues to repair petrol engines and transmissions for friends from the R4 scene in his basement workshop, he knows it by heart from before. And of course he likes cars. You can also be an eco-activist. Pade: "Sustainability can work if not a few do a lot, but everyone a little."