Cars
Three fast gravel tires put to the test
Gravel tires with a width of 35 millimeters are suitable for all-road bikes, endurance racing bikes with plenty of tire clearance and fast gravel bikes. They offer speed on asphalt and firm gravel. BIKE BILD editor Lennart Klocke tested three fast gravel tires from Schwalbe, WTB and Challenge for 28-inch wheels.

Many cyclists understand gravel biking to mean off-road adventures on unpaved paths over gnarled roots, through deep mud and over coarse scree. The motto: the wider the tires, the greater the adventure. But wide tires don't only offer advantages. In most cases, even two 40 tires together add at least a kilogram of rubber to the bike, and those who ride a lot on asphalt are more likely to be slowed down by coarse lugs. Fat MTB tires are oversized for many gravel bikers who are out and about in Central Europe. Because most park and forest paths are properly paved and those who ride on trails and in the high mountains are better served with a mountain bike.
Why 35mm tires on gravel bikes?
Nevertheless, narrow tires on gravel bikes do not have a good reputation – why actually? With tires around 35 millimeters wide, you can easily ride on most forest paths and get less weight on the bike. In addition, the rolling resistance is significantly lower than with the thick slippers. In the 2022 season, I had the opportunity to test three fast, narrow gravel tires around 35 millimeters wide. This is not a hard comparison test, but reports on experiences with three tires that are similarly designed by their manufacturers. I tested all three models in tubeless operation.
Schwalbe G-One RS in practice
Finally, Schwalbe has a semi-slick for gravel and all-road bikes in its range. I tested the 35 version, but there are also 40 and 45 versions. If you are looking for a gravel tire that can keep up with road bike tires on the road, look no further. The G-One RS rolls really impressively fast on asphalt, which is confirmed both by the laboratory test that we carried out at Schwalbe in the spring and by my practical experience. The assembly is easy and the tire holds the air in tubeless mode for a long enough time, although you should check the pressure after three to four days. The G-One RS is clearly competition material, light and fast. However, there are drawbacks in terms of suitability for everyday use and travelling, both test tires have already been punctured by shards (despite the V-Guard insert), but in both cases the sealant brought me home. The fast Schwalbe also reaches its limits as soon as it gets wet and muddy. Especially on soapy roads, you have little safety in curves despite the diamond profile tread and should rather use the G-One R, which has a continuous nub profile.

+ fastest tire on asphalt and hardpack
+ easy assembly
– Little grip in damp and mud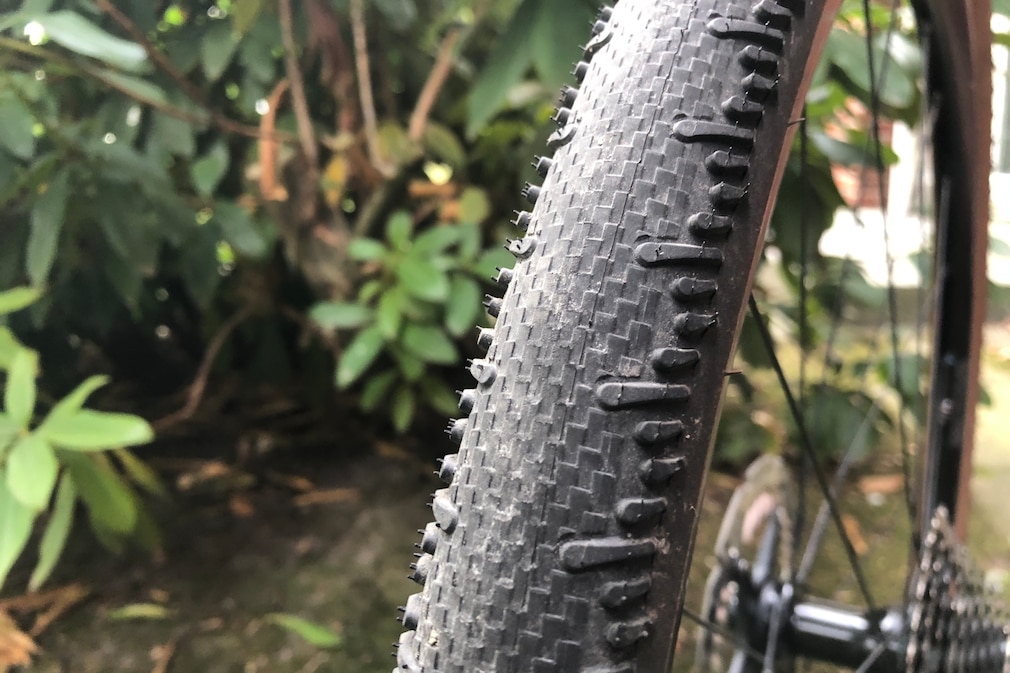 Technical data Schwalbe G-One RS

– Weight: 410 grams
– Price: 74.90 euros RRP
– Versions: 35 millimeters (tested), 40 millimeters, 45 millimeters; tubeless
– Technologies: 67 TPI, Super Race carcass (rolling resistance, suppleness, traction), Addix compound (grip, durability), V-Guard (puncture protection)
– to the manufacturer's website

WTB Vulpine in a practical test
The Vulpine from WTB came on my everyday and touring bike and racked up the most kilometers there. WTB only offers the Vulpine in 28 inches for gravel bikes with a width of 36 millimeters, with and without S2G puncture protection. I tested the version with puncture protection – not least because, in my experience without the S2G, WTB tires are among the most vulnerable gravel tires on the market. However, I was not spared breakdowns: In Denmark, a sharp stone pierced the Vulpine and I had to help out with a tubeless plug, on vacation in France I had to say goodbye to the rear tire because the air was no longer sealed after several glass splinters in the jacket. In addition, the Vulpine ran conspicuously unremarkable. Despite the intricately shaped nub profile, the 36 millimeter tire rolls extremely well on the road and firm gravel paths, and there were no problems even on difficult terrain. The fact that the Vulpine kept its air very well must also be commended here. Serious problems? No. The Vulpine is still a racer and not a specialist for everyday use or travel, but it can do everything so well that it can rightly be called an all-rounder. However, after one season the Vulpine was already showing signs of wear, halfway through the summer I swapped the front and rear tires to extend the life of both a bit.
+ Grip on Gravel
+ Speed ​​on the road
+ holds the air well
– only recommended with puncture protection
– relatively heavy wear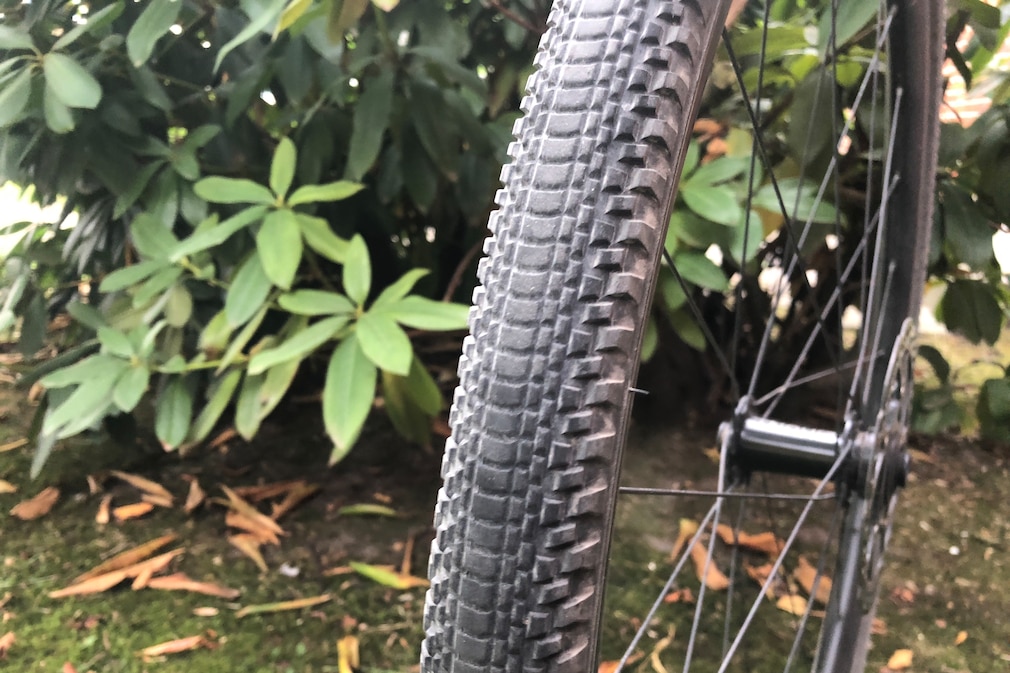 Specifications WTB Vulpine

– Weight: 465 grams
– Price: 75.90 euros RRP
– Versions: 36 millimeters with (tested) and without S2G puncture protection, tubeless
– Technologies: 120 TPI (S26 version)/ 60 TPI, Dual DNA compound (rolling resistance, grip, durability)
– to the manufacturer's website
Challenge Getaway in practice
The tire with the coolest sidewall comes from Challenge in Italy. Not only does the handcrafted Getaway look great and is very comfortable to drive, it is also on par with the Schwalbe G-One RS in terms of rolling resistance (this was shown by the measurements on the test bench). In addition, I didn't have any breakdowns with the Challenge Getaway even on a longer bike trip and the wear and tear was also limited. Clearly: In terms of driving feel – grip and speed – subjectively my favourite. If there wasn't a big but. The assembly is a real challenge, in a negative sense. At first I thought Challenge sales had sent me a 27.5-inch tire. Putting on two Challenge tires can easily be done as an independent training session. And that, although Challenge had even sent me a special lever tool for assembly. Crazy. To put it diplomatically: Yes, it is possible and if you have some practice and patience with mounting tubeless tires, you can do it. Everyone else should factor in some tips for your bike mechanic. I promise: the effort is worth it, once the Challenge Getaway is in place, you will enjoy it for a long time.

+ fast and handy
+ comfortable
+ chic side wall
– challenging assembly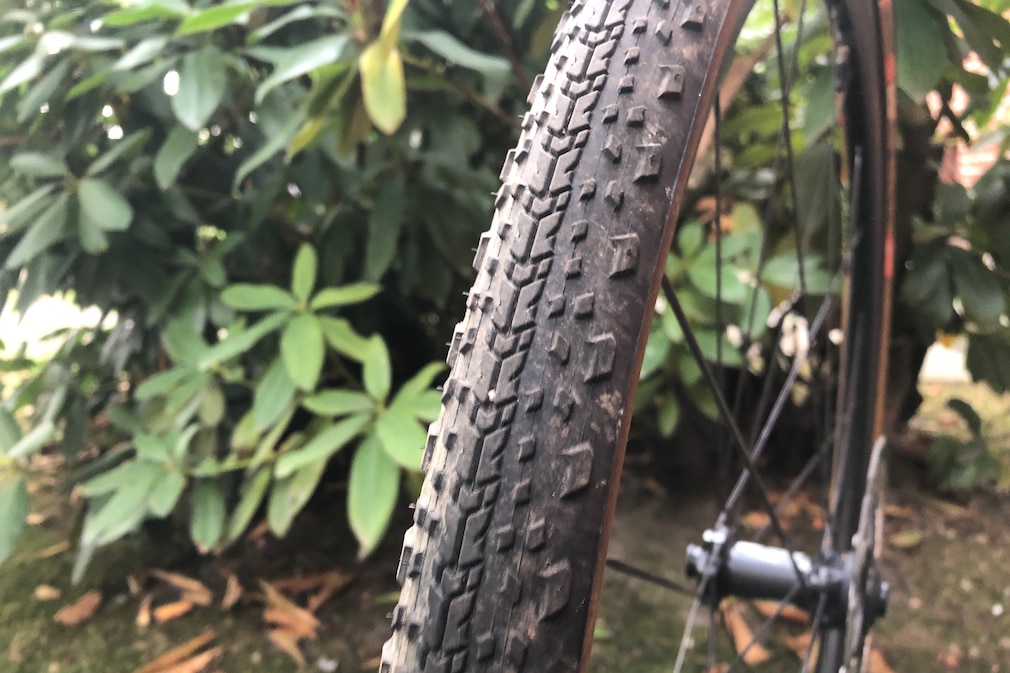 Specifications Challenge Getaway
– Weight: 465 grams
– Price: 75.90 euros RRP
– Versions: 36 millimeters (tested), 40 millimeters (+2 euros), tubeless ready, clincher, tubular
– Technologies: 260 TPI, Handmade (Handcrafted in Italy), Puncture Protection Strip (puncture protection), Superpoly Corazza Armor (durability, stability)
– to the manufacturer's website