Cars
Touareg 20th birthday: Three generations of VW SUVs
The year is 2022. The whole of Wolfsburg is talking about e-mobility. – All of Wolfsburg? No, an indomitable product team will not stop resisting the supremacy of the soundless.
And continues to shovel money into the corporate coffers that can be invested in ambitious future projects. Because since the Phaeton passed away in 2016, the Touareg has acted as the flagship of the VW brand.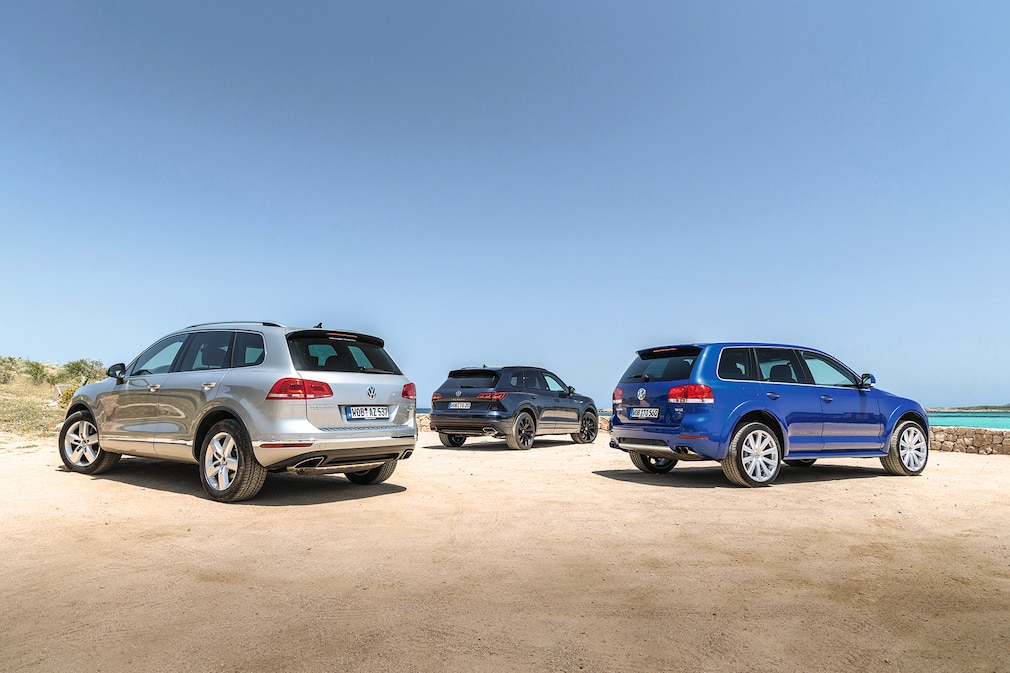 He likes the role of the understated senior: mostly bought by commercial users. More than three quarters have a trailer hitch – and they don't just tow luxurious motor boats and expensive sport horses, but also mini excavators and wood chippers.
For this reason, VW has also dispensed with a reduced-utility super sports version in the current Touareg model range.
313 hp from almost five liters displacement
That was not always so. In the first generation, VW not only showed off a ten-cylinder TDI with an almost unimaginable 313 hp from a displacement of almost five liters at the time, but also added a twelve-cylinder petrol engine with a total of six liters of cylinder capacity.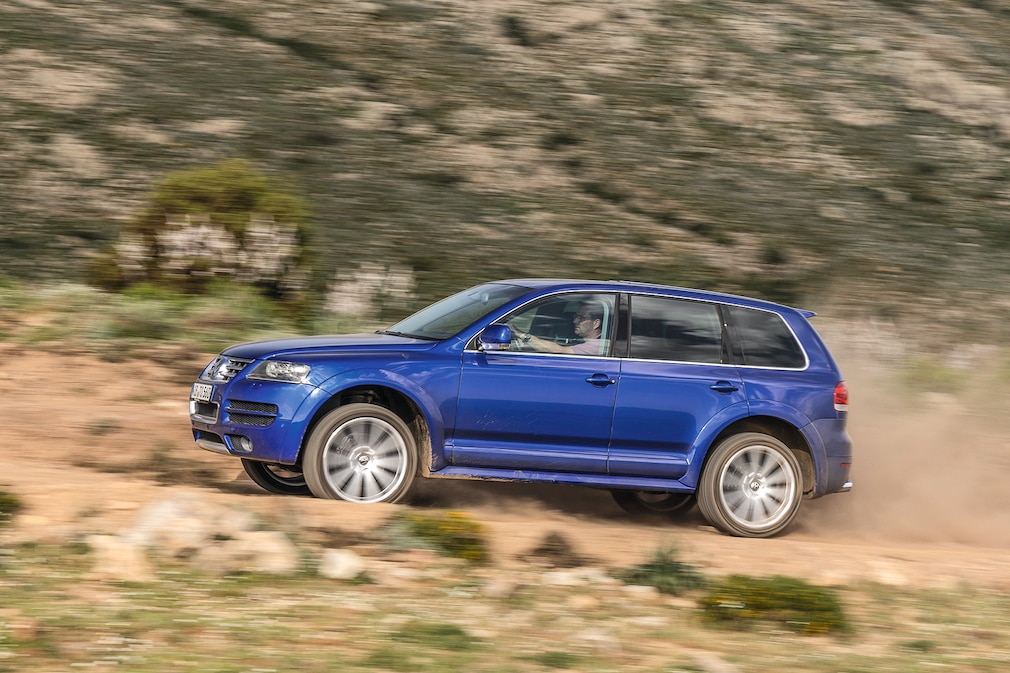 At the time, this was not considered to be as excessive as it seems today: After all, the W12 "only" got 450 hp from its pots fanned out in four rows of cylinders, just like the Porsche Cayenne Turbo, which had appeared two years earlier, from its eight cylinders. But without turbo – and thus without turbo lag.
I am correspondingly excited when I get behind the wheel of the museum piece. And I'm sobered. Sure, the sound pulls the corners of the mouth apart from anyone who has just a little petrol in their veins; and if you let the little horses gallop, the 2.6 tons shoot forward really hard.
All-wheel drive/ power distribution v:h
Trailer load braked/ unbraked
Standard consumption NEDC
331 kW (450 hp) at 6000 rpm*
6-stage converter aut. m. terrain reduction
permanent, self-locking central diff., man. lockable/50:50
slip reg. with brake intervention, rear axle diff., manually lockable
Independent suspension, height-adjustable air springs v. + h.
3500/750 kg (support load 140 kg)
193 kW (262 hp) at 3800 rpm
8-speed automatic converter
permanent, self-locking center differential/ 40:60
Slip control with brake intervention
Independent suspension, height-adjustable air springs v. + h.
3500/750 kg (support load 140 kg)
210 kW (286 hp) at 3500 rpm
8-speed automatic converter
permanent, self-locking center differential/ 40:60
Slip control with brake intervention
Independent suspension, height-adjustable air springs v. + h.
3500/750 kg (support load 140 kg)
But apart from that, the car, like many at Volkswagen Classic, is in a deplorable condition due to a lack of money: The automatic changes gears hard and indiscriminately, the 12-pointer jerks when accelerating – that's called a maintenance backlog.
Touareg 1 with more gimmicks

After a while it gets better; and although the steering is shockingly indirect and callous by today's standards, the monster is fun; also on the small Sardinian mountain roads.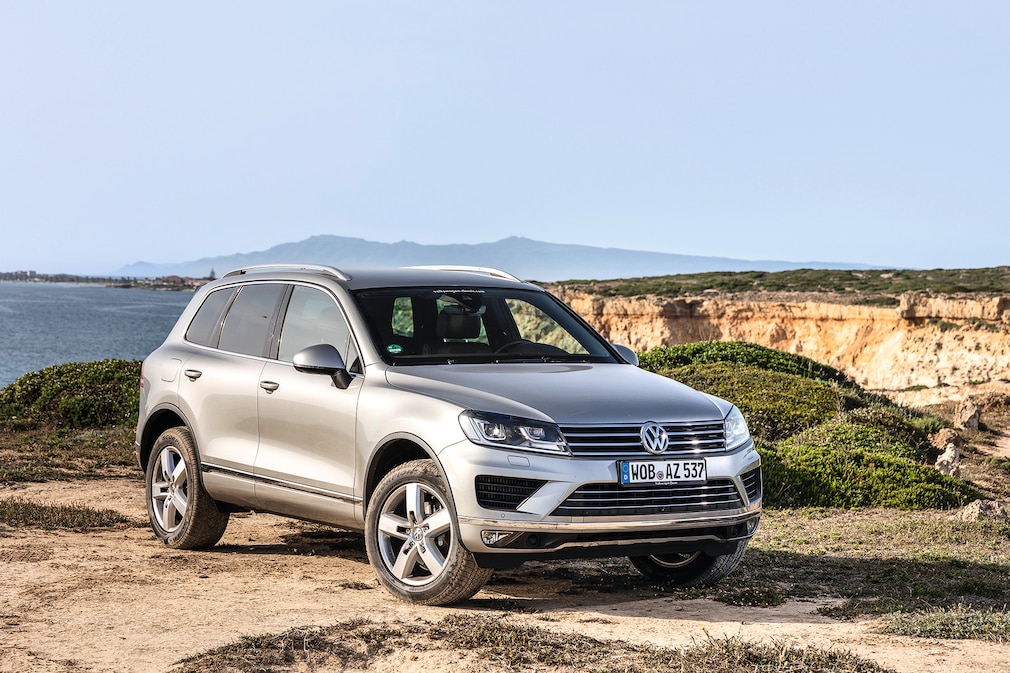 Off-road, the Touareg 1 could use the gimmicks it had saved on its successors: the off-road reduction and the rear axle lock. But I'm not allowed to go there with this one-off: I let myself be told that it's a test car; 560 hp are entered in the certificate. But are they really all gathered?
In the age of large screens, the operation seems really antiquated. As the top model, the W12 has everything on board that the option list gave; The buttons are correspondingly numerous and the menus branched out, through which you can navigate with touch keys.
Eight-speed automatic in 2nd generation

That's a big leap to the second-generation Touareg, built from 2010 to 2018. Volkswagen Classic also provided us with a copy of this; Unfortunately, it's not my dream model, the wonderfully rumbling V8 diesel with its massive 800 Nm of torque, but the best-selling variant – the V6 TDI: a post-facelift example, i.e. with "BlueMotion" storage catalytic converter and AdBlue injection.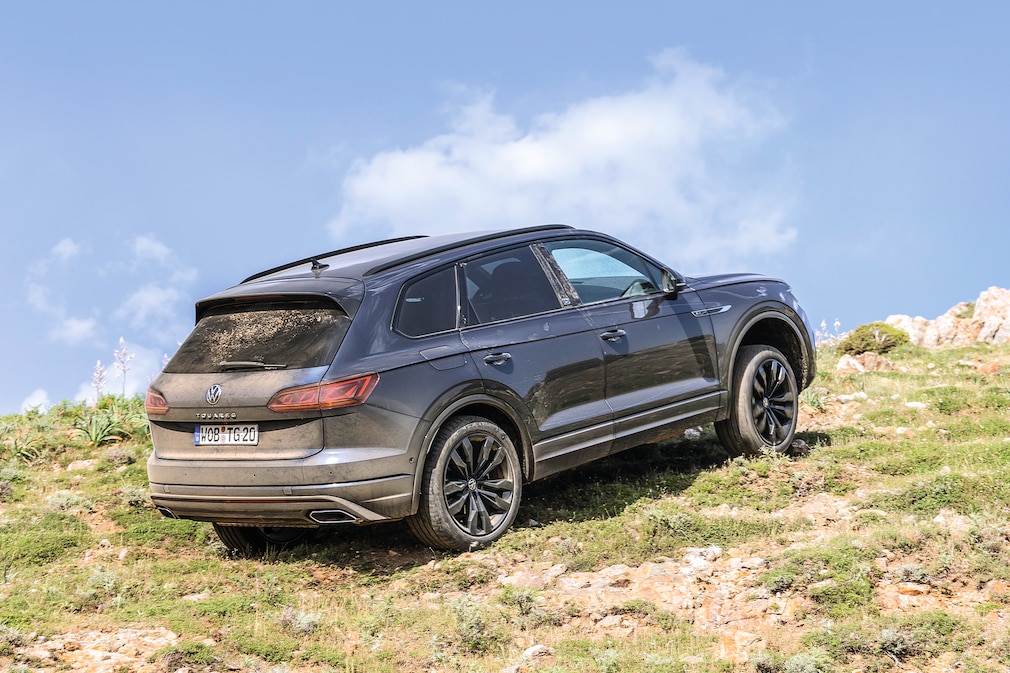 Except for the dark red leather seats with their pleasant patina and the air conditioning that doesn't work, it still looks crisp and fresh: This is mainly due to the much more direct steering, which – unlike in the Touareg 1 – gives real feedback about what's down there between the tires and the road that's what's going on.
The V6 TDI is well fed, it responds to the gas with only a short turbo pause and works fine with the eight-speed automatic transmission. – Many a current car could take an example.
Touareg 3 slimmed down even more

And you can feel that VW has put the second-generation Touareg on a strict diet: it is almost 400 kilos lighter than the first-generation W12 – and it has also slimmed down by 200 kilos compared to the comparable V6 TDI.
VW was able to shave another hundred kilos off the Touareg 3 – although it has grown a few centimeters all around.
When it was released at the end of 2018, its massive screen landscape with a 12- and a 15-inch display was still spectacular; In the meantime, "digitalitis" has struck across the board – even in smaller vehicle classes, the (almost) buttonless operation via inexpensive touch screens is already considered normal.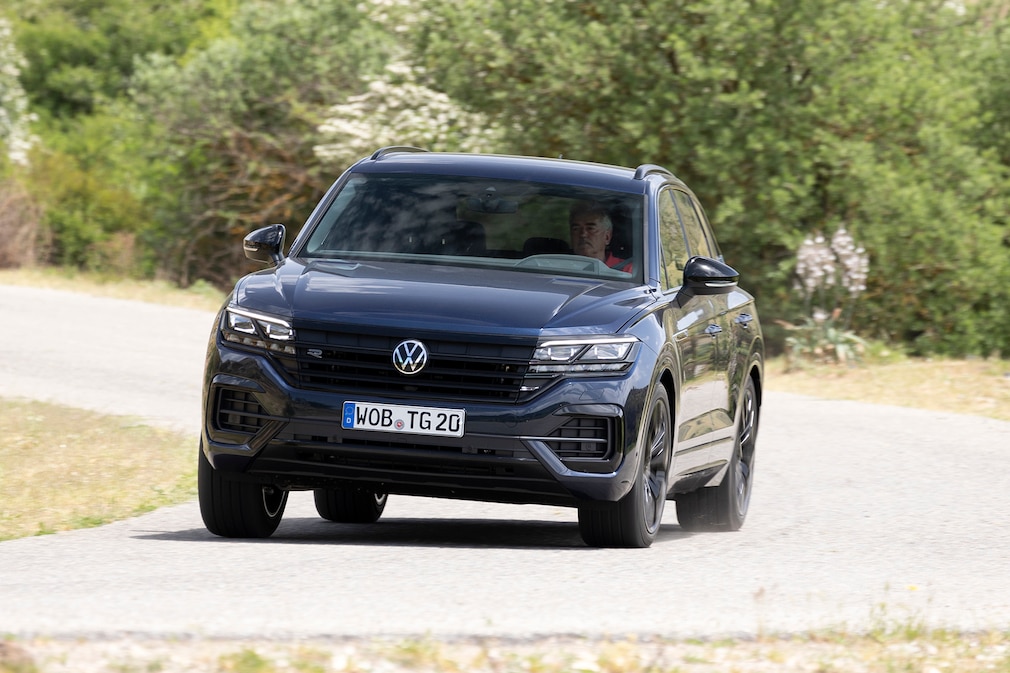 Arrived in the present time – which you notice immediately when driving. Because as soon as I'm moving, the full package of assistance systems tries to take control of the car out of my hands.
I'm neither unconcentrated nor overtired. And I'm totally retro: I don't hold online meetings or write messenger messages on the go. But what I really appreciate are pleasant things like the massage function in the ventilated front seats or the euphonious Dynaudio sound system.
But VW can pay for both of these things extra – even though the Touareg I'm sitting in is the Edition 20 special model. This is based on the R-Line Black Style, adds some nice touches.
The Edition 20 is available as a 204 hp diesel from 77,530 euros, a 286 hp diesel from 81,600 euros and a 340 hp petrol engine from 81,225 euros. The eHybrid with a total of 381 hp could actually also be combined with the anniversary package – but is currently generally not available.
Too bad – that would have irritated me.