Cars
Toyota Avensis Touring Sports: Used Car Test
–
The Avensis is a model student with downsides
The Toyota Avensis Touring Sports sees itself as a good companion for everyday life. AUTO BILD checks whether it stays that way in old age.
B.
did not attract attention. Above all, of course, not negatively. That was the creed of many Japanese middle classes. The Avensis (factory code T27), built from 2008 to 2018, is no exception, and always played a minor role in terms of numbers.
However, its big hour strikes regularly with the TÜV report
if it occupies the top positions. But how fit is the Japanese outside of the HU?
The equipment is lavish and the impression of quality is moderate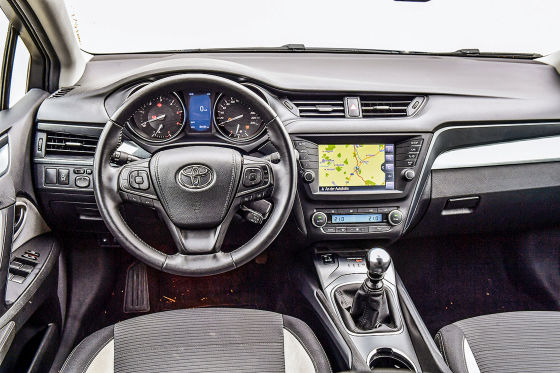 The cockpit look is kept sober. Graphics and system speed seem outdated. At least the sound system offers a good sound.
© Sandra Beckefeldt / AUTO BILD
Our photo vehicle is from the car dealership in Bockel near Bremen for 13,980 euros offered. The third and so far the last one offers under its inconspicuous shell Avensis-Generation plenty of space for a family with two children. The equipment with an eight-inch infotainment monitor, two-zone automatic air conditioning and 17-inch aluminum rims is lavish, but you shouldn't expect too much from the quality impression. Plastics in different shades of gray look old-fashioned and not very stylish. Except for a slight crackle from the dashboard the processing is correct. The button for the electric parking brake installed next to the steering column, the non-illuminated window regulator switch and the touch screen that is too low take some getting used to.
Technical data: Toyota Avensis TS 2.0 D-4D
engine
Four-cylinder / front cross
Valves / camshafts
4 per cylinder / 2
Displacement
1995 cc
power
105 kW (143 hp) at 4000 rpm
Torque
320 Nm at 1750-2250 rpm
Maximum speed
200 km / h
0-100 km / h
10.1 s
Tank / fuel
60 l / diesel
Gearbox / drive
Six-speed manual / front wheel
Length Width Height
4820/1810/1480 mm
Trunk volume
543-1690 l
Empty weight / payload
1565/535 kg
The significant corrosion is unacceptable
Both axles and parts of the underbody of our photo car were already significantly corroded.
© Sandra Beckefeldt / AUTO BILD
The logbook proves that the vehicle comes from Denmark. It is impossible to understand where it ran there and for how long. But the ones we documented Rusting on axles and floor pan are unacceptable for a car that is four and a half years old. I like the security package better: High beam, lane keeping and emergency brake assistants work well, LED headlights turn night (almost) into day. Of the Euro 6b diesel comes from BMW. In the third and final facelift cycle, it is the top engine, because the 177 hp 2.2 D-4D was discontinued in 2015. in the Avensis If the sufficiently powerful 143 PS common rail engine runs cold at first quite robust, it can be disciplined with only five liters of diesel move. There was an economical hybrid drive similar to the Auris and Yaris Avensis unfortunately never.
Conclusion: Due to the possible rust problems, a check of the floor assembly is crucial! If the condition and (re) conservation are good, there is little to say against the mid-range Japanese, which is built as a sedan and station wagon, for reasons of reason.
Cost: Toyota Avensis TS 2.0 D-4D
Entertains
Test consumption
6.0 l D / 100 km
CO2
119 g / km
inspection
250-450 euros
Liability (19) *
554 euros
Partially comprehensive (21) *
635 euros
Fully comprehensive (19) *
944 euros
Motor vehicle tax (Euro 6)
238 euros
Spare part prices **
alternator
1219 euros
Starter
955 euros
water pump
622 euros
Timing belt
not applicable, timing chain
Rear silencer
369 euros
Front left fender, painted
762 euros
Brake discs and pads
495 euros
* Online tariff of the HUK24 insurance: registration in Hamburg, driver only policyholders and partners (25 years old), annual mileage 15,000 km, no-claims class 1; ** Prices including wages and 19 percent sales tax
* Further information on the official fuel consumption and the official specific CO2 emissions and, if applicable, the power consumption of new cars can be found in the "Guide to Official Fuel Consumption", which is available free of charge at all sales outlets and from "Deutsche Automobil Treuhand GmbH" (www .dat.de).