Cars
Toyota GR 86 (2022): GT86 successor again without turbo
Prices and market launch: Toyota builds the GR 86 only two years

Toyota's successor to the GT86 gets a slightly different name. The sports car is now called the GR 86 and is the third model from Toyota's sports brand Gazoo Racing after the GR Supra and GR Yaris. Unlike the sister model Subaru BRZ, which was presented at the end of 2020, the car is also offered by us. The GR 86 can be ordered immediately at a starting price of 33,900 euros, and delivery is scheduled to start in summer 2022. Anyone interested in the Japanese sports car should not wait too long, then Toyota says it will only build the GR 86 for two years.

Dimensions and optics: GR 86 differs from BRZ only in details

Visually, the GR 86 resembles the BRZ almost completely. Only the grill and the light signature differ at first glance. Of course there are differences to the predecessor, the GT86. The new one looks a bit stockier overall, but does without the lush beads and edges – the overall design is a bit smoother. The new headlights are almond shaped and now smaller. The grille and apron also appear more restrained and clearer. The basic shape of the grill is simple and almost square, the frame and grid are blackened. The side air inlets on the GR 86 are designed as slots.
Like the new side gills, they are highlighted by black decorative elements. At the redesigned rear, the boot lid with its rounded surface is reminiscent of the rear of the GR Supra. The rather classic taillights and the black apron with a striking dual-flow exhaust system appear to be identical to the BRZ. The dimensions are based on the predecessor.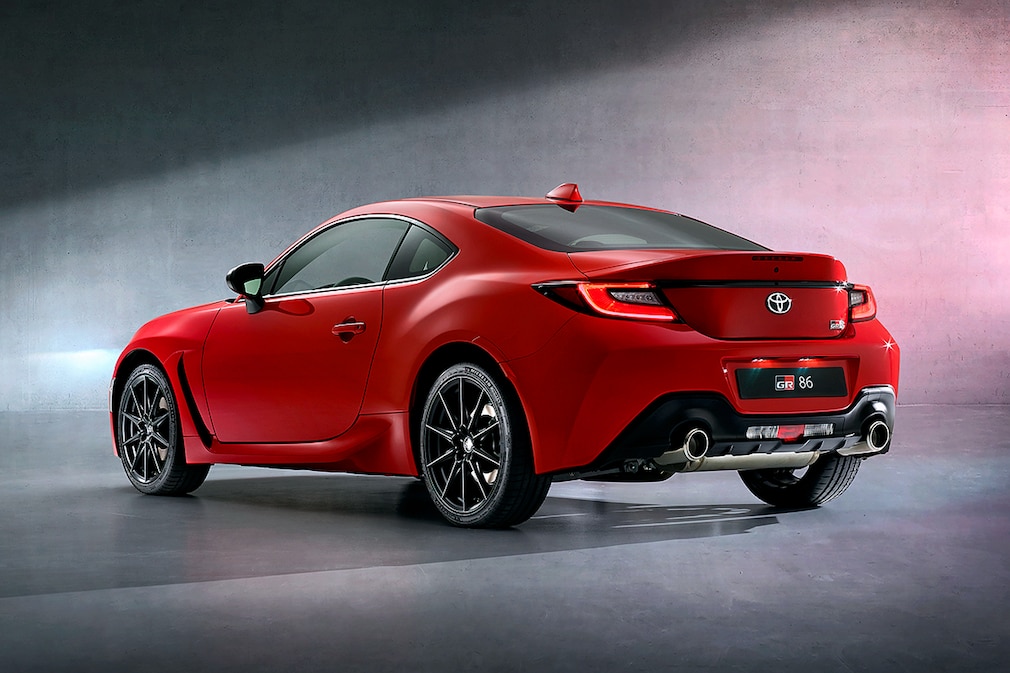 The dimensions at a glance:
● length: 4265mm
● broad: 1775mm
● height: 1310mm
● wheelbase: 2575mm

Interior: Seven-inch digital cockpit
Inside, the GR 86 seems to correspond completely to the BRZ. Accordingly, the Toyota also benefits from a digital cockpit. That measures seven inches, while the central screen is eight inches. Compared to its predecessor, the interior loses some of its sports car flair: the dashboard in front of the passenger is now conventionally designed, the rotary switches for the air conditioning with digital display are typical car elements. In return, the new edition has some metal switches underneath, which look more technical and are reminiscent of toggle switches. The center console looks more mature in the new design.
Engine: revised boxer engine delivers 234 hp

Of course, the sporty Toyota gets a boxer engine again. The same sucker that the BRZ has under the hood, the turbo longed for by many fans was not realized. The 2.4-liter four-cylinder delivers 234 hp and 250 Nm. Power is sent to the rear wheels via a six-speed gearbox, with a six-speed automatic available as an option. Toyota promises that the new unit will be more responsive.