Cars
Toyota GRMN Yaris (2022): even sharper and limited to 500 pieces
Toyota is actually launching an even sharper version of the GR Yaris: the GRMN Yaris (GRMN stands for "Gazoo Racing Meister of Nürburgring"). So far the good news, the bad: Only 500 of the limited special model will be built and they will only be sold in Japan. The future owners will be drawn in a lottery and should receive their car in the summer of 2022. So we get nothing.
That's pretty disappointing as the changes promise to make the small car even sportier and more fun. The GRMN Yaris is whole 20 kilos lighter than the regular model. To achieve that, the new ventilated bonnet, the roof and the new (optional) spoiler made of carbon manufactured. The back seat flies out, so the special model is a two-seater. In its place there is a strut bar. Driver and passenger seats also get a sports upgrade, Toyota swaps the regular seats for Recaro shells befitting their status. For better aerodynamics, the car is one centimeter wider; one centimeter less in height lowers the center of gravity. 545 additional spot welds are designed to increase rigidity.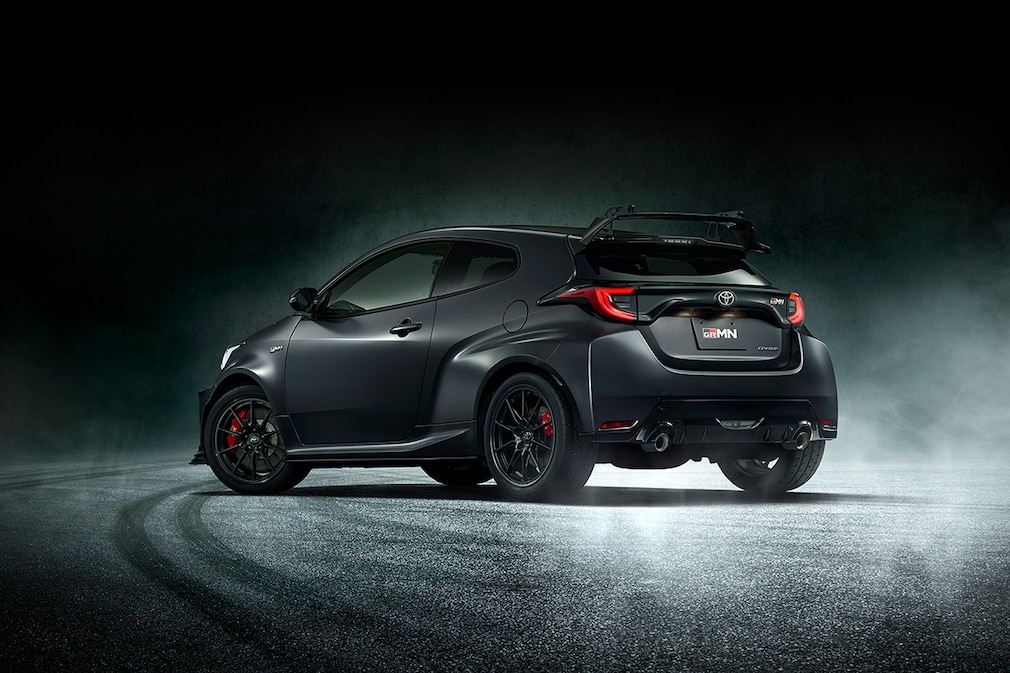 Only 50 cars also get the race track package

In addition, Toyota offers two packages for the GRMN Yaris. The Rally Pack includes GR dampers with short anti-roll bars, underride protection and a roll bar behind the front seats. The Circuit package is more comprehensive and is even more designed for use on the racetrack. These include special 18-inch GRMN BBS rims, 18-inch brakes, Bilstein shock absorbers, the optional carbon spoiler, a spoiler lip on the rear apron and the rocker panels. The Sport Yaris also has its own color, it's called "Matte Steel". However, only 50 of the 500 GRMN Yaris built will be equipped with this package.

The gearbox has been revised, the engine remains the same

Toyota has revised the transmission of the GRMN Yaris, it now has a closer ratio. Surprisingly, however, nothing changes on the engine. The 1.6-liter three-cylinder still delivers 261 hp and 360 Nm. The power is passed on to all four wheels. The changes to the Yaris GR should not only make it even more agile, they could also have a small impact on acceleration. It currently takes 5.5 seconds from zero to 100 km/h.
In autumn 2022, Toyota will bring GR parts

But there is one ray of hope for everyone who could well imagine a GRMN Yaris in their garage. Toyota has announced that it will be available from autumn 2022 GR parts for sale that can be used to tighten up the regular GR Yaris. These should be elements that are also used in the GRMN – and that will hopefully also be offered in Germany. Incidentally, the limited GRMN Yaris is not a bargain in Japan: prices start at 7,317,000 yen, which is the equivalent of around 56,040 euros.