Cars
Toyota Land Cruiser Tuning: Rough off-road kit from Arctic Trucks
the

Toyota Land Cruiser

is considered worldwide as

one of the most capable and indestructible

Off-roader

.

At least since

Jeremy Clarkson

in the cult show

Top gear

Tried unsuccessfully to demolish a Land Cruiser is this one

call

cemented. In the latest generation, Toyota has once again optimized its off-road capabilities. But in some regions of the world you need more than electronically regulated to get through

All-wheel drive, reduction

and limited slip differentials. Offroad specialist Arctic

Trucks

has taken on the new Land Cruiser 300 and put together a veritable off-road package.

(Facelift for the Toyota Land Cruiser after 37 years.)
40 millimeters more ground clearance

The conversion goes by the name Arctic Trucks LC300 AT35. The most visually striking are undoubtedly the powerful ones 35-inch off-road tires on 17-inch aluminum rims. So that Track widened by 320 millimeters to 1840 millimeters can be accommodated, extra-wide fenders were added at the front and rear. Mud flaps on all four wheelhouses as well as logos and stickers from Arctic Trucks complete the external modifications. (The wild monster trucks of Iceland.)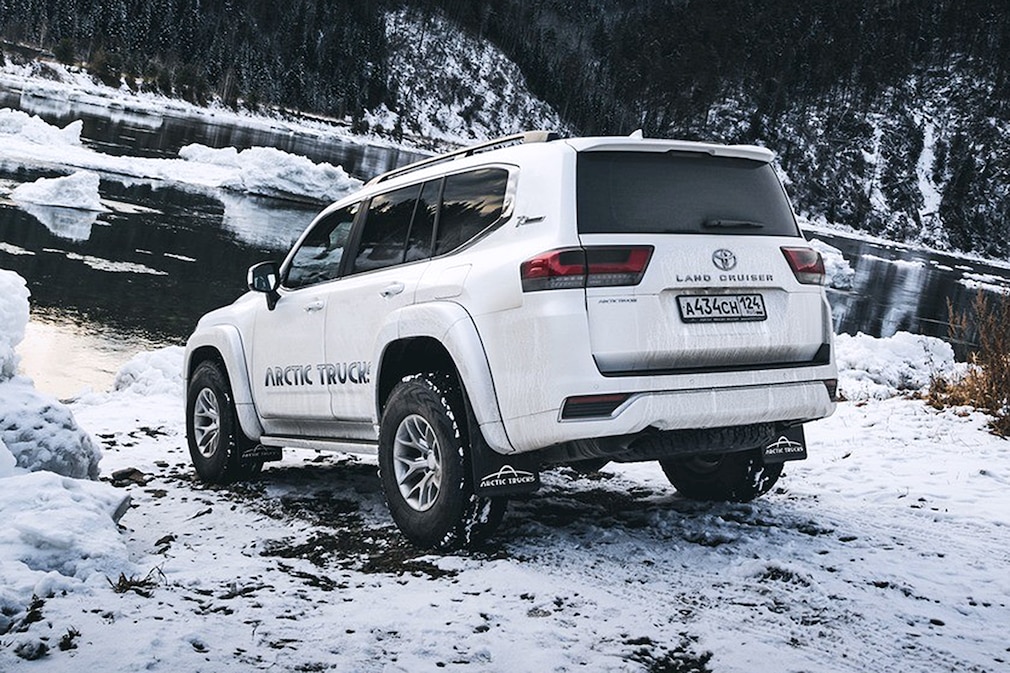 Of course, you also put a hand on the chassis. Springs and dampers have been exchanged, whereby the functions of the adaptive chassis are retained. the Ground clearance increased by 40 millimeters to 260 to 270 millimeters, depending on the drive variant. in the same train The slope angles also improved by five degrees to 37 degrees in front and 30 degrees in the back. An additional seal should protect the body from corrosion. Optional is also a Cable winch up to a load of 5.6 tons and a suction snorkel available.
The Land Cruiser is no longer sold in Germany
Before there is too much euphoria: Neither the tuning nor the basic car comes to Germany. In this country Toyota does not offer the new Land Cruiser. The J15 is still available.

Arctic Trucks will initially launch its off-road package in Russia, later it will also be available in other markets. Prices for the conversion have not yet been published. With an eye on earlier conversions by Arctic Trucks, one can assume that this package will be followed by even more severe conversion measures.