Cars
Toyota Yaris Cross: test, SUV, hybrid, four-wheel drive, price
–
Off to adventure land: This is how the new Toyota Yaris Cross drives
Small cars are clever, but rarely cool. The Japanese solution to the problem is called Toyota Yaris Cross. A mini in an SUV dress. And a real adventurer.
D.
he big city as an adventure playground is now also being discovered by Toyota. Just jack up the Yaris – and off you go. With us in September 2021 at prices
from 22,690 euros
– but then with front-wheel drive. The little crawler comes late, but huge. Because the first time exclusively as
Hybrid
offered
Yaris Cross
is not an ordinary small car on stilts, but
serious SUV
.
(Important tips for buying a new car on the Internet)
The off-road look of the Yaris Cross can be taken seriously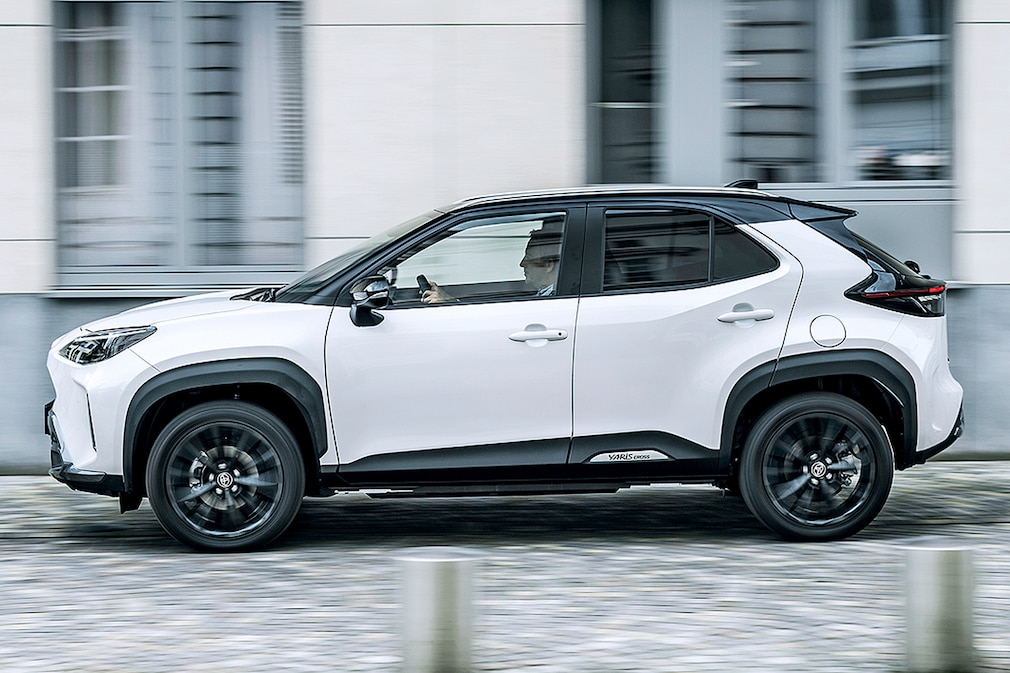 Quite ambitious: the Yaris Cross offers plenty of ground clearance and all-wheel drive.
© Toyota Motor Corporation
For this, the body was redrawn and the technology was ambitiously developed. The Yaris Cross offers neat ground clearance and is one of the few in this class to have with all-wheel drive. With an electric rear axle at the latest and in the "Trail" driving profile, he doesn't just want to play, but real adventure. Inside there is hardly any shortage: the assistance equipment achieves a high standard with automatic distance and lane control, the tailgate opens electrically, and a real one Head-Up Display provides important information. And at 2.56 meter wheelbase there is enough space in all seats.
With the hybrid drive, the Yaris is economical on the road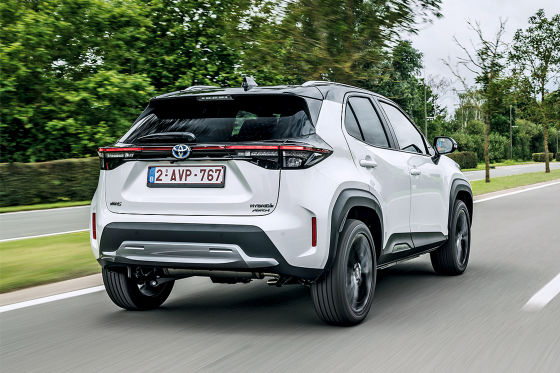 Frugal: The actual thirst of the Yaris Cross is close to the 4.7 liter standard consumption.
© Toyota Motor Corporation
Because his area is the city, Toyota has the steering rather light and that landing gear designed to be very willing to compromise. It takes winding streets Yaris Cross with his left hand and he irons the cobblestones neatly and smoothly – and even though his Hybrid battery is only enough for a few hundred meters at a time, it is often suspiciously quiet and you are surprisingly often electrified in the city. This makes shopping a pleasure even before you get out. But beyond the town sign, the fun is unfortunately over quickly: Because of the already lean ones 116 HP system output there are also a few left as always continuously variable transmission lost. Overtaking therefore takes a little patience. With a heavy gas foot, the 1.5-liter roaring Three-cylinder annoyingly loud. Okay, but the Yaris Cross is not only economical on paper, but also in practice and can be close to Standard consumption of 4.7 liters keep.
Test winner on Amazon & eBay
to offer

Cocoda mobile phone holder

Price *: 12.99 euros

Nextbase dashcam

Price *: 379.95 euros

Dr. Wack wheel cleaner

Price *: 14.23 euros

TomTom Go Discover Navi

Price *: 285.95 euros

Dr. Wack A1 auto wax

Price *: 16.55 euros
* Price: Amazon price on 07/29/2021
You can find all the test winners here
But for that you have to dig deeper into your pocket when buying. The round 4000 euros surcharge to the Yaris are still easy to get over, but there is also a lot more car. But without a plug like with plug-ins or e-mobiles, there is no money from Berlin. (Calculate maintenance costs? To the car insurance comparison)
Technical data Toyota Yaris Cross 1.5 Hybrid AWD-i • Motor: three-cylinder plus two electric motors • Displacement: 1490 cm³ • System output: 85 kW (116 PS) • Max. Torque: 120/141/51 Nm • Drive: all-wheel drive, stepless automatic • Length / width / height: 4180 / 1765/1595 mm • Empty weight: 1170 kg • Luggage compartment: 320-1097 l • 0-100 km / h: 11.8 s • Vmax: 170 km / h • Consumption: 4.7 l / 100 km (super) • Exhaust CO2: 107 g / km • price from 29,060 euros.