Cars
Travel in an e-car: with free electricity from Flensburg to Füssen
A quick look again: A liter of fuel along my route currently costs up to 2.099 euros. I take our Hyundai Kona Electro long-term test and hum to myself: "And petrol also costs 2.10 euros (…) I want to save, I want to save!" (My singing skills? For free!).
Start at Stadtwerke Flensburg

Monday, 8 a.m.: i come in Flensburg on. The local ones municipal utilities are based on, what a coincidence, Battery Street. I connect the Hyundai to the fast charger and wait. Unfortunately, the meat factory outlet next door is still closed. Too bad, I need something else to smear all the mustard on.
At some point the Renault Zoe parked in front of me disappears and a Hyundai Ioniq 5 joins them. What I particularly like about e-mobility: It is very communicative. I've never talked about cars so often with strangers. "Actually, I'm a Mercedes fan," says the Ioniq driver. "But they don't have anything comparable."
I find out that he commutes the 160 kilometers from Hamburg to Flensburg every day, always uses the free charger – and now he has to go because he still has three AUTO BILD issues in his pocket that he wants to read in the office (he always gets them for free from his father when he's done with it). After three quarters of an hour I pull the plug, the battery is at 81 percent.
Halstenbek: Media Markt instead of Möbelmarkt

Monday, 10 a.m.: Until the next station, the Clothes outlet in Neumünster, it is 109 kilometers. Unfortunately, there is no free loader. So I just buy a new winter coat (70% off outlet price) and move on. Monday, 12 p.m.: 55 kilometers to Roller furniture market in Halstenbeck Hamburg. Everything is occupied again – this time by regular guests from the area, who always load there. "But go to the next door media market, who also have a 50 kW column. Just let the information desk know."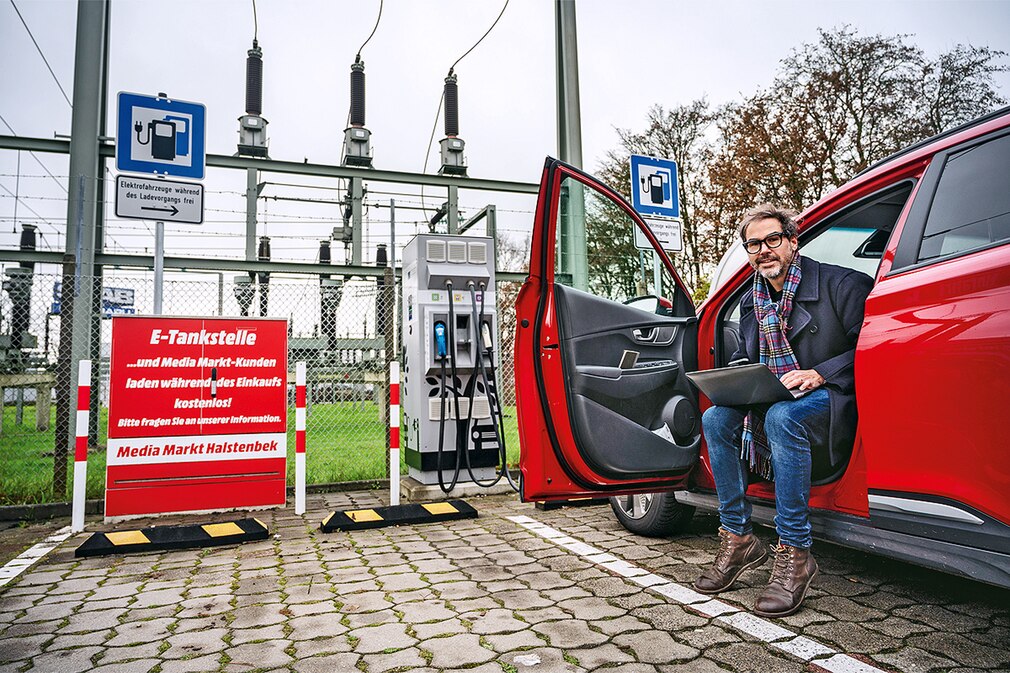 And indeed. A friendly electronics saleswoman comes out especially to unlock the column. I browse vacuum cleaner and stereo departments but don't buy anything. I don't like the special offers. After 54 minutes I ask you to let me go again. Another employee comes into the parking lot and says: "You're only at 83 percent!" True, but unfortunately I have to go on. But thank you very much, great service!
Hanover: Loading at Obi takes too long

Monday, 3 p.m.: until A2 Center, one shopping center in Hanover, it's 160 kilometers. When I arrive, I still have 119 kilometers to go. Everything is booked again. I'll try next door obi (Across from the Tchibo and Salamander outlets, by the way, but I'm holding back). In ten minutes, only two percent are charged – that takes too long for me, I break off.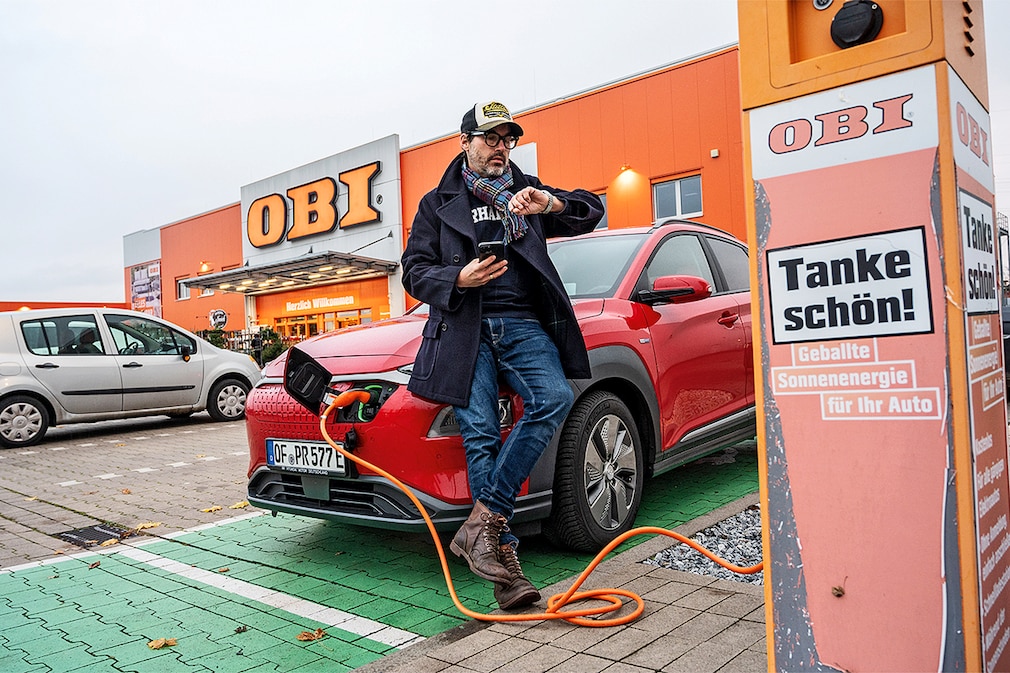 Monday, 4:40 p.m.: I'm in Hildesheim at Lidl. The discounter offers the opportunity to charge e-cars free of charge at more than 320 branches nationwide. Often even with 50 kW. Here it is only 22 kW, and my car only manages 11 kW with the plug. But no matter, luckily there are tool weeks in the Lidl shop right now, so the waiting time passes in no time.
Nice chat in Nörten-Hardenberg

Monday, 6.40 p.m.: Nörten-Hardenberg I only knew it from traffic news. Now I know that too local discounters. It has a fast charger, and I quickly load supper into the shopping trolley. When I get back, Ralf is already waiting with his Strom-Opel, a Zafira-e Life. Another nice chat: he had never spent so much money on a car before, but at home he could charge it for free at Kaufland around the corner. And he is also planning to offer CO2 certificates with his e-car in the near future. He had heard that you could earn several hundred euros a year with it. I'll google it later. Ralf has to go all the way back to Dortmund this evening, so I let him take care of the charger, even though my battery is only around 60 percent.
AquaPark in Baunatal: spending the night at freezing point

Monday, 8.45 p.m.: I'm considering going to the cinema and loading in time. The cinemaplex in Bauna Valley near Kassel there was still free space, just not for loading. Too bad, so on to the local swimming pool. Monday, 8.50 p.m.: Before the aquapark is one pillar free. Next to me are two e-Golfs with WOB numbers. No wonder, in Baunatal is the second largest German VW factory after Wolfsburg. 17,300 employees, but apparently they don't have enough charging stations there. I crank the seat back, crawl into my sleeping bag – and close my eyes. The Hyundai loads, I fill up.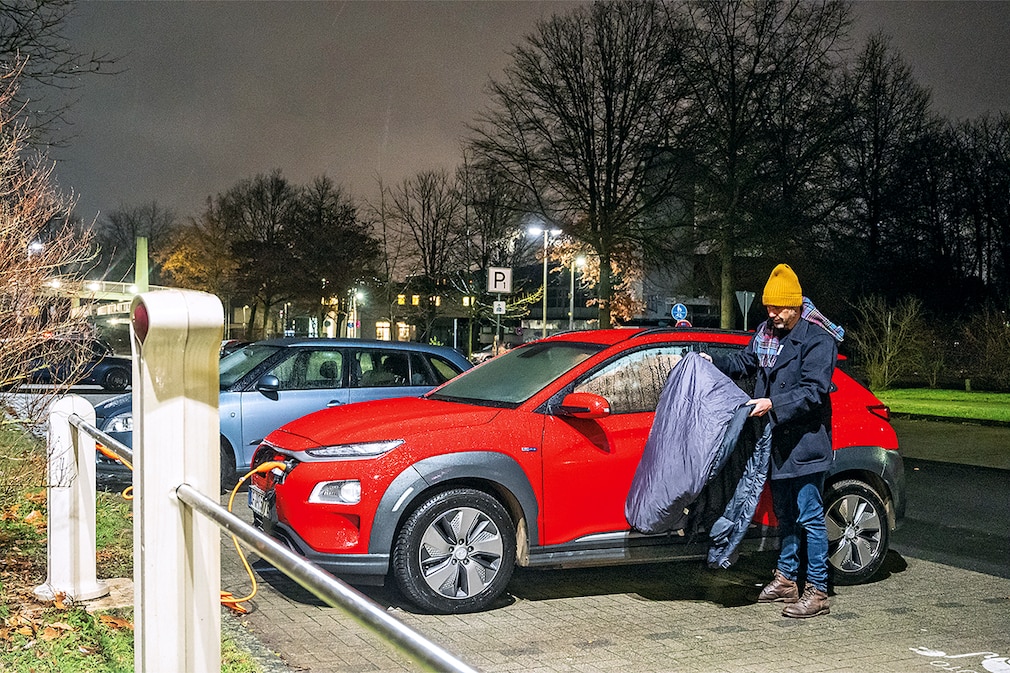 Free electricity actually only for customers

At the next morning at 6 o'clock I wake up, the battery is full, so is the car. Continue down the A7. The website www.goingelectric.de will help with the journey. There you can search specifically for free charging stations. There are now at Ikea, in front of various DIY stores, also at Rewe and Edeka. but Lidl and Aldi Süd are far ahead. The free electricity is actually intended for customers. But because more and more charging stations are being occupied by other e-cars, there are currently discussions as to how the well-intentioned service can really only be made available to customers. I surf further south on the Goingelectric map. The next goal: an Aldi with a 50 kW charger. Unfortunately I miss the exit and end up at Lidl again.
In the snow behind the snowplough

Tuesday, 9 a.m.: At the Discounter in Ochsenfurt there is a Tesla and a Smart at the column. The Smart apparently belongs to a local resident. In any case, the driver does not come out of business when he unplugs his car. "Cheerless," I want to say – until I realize that I'm such a bum too. At least I buy breakfast: a 1-euro coffee from the machine, a roll and a pack of cheese. In the meantime snow has started to blow. That saves energy, I think – and hit the snow plow at 60 km/h.
Ten affordable e-SUVs
Selected products in tabular overview

| | | |
| --- | --- | --- |
| Dacia Spring | RRP from EUR 20,490, savings of up to EUR 9,614 | |
| Opel Mokka-e | RRP from EUR 34,110, savings of up to EUR 15,341 | |
| Mazda MX-30 | RRP from EUR 34,490, savings of up to EUR 12,687 | |
| Skoda Enyaq iV | RRP from EUR 34,600, savings of up to EUR 12,860 | |
| Citroën e-C4 Electric | RRP from EUR 34,640, savings of up to EUR 12,184 | |
| Peugeot e-2008 | RRP from EUR 35,450, savings of up to EUR 12,444 | |
| Hyundai Kona Electric | RRP from EUR 35,650, savings of up to EUR 16,916 | |
| Kia e-Niro | RRP from EUR 38,290, savings of up to EUR 14,836 | |
| DS 3 Crossback e-Tense | RRP from EUR 39,440, savings of up to EUR 12,958 | |
| Hyundai Ioniq 5 | RRP from EUR 41,900, savings of up to EUR 15,870 | |
Probability calculation at the Brenz

Tuesday, 12.30 p.m.: Giengen an der Brenz. I haven't had to do so much arithmetic since I was in school. Now it's a question of probability: How likely is it a) that I will get the Kaufland loading app installed? And b): How likely is it that I'll do it in one go (in the truest sense of the word) now feet manage? I drive on with almost 80 percent battery capacity. The last 150 kilometers!
Destination Füssen reached after 31.5 hours

And then there I am. After 31.5 hours, the A7 is at the end – and so am I. i am about 1100 kilometers driven and have average 20.2 kilowatt hours of electricity per 100 kilometers consumed. Again math: That's pretty accurate 222 kilowatt hours that I scrounged up.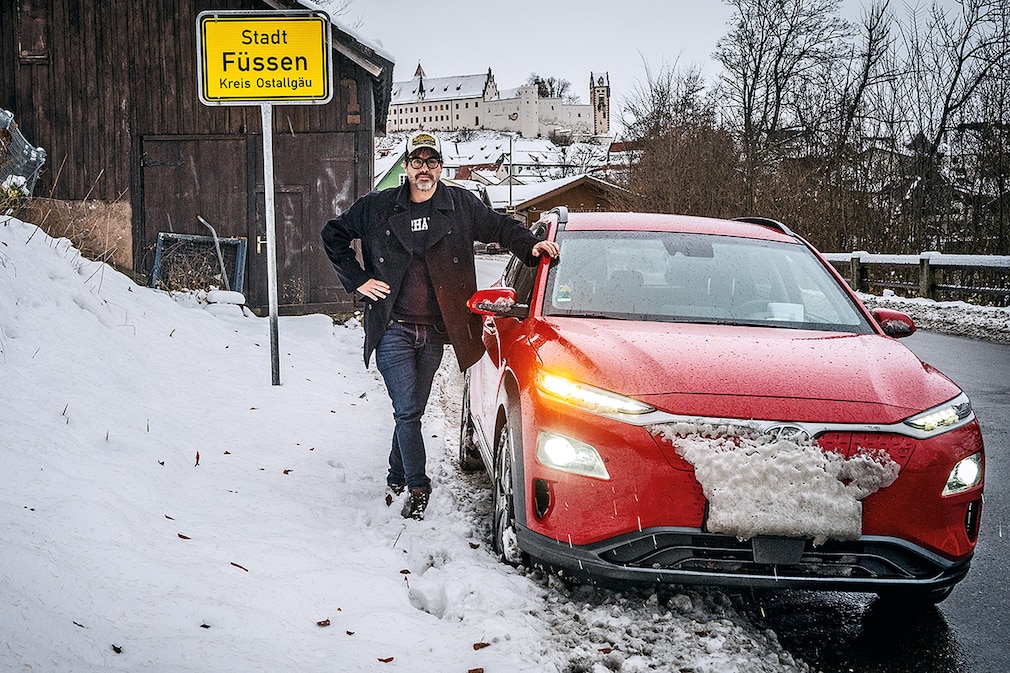 If you set 45 cents for a kilowatt hour, that does exactly: 99.90 euros. In other words, for the money I get about 100 tubes of mustard on sale. The calculation isn't entirely correct. Shortly before Nörten-Hardenberg they flashed me. Let's see if I can negotiate a discount.