Cars
Tuning Trophy Germany (2021): extremely clean Opel Corsa B
In the new TV show "Tuning Trophy Germany" from DMAX and AUTO BILD Sidney Hoffmann and his co-jurors are looking for the best tuning car in Germany. To clear things up, a few new rims are not enough – the overall package has to be right. Patrick Horny takes it particularly seriously with his completely rebuilt 1997 Opel Corsa B. The 34-year-old has been working on his small car for twelve years. Today pretty much nothing on this Corsa corresponds to the factory condition.
Brown paint inside and out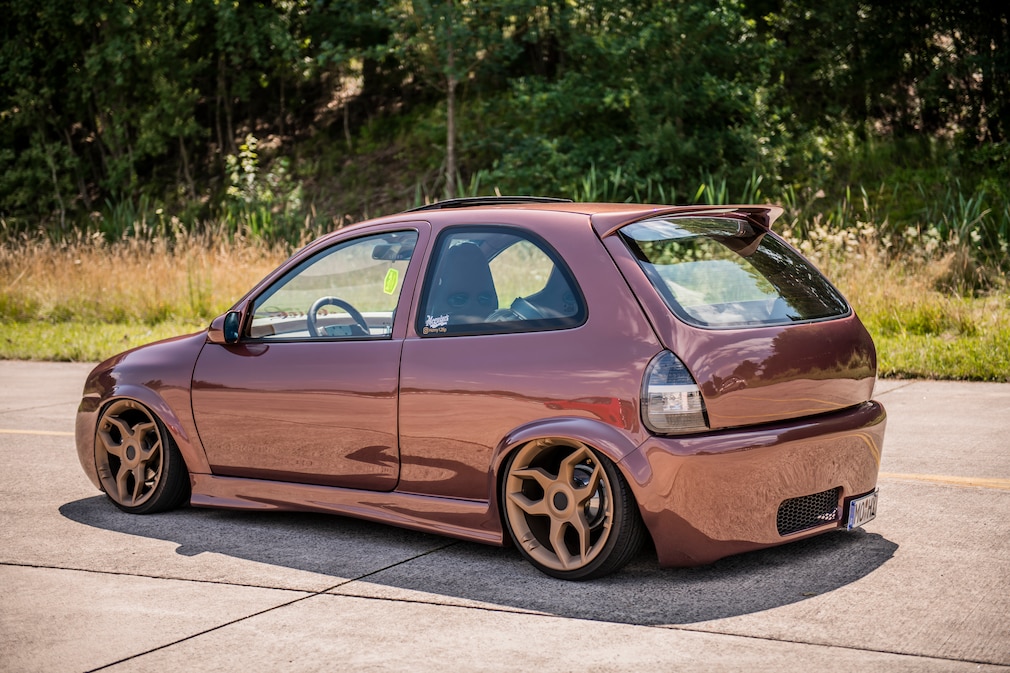 The Corsa is adorned with an adapted body kit with flared fenders and bumpers by Dietrich and Ingo Noak. Horny has a Corsa for this comprehensive cleaning lost. In doing so, he was as thorough as possible. No bead, no air opening and no logo survived the process, the car is perfectly smooth. Teardrop mirror, extended trunk and engine hoods as well as six-spoke rims further change the look. In the end, the whole car was in glossy brown paint wrapped in Volvo. The owner has one for maximum draft GAS air suspension installed, the chrome-plated tank in the trunk.
Dashboard without indicators behind the steering wheel

After opening the LSD wing doors the view of the interior becomes clear. Here, too, almost no part corresponds to the series. That Do-it-yourself dashboard dispenses with ads – they are now shown on a screen in the center console. The dashboard, sports steering wheel, bucket seats and almost all other parts are covered with leather in different colors. In the trunk there is a hi-fi system next to the air tank for the chassis.
Even the engine compartment of this Opel Corsa has been cleaned

A similar picture emerges in the engine compartment. There, instead of the original engine, sits the 150 hp engine from the Astra F. Almost all of them were there Cables and hoses laid hidden, the rest was chrome-plated, painted in a matt gold tone or covered with leather. You won't find a sight like this a second time so quickly. Whether that's enough for the Tuning Trophy from September 27th against VW Golf 5 GTI and Toyota MR2 to pass remains to be seen.