Cars
Tuning Trophy Germany: Opel Cascada with OPC technology and 421 PS
Who one Exotic wants to drive does not have to buy a super sports car in the six-digit price range. That works with one too Opel, like Martin Ettensberger with his Cascada shows. The Rüsselsheim convertible is rarer than some Porsches, according to KBA, between 2012 and 2019 only 15,952 copies authorized. One of them fell off the trailer as a new car while being loaded and was bought by Ettensberger as a cheap accident car. Instead of simply rebuilding it, the 40-year-old started a tuning project of monumental scope. With OPC technology, 421 hp and all-wheel drive should the convertible Sidney Hoffmann convince and at the Tuning Trophy Germany (on DMAX since September 27, 2021) clear away.
Registered 275 km / h top speed

With this Cascada you just have to start with the technology, because it is an absolute highlight. He's in the bow 2.8 liter turbo V6 of the Insignia OPC. Instead of 325 HP, thanks to the Vmax Sued turbocharger, larger injection nozzles, intercooler and exhaust system with metal catalytic converter, over 480 HP are available. Still come on the bike 421 hp and 580 Nm torque at. Or on the bikes, because Ettensberger was about to build the one Insignia all-wheel drive with locks and reinforced clutch a. The Vmax is included according to the vehicle registration document 275 km / h, but it was possible to do a lot more.
In terms of chassis, there is a Air suspension from TA Technix installed. Nothing off the shelf, but a custom-made product with Mercedes air bellows. the Brakes are a combination of Parts from Insignia OPC and Chevrolet Camaro. 20-inch Tomason TM17 are installed on the rim side.
Body parts from the Astra OPC and Audi A5

Ettensberger did not use off-the-shelf goods for optics tuning either, because there is simply nothing for the Cascada. the Front lip is a modified JMS part and actually intended for the Astra OPC. There are also adapted side skirts by Ingo Noak and the Rear apron from the Astra OPC. In addition, the side panels have been widened to accommodate the wheels. The trunk lid is decorated electrically extendable spoiler from the Audi A5 Coupé. A hi-fi extension including screens spreads out under the trunk lid.
Converted Astra OPC bucket seats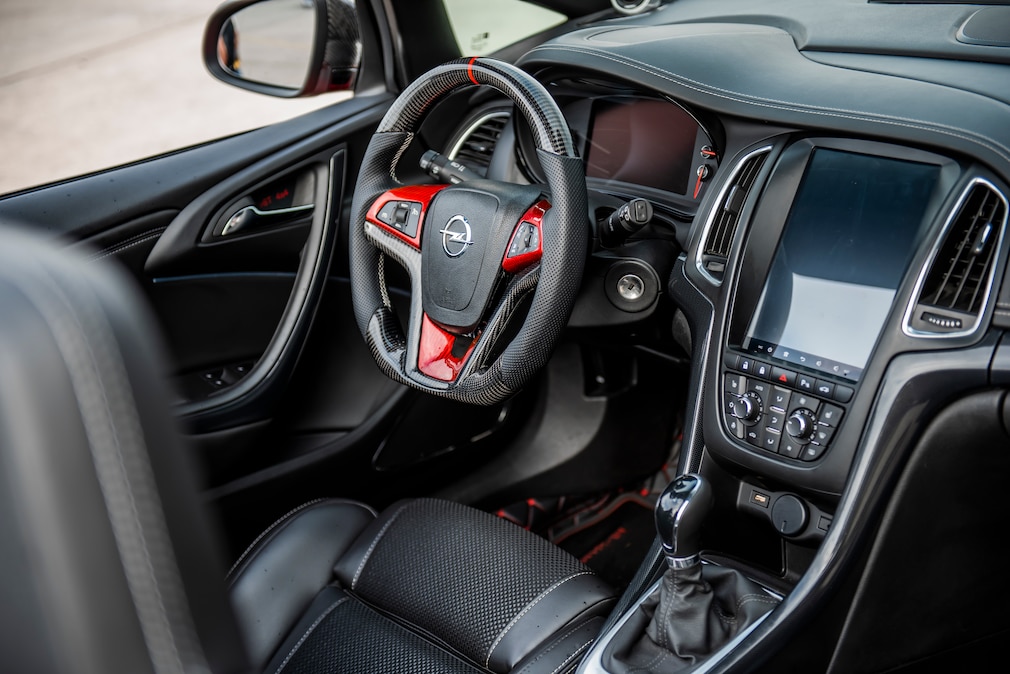 In the interior it was Dashboard from the Insignia OPC installed, including Tesla head unit and reprogrammed digital speedometer from the new Insignia. Seats and back seats come from the Astra OPC, The front shells were subsequently provided with electrical adjustment, cooling and airbags. Ettensberger does not reveal how much money Ettensberger put in his Cascada. Just so much: that alone Entries with the TÜV cost five digits. You can see whether it was worth it for the Tuning Trophy since September 27th on DMAX.