Cars
Ur-Juke Nismo RS with 213 hp and all-wheel drive to have cheap
Nissan celebrated great success with the Juke, although it initially received a lot of criticism for the extraordinary design. At the latest with the start of the second generation in 2019 and the visual revision of the body, the Juke has arrived in the middle of SUV and crossover society. However, some fans of the compact model miss an important feature that was still available on the first Juke: all-wheel drive.
Anyone who does not want to do without the automatically switching 4×4 system currently has a few options on the used car market, but these are becoming fewer. If you're fast, you can also secure an absolute eye-catcher, the Nissan Juke in the Nismo RS variant with a 213 hp 1.6-liter turbo petrol engine and optionally available all-wheel drive. This safety feature was sweetened by numerous sporty details on the body and in the cockpit of the little Japanese, as the following offer shows.
In addition to numerous red details along the body, the white Juke Nismo RS also has red painted brake calipers behind the 18-inch alloy wheels. In the interior, the all-wheel drive model, first registered in June 2018, boasts Recaro sports seats with red side bolsters, numerous Nismo emblems and the red 12 o'clock marking on the leather steering wheel indicate the top-of-the-line engine.
Sporty all-wheel drive vehicle with a high residual value
Since Nissan has actually addressed a more reasonable group of buyers with the Juke, the Nismo RS stands out from the crowd. Especially with all-wheel drive, it is exotic, which should still score points with enthusiasts in a few years. The extensive equipment also clearly indicates that this Juke should not lose much in value. Because even today things like a 360-degree camera, the two-zone automatic air conditioning or a leather steering wheel are not a matter of course in this class.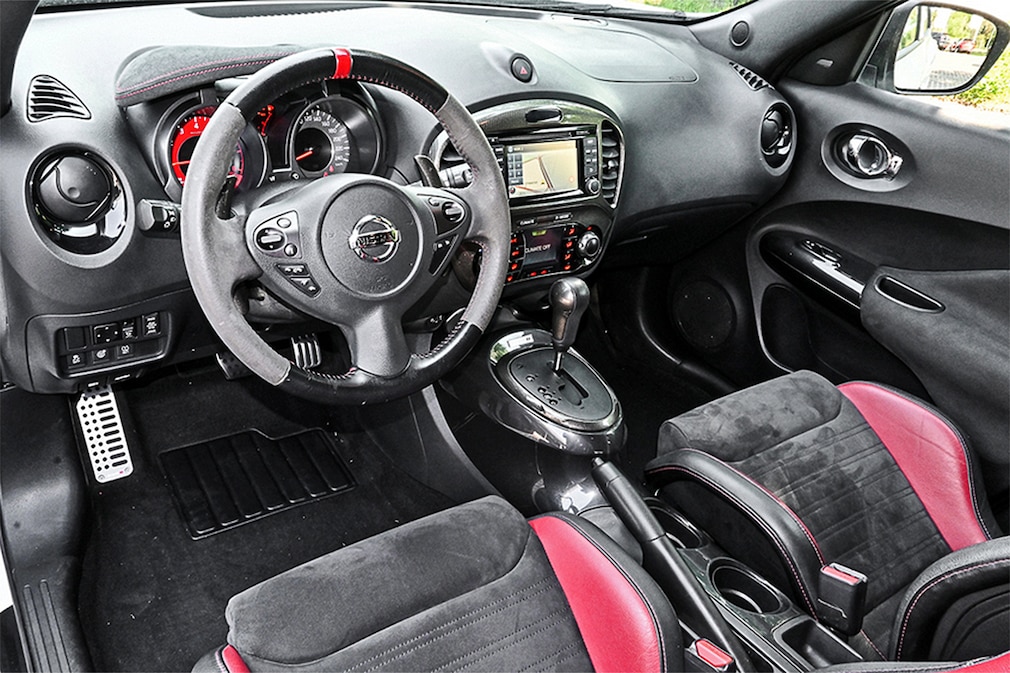 And another point speaks in favor of reaching for the former top model: the Juke, which was approved in mid-2018, has only run 53,180 kilometers so far, has a full service history and comes from a first owner. Fans of the sporty SUV will not find better conditions anytime soon. Against this background, the estimated 17,290 euros seem downright cheap. Especially if you continue to treat the model with care and speculate on a stable residual value.