Autos
VDA boss Müller: No car summit with the Chancellor (BILDplus)
–
Auto summit with the Chancellor fails
Is the purchase premium coming or not? There will be no summit with Chancellor Merkel for the time being. In an interview, VDA President Müller explains why.
I.
Last year, 3.6 million new cars were registered in Germany. Now, after the corona lockdown, the dealers are open again,
nevertheless, sales figures are dramatically poor.
Many customers wait to see if and especially when a purchase bonus will make new cars cheaper. In the BILD interview says
Hildegard Müller
, President of the Association of the Automotive Industry (VDA), why it was also Tuesday after Pentecost
will not make a decision to the Chancellor –
and why such a purchase premium
would be so important for the German economy. Click here for the full interview with the VDA boss.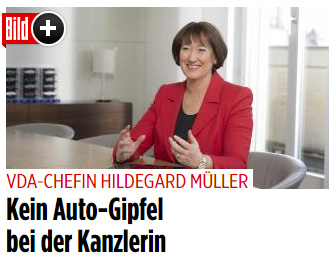 No car summit with the chancellor
Many are waiting for a purchase premium for cars. VDA President Hildegard Müller tells BILD why the Chancellor's summit is going to fail.