Cars
Vettel in the DTM? Andrea Kaiser would do that
Andrea, the TV contract with the DTM has been extended. How happy does that make you?
Andrea Kaiser: I think it's sensational that we can continue. There have been years when I haven't been to a racetrack and I've had withdrawal symptoms every time. It's a great gift and a great honor to be able to continue.
The change within the family of channels from Sat.1 to ProSieben came as a surprise. Is that a step backwards or an improvement?
It is a logical step. ProSieben has a lot of male and young viewers and also an environment that fits very well into the field of motorsport. I am convinced that this will increase the popularity of the DTM, but also Formula E.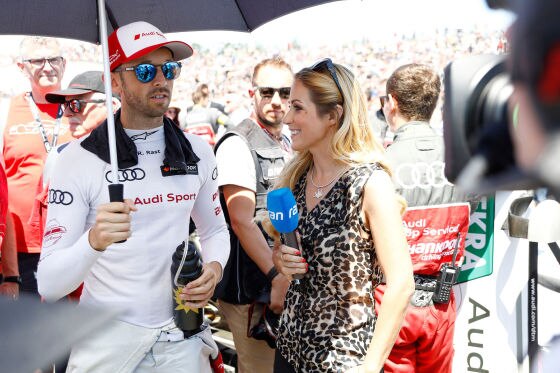 What else spoke in favor of the change?
SAT.1 has a family-oriented, more feminine orientation. ProSieben is more masculine and younger, so motorsport is a better fit. My first thought was also: 'Oh, you're used to SAT.1?' But it really makes sense.
Then why now?
A lot is happening at SAT.1. The transmitter has been or is being repositioned. So it makes perfect sense to take a close look at all of the content and programs and evaluate them.
In the past season, the DTM on Sat.1 clearly lost viewers compared to the previous year. How do you explain that?
If you look at the absolute numbers, this is the case with many formats. The viewing behavior of the audience is changing. But the goal must be to attract more people again. The evaluation is not only about the reach, but also about the market share. And they were good and stable in the DTM broadcasts.
Does motorsport have a spectator problem in general?
Motorsport must remain visible. For example, I think it's a shame that Formula 1 in Germany can only be seen on Sky, you can see that in the numbers. You have to attract young people to motorsport because they are the future. For example, my five-year-old son finds many other things more interesting than a two-hour Formula 1 race. However, given the environmental and climate debates, motorsport is changing, which can also be fruitful and positive. There will always be changes, but there will always be a place for motorsport too.
How do you win fans nowadays?
Through identification. By closeness. Or stars who can be touched. You have to open up and make people visible. We have cooler guys in the DTM than in many other sports.
For example?
If I had Kelvin van der Linde at FC Bayern – these interviews would be great. It's cool, easy-going, approachable. It doesn't think about it, it's not political. Every interviewee who does not ask his press man what he can and cannot say is a gift.
What is the DTM missing?
We had very good races, we had tension. I would like us to have even bigger rivalries to tell great stories. That two drivers who are totally opposed to each other and can't stand each other are fighting for the title. Like Niki Lauda and James Hunt, for example.
The scandal at the finale made the DTM big in the headlines again, albeit differently than hoped. Has it also harmed her, as Gerhard Berger believes?
I hate to disagree with Gerhard, but when we look at the Formula 1 finale, I say: The whole thing has not harmed the DTM. Of course, we all want a sporty race right through to the last lap, preferably without radio messages. But everyone talks about it at the end, there are stories that can be told and you can learn from them. That's why I believe that the DTM will make the best of it when the initial shock is over.
Do you think that Maxi Götz is a deserved master?
Maxi has been a top driver for years and he clearly deserves the title! He is also an incredibly nice and polite person, with whom you can be super happy. I'm curious to see how he does now as the defending champion.
There was also always a lot of discussion about the GT3 cars that were used in the DTM for the first time. How do you like them?
They are a feast for the eyes for the audience. They're loud, they're damn sexy, acoustically an orchestra, and they're just a lot of fun. And the audience doesn't even see the few km / h more or less compared to the earlier cars.
There is also a lot of talk about big names for the DTM such as Sebastian Vettel. Does the series need drivers like that?
For Sebastian Vettel, I would personally pick up all the rubbish at the racetrack after every race. I think it's great how opinionated he is now, even if it polarizes him. He's a legend, a nice person, a great family man – I would even forego my salary for Sebastian. Even if that will probably not be enough to get him into the DTM.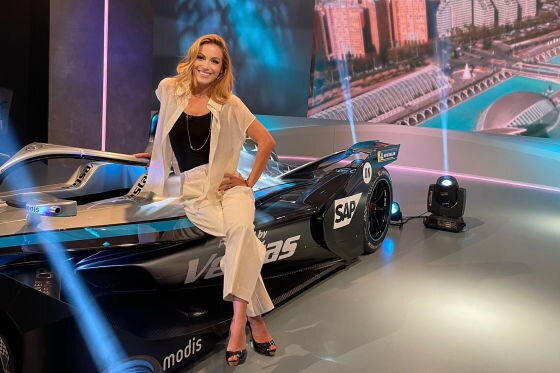 You moderate the DTM and Formula E. Which racing series do you enjoy more? They are fundamentally different.
They are not, because in the end it comes down to who is the fastest. I enjoy when the competition is right, when you have cool guys who speak out. In both series you can go to any driver and get an interview. I admit that I missed the sound in Formula E at the beginning, but the racing series is a great television sport because you have good action and a lot of overtaking maneuvers. Both series are very entertaining. They have more in common than they think. And both of them are fun.
Which series has the cooler drivers?
The DTM. Here is a Timo Glock, the van der Linde brothers, champions like Marco Wittmann or Maximilian Götz, who say what they think. Or women like Sophia Flörsch, who may have fallen short of their expectations, but is also a type. And of course I'm really looking forward to Rene Rast.
Was Sophia Flörsch's season beneficial for women in motorsport or was it more of a hindrance?
Definitely not a hindrance. There was not only Sophia, but also Esmee Hawkey, who sometimes drove sensationally well. Basically, I believe that a comparison between men and women in motorsport is desirable, but still difficult. Out of whichever reasons. To have Sophia in the DTM was great for marketing and narrative reasons. She had a lot of problems with the car, the development, the season. But having her here was nice. But of course: I would like a woman to compete for the title.
Could Sophia do that if she drove another season?
Maybe I do not know. It would be like asking me if Rene Rast will drive as well in a GT3 car as he did in the Class 1 car. Because I don't think so, it will be very difficult for him.
How realistic do you think Sophia's Formula 1 goal is?
Formula 1 is not just a question of talent, but also of money. A woman in the paddock would generally be good for Formula 1. But I don't know if their goal is realistic, if I look at the ages of the guys who are getting in at the moment and are already at the front. They all already have a career in Formula 1. I would wish her to, but there is more to it than just talent.
Do you still have to listen to stupid sayings after all these years in the industry?
No, never (laughs). In motorsport you have to live with these slogans, you sometimes make them yourself. We're like a family in the DTM, and sometimes you talk on a somewhat gruff level. You can also hear: 'Did you bring your clothes from the old clothes collection?' But that's also fun. You should never judge negatively things that have no negative intention. Otherwise life in a male-dominated motorsport world won't be any easier. I am happy when I can return an even stupid one to a stupid saying.
Who has been your most uncomfortable interview partner so far?
Paul di Resta. He was always very difficult, very aloof. He always made you feel like you were annoying him. He didn't go to the conversation level.
What is the relationship like with the current generation of drivers?
Nobody digs at me anymore because they all know my husband (rally world champion Sébastien Ogier; the editor) (laughs). Seriously: They treat me completely seriously because they know that my whole life revolves around motorsport. If I had no idea what I was talking about, it would be very difficult. Because the drivers notice that. If someone thought I had no idea about motorsport, it would hurt me very much.
You are also involved in football. How does it compare to motorsport?
Football is an incredibly great sport. I also understand everyone who loves soccer. But working in motorsport is much easier. Even if the drivers lose or have a crash – they will face. In football they are shielded, it is more restricted. Sport could become more approachable there.