Cars
Vettel team boss: "Seb is still super fast"
Mike Krack, what are your conclusions after the first few months as team boss of Aston Martin?
mike crack (50, laughs): How much time do we have? I could write a book about it. Seriously: there were respectable successes, nothing more. The team has expanded tremendously over the past two years. Maybe it grew too fast. It can quickly happen that efficiency and structures cannot grow fast enough. A small team is led by individuals. If this team grows too fast, the information coming from each person is usually lost. That's the main problem. It often takes years to compensate for this deficit.
How did you counter that?
We had to slow down the rapid growth. But that is of course a big challenge. Basically, it wasn't easy at the beginning because the car was anything but competitive at the beginning. To make matters worse, Sebastian Vettel had to miss the first two races of the season due to Covid and there were unnecessary accidents, which wasn't exactly helpful either.
But the positive thing is that in such a situation you can move many things because – unlike in a corporation – there is almost no politics. In return, we have a very ambitious team owner in Lawrence Stroll, who on the other hand also gives us many opportunities to develop.
How difficult is it to deal with the impulsive Lawrence Stroll? Also in terms of pressure.
He is often wronged. He gives us free rein and doesn't interfere every ten seconds. I think it's perfectly legitimate that he wants an update about the team once a week.
What is the best way to deal with him?
to be honest with him. Always describe exactly how and why the situation is the way it is. Without beating around problems.
How can you briefly describe the problems of the car and how much potential does the AMR22 have?
We have a hard time struggling, especially on circuits with a lot of high-speed passages. For example in Barcelona, ​​in Silverstone or in Spielberg. In Baku and Montreal, where there are a lot of slow corners with corresponding braking phases, we find it easier. Here we are with the music. But unfortunately a normal race track does not only consist of such corners. Basically you can say: The more fast corners there are, the harder it is for us.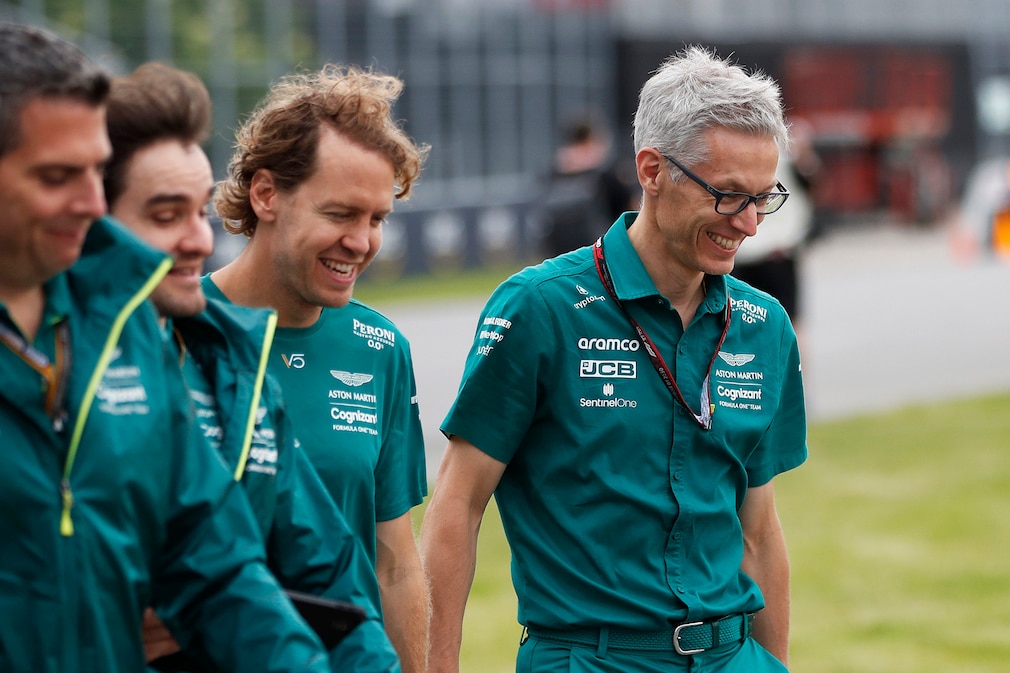 Nevertheless: Can you improve the car so that you can soon catch up with the front midfield?
Yes. Because if you leave out the big three – Red Bull, Ferrari and Mercedes – the gap behind them is very small. That means: If you find two tenths per round, you can make a big jump. That's exactly what we're working on.
From a German point of view, Sebastian Vettel is of course interested. You have made it clear that you would like to extend his contract, which expires this year. Why is he so important to the team?
It starts with the fact that he's a four-time world champion, so he has a wealth of experience and is still super fast. What's more, he has a work ethic that I've never experienced with any other racing driver. But he's always been like that, from the start he was an extremely hard worker. He is often there before the meetings to take a moment to look at the data again so that he can then make suggestions. But he doesn't just give technical tips.
He deals with everything and also makes suggestions, for example, on how to improve the team structure. But he does it all in a nice and constructive way. Not everyone can do that. Many racers are quickly frustrated and put unnecessary pressure on the media. I've never experienced that with Sebastian. In addition, he is very self-critical and admits mistakes immediately. Which multiple world champion can claim that?
And: In Monaco, for example, you could see how he can make the difference as a driver. You could see his smile again. And that's exactly what we want: to see him laugh! And with us for a long time. We have to try everything as a team and respond to his wishes when it comes to the car.
When can fans expect a decision on his future with Aston Martin?
We have a very good relationship with Sebastian, so we don't want to set a deadline. He knows our opinion. He knows we really want to continue with him. There are talks in which we fundamentally exchange ideas about how we can imagine a future together. We're taking our time with that.
Sure, there comes a point where you have to make a decision. But I don't have the feeling that he's playing for time, saying so straight away when he's clear about his future. I think after the summer break is the time when you can and must be more specific. Until then, we don't have a plan B.
Could Mick Schumacher be an alternative? He is considered Vettel's protégé.
We're not talking about potential successors. Neither with him nor with others. Because we want Sebastian to stay with us.
What arguments can you use to convince him?
I'm not a fan of calling him every day and repeating what we just did like a mantra. We have to convince him with the progress and results on the track. Unfortunately, they are still missing in reality at the moment. We just have to keep working very hard so that he feels things are going in the right direction. We also have new people on the team who can make a difference in the future. For example Dan Fellows. Sebastian knows him and he knows his abilities. As I said: We must let actions speak, not words!
How does Aston Martin feel about Vettel's strong commitment to the environment and equality? It's no secret that he doesn't just make friends in the PS circus with his uncomfortable, direct manner.
Everyone has their opinion about it. I don't think you can muzzle top athletes who are also intelligent. Sebastian is being criticized for his commitment but it's not fair. What happened in Canada was the best example of this.
What I would like as a team representative, however, is that Sebastian works even more closely with us on his actions and talks to us more before his actions. Together you can achieve more. For example, Sebastian asked why transport from the airport to the company and vice versa cannot be done with purely electric cars. Now we've started because it makes sense.
One more personal question: Formula 1 is considered a big shark tank, in which politics is mostly done below the waistline. How do you deal with that?
I admit: I was surprised by the details, no matter how small, that are reported in Formula 1. And how media is often used to make politics. An example: In Spielberg we all voted to increase our predetermined minimum budget by four million euros due to the increased costs caused by the pandemic and the Ukraine war. And yet a team boss ran to the media immediately afterwards and lamented that the increase was not high enough. Although he also voted for it. I'd rather talk about the sport instead. The fans are interested in lap times, less in budgets or underbodies that are too flexible. But maybe I'm not enough of a politician. One thing is certain: one must not overestimate all of this and must always remain calm.