Cars
Volkswagen GEN.Travel: This is how we will travel in the future!
What's the nicest way to put it? Maybe like this: Not everyone who is in charge in large car companies has the same imagination when it comes to the cars of tomorrow. That's why show cars are so important – and that's why concept cars like the GEN.Travel you see on these pages are more than just a designer whim to spend as much money as possible.

"Sometimes you just have to think an idea through to the end and present it life-size. Preferably so perfect that you can touch, feel and experience everything," says Klaus Zyciora (60), the VW Group's design manager responsible for all ten brands. With his ID. Buzz, who he debuted in 2017, helped. Without the show car (and the enthusiastic reactions to it) it would never have been built. AUTO BILD meets with Zyciora and his team at the VW design center in Potsdam, especially with Peter Wouda, head of the Future Center and project manager of the car we are standing in front of: the Gen.Travel.
Is that even still a car? Or a polished stone with wheels?

It still has four wheels, after all. Phewhh. hinged doors. OK. But no steering wheel, no pedals, no display. Aha. And the windscreen looks like a curved TV. Zyciora: "It's a car that doesn't belong to any of the Group's brands, doesn't follow any design language that you're already familiar with. On purpose." "Volkswagen Group" is written at the rear. The car is an electric IEV (Innovation Experience Vehicle), translated as a premium-class innovation carrier that is intended to redefine future travel. Level 5-capable, the thing should drive completely autonomously and also charge new electricity independently on the way. The inspiration for the shape of the windscreen was the Rumpler teardrop car shown 101 years ago at the Berlin Motor Show.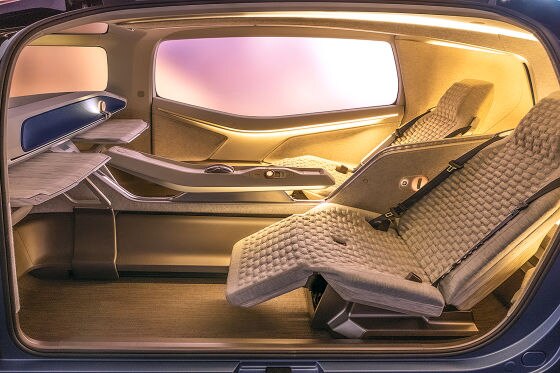 Peter Wouda: "The concept doesn't look back, but 15 years ahead. When the technical possibilities are then perfected, we have endless possibilities. We will use that. This car should adapt to the customer, not the other way around."

That's why the interior follows what the customer wants: Does he want to be taken from Hamburg to Munich overnight? for two? Then the Gen.Travel pulls up with two armchairs that can be converted into a comfortable bed à la Lufthansa First Class, with fruit and champagne, and lots of privacy. Does the customer want to use a trip as a business appointment? Then there are four armchairs on board, as well as an espresso machine and a paper shredder, if desired. Does the customer want to go to the Mediterranean with his family? Then there's a new seat structure, augmented reality glasses (for entertainment), chilled drinks or even ice cream.

Designer Wouda: "A car like this is ordered, not owned. If you want, you can have it set up in front of the door, equipped for exactly the task you expect." Perhaps the closest comparison is with "NetJets", the "ride" agency for Learjets, where customers pay an annual fee and a pretty cool right to use it get for private jets.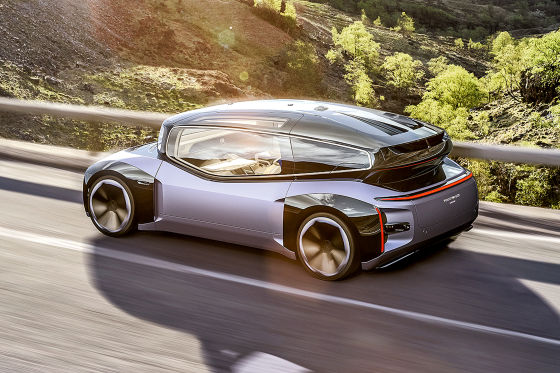 What innovations are there?
With augmented reality glasses, vehicle functions and route become visible, everything else is done by "Luna", the personal onboard assistant, by voice. It also "wanders" from left to right across the dashboard, thus visualizing the route to your destination. If you wake up briefly at night and she's already on the right-hand side, you know it's not far. Each occupant gets a smart controller that allows them to adjust their seat, temperature and volume. Incidentally, the cars can be on the road as a fleet, lined up closely together like pearls on a string of pearls.

Klaus Zyciora: "You have to free yourself from how we travel today. You save yourself the trip to the airport, the controls, the waiting, the queues. Zero emissions, zero stress, that's what we offer here. We asked ourselves many questions: How does the vehicle have to drive, how does it brake, how soft does the chassis have to be if people are to give up responsibility and sleep? And is that even possible, below the window line. Can you turn a blind eye?" Peter Wouda adds: "How much outside noise do we still allow? how much light How do you buckle up when lying down and where are the airbags?"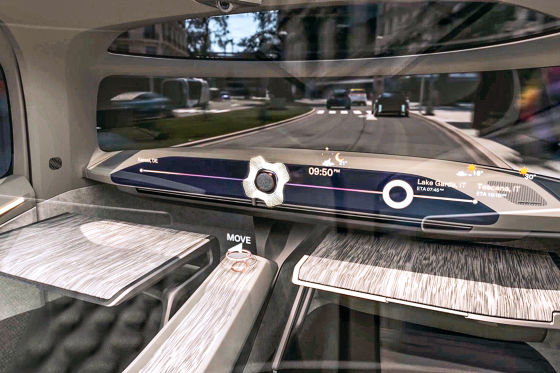 Gen.Travel shows possible solutions for all of this. The airbags land in the bedspread… And the recycled seat fabrics are made with an intricate 3D knitting process that recycles copper, the dashboard's wood, from karuun, the rattan wood that can be "under-injected" with conductive liquids to become the display. The car just celebrated its premiere at the Concours d'Élégance in Chantilly (France). The board members were allowed to drive in advance, including those who are no longer. Because that, too, is special about the show car. The Gen.Travel is fully drivable. The computer still takes over the predetermined route because it knows it down to the last centimetre. Somewhat further future? Can you tell me where to go…