Cars
Volvo V90 D4 Cross Country: Used Car Test
–
This used Swede is the favorite of the individualists
Does the big Volvo V90 D4 Cross Country needed live up to the solid reputation of the Nordic brand? AUTO BILD does the test.
D.
he virtues of Swedish station wagons are legendary. And as if one had suspected the approaching SUV wave, Volvo first presented a higher V70 as an all-wheel drive XC variant in 1997. This robust concept has proven itself to this day – despite the tight new prices. With the striking V90 Cross Country
Volvo launched its fourth generation in 2017
of the large crossover station wagon. As a new car, it is chosen by executives and freelancers who want to set themselves apart from the German premium mainstream. And can.
Volvo V90 Cross Country: After three years for just under 33,000 euros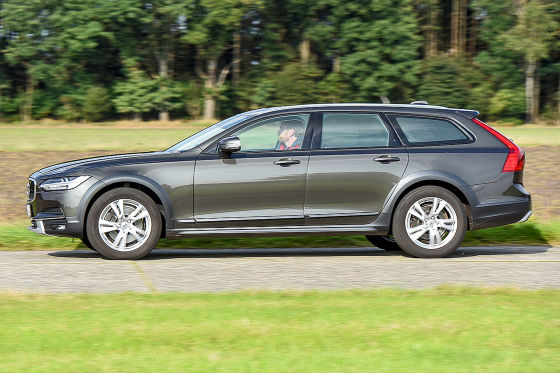 The V90 Cross Country is 65 millimeters higher than its normal brother. At 4.93 meters long and 1.88 m wide, his preferred element is the long haul.
© Sandra Beckefeldt / AUTO BILD
Because this individualism costs a lot of money. In our test car from the year of construction 2018, the new price added up with a few extras proud 65,980 euros. The acquisition costs were hardly an argument to go against the brand mainstream. After three years, you can get started for just under 33,000 euros. And what do you get for it? Of the V90 Cross Country exceeds its normal combo brother in height by 65 millimeters. So if you don't need seven seats, he can have one interesting alternative to the in-house XL-SUV XC90 be. Circumferential plastic extensions keep one or the other bump from the body. It's really big and unfortunately confusing: With 4.93 meters long and 1.88 meters wide the preferred element of the great Volvo is the long haul. the Eight-speed Geartronic changes gears harmoniously, the temperament of the somewhat pithy running Euro 6 four-cylinder diesels with its 190 hp is sufficient for balanced minds.
Technical specifications
engine
Four-cylinder / front cross
Valves / camshafts
4 per cylinder / 2
Displacement
1969 cc
power
140 kW (190 PS) at 4250 rpm
Torque
400 Nm at 1750 rpm
Maximum speed
210 km / h
0-100 km / h
9.0 s
Tank / fuel
60 l / diesel
Gearbox / drive
Eight-speed auto / four-wheel drive
Length Width Height
4930/1879/1543 mm
Trunk volume
560-1526 L.
Empty weight / payload
1957/463 kg
Big trump card of
Volvo

is the travel comfort

For easy off-road detours is an optional

Off-road driving program

on board. Up to 40 km / h it allows more slip on the four driven wheels. It becomes an off-road vehicle

V90 Cross Country

but not because of that. Its trump card is travel comfort: on the formidably shaped, electrically adjustable front seats, the freedom of movement is enormous, even for tall people. and

in row two, two adults can take it easy

. However, the elegant rear section costs a lot of storage space:

560 to 1526 liters volume

would not be a fabulous value even in the compact class. The same applies to the moderate payload of just 463 kilograms.
costs
Entertains
Test consumption
7.6 l D / 100 km
CO2
138 g / km
inspection
500-700 euros
Liability (16) *
436 euros
Partially comprehensive (23) *
563 euros
Fully comprehensive (22) *
937 euros
Motor vehicle tax (Euro 6)
278 euros
Spare part prices **
Alternator (AT)
892 euros
Starter
581 euros
water pump
421 euros
Timing belt
475 euros
Rear silencer
730 euros
Front left fender, painted
986 euros
Brake discs and pads
554 euros
* Online tariff of the HUK24 insurance: registration in Hamburg, drivers only policyholders and partners (25 years old), annual mileage 15,000 km, no-claims class 1; ** Prices including wages and 19 percent sales tax
The axle bearings are finally as solid as the rest of the car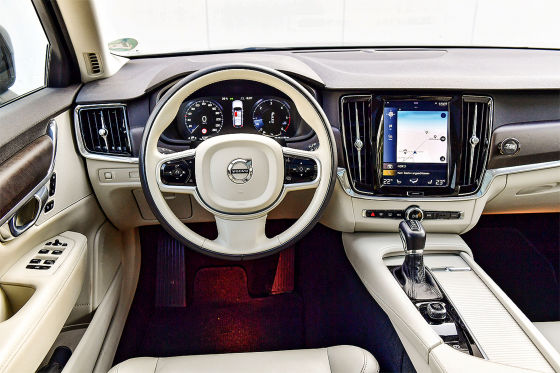 Luxurious interior with fully digitized displays. The infotainment is not very intuitive.
© Sandra Beckefeldt / AUTO BILD
The processing is first class. All panels are accurate to the millimeter, and that The choice of materials looks high-quality. Compared to the German competition, the chassis, which is tuned to defensively understeer, may lack the finishing touches, but the long suspension travel reliably eliminates minor and major road damage. And one more piece of good news: on this Volvo station wagon they are Axle bearings finally as solid as the rest of the car. If, however, frustration arises on board the Swedish lounge, it is probably because it is equipped with an upright touchmonitor Infotainment is bitchy again is. Fortunately, a system restart is often sufficient. The panoramic roof, which is subject to a surcharge, provides light and shadow: On the one hand, it underlines the generous feeling of space. On the other hand, the roof module is not 100 percent rattle-free on poor roads. Never mind. In the end, the strong one should be Combination of reliability, design and individuality most prospective buyers as a selling point for one V90 Cross Country suffice.
Conclusion: The high prices suggest it: used ones V90 Cross Country are a sought-after SUV alternative. Appearance and comfort appeal not only to fans of Sweden, the long-term quality of the designer piece fits.
* Further information on the official fuel consumption and the official specific CO2 emissions and, if applicable, the power consumption of new cars can be found in the "Guide to Official Fuel Consumption", which is available free of charge at all sales outlets and from "Deutsche Automobil Treuhand GmbH" (www .dat.de).