Cars
VW Golf R Variant, Golf VR6 Variant: test, station wagon, VR6, engine
Storm warning over Wolfsburg, two faults Sause station wagons from VW. That sounds like Golf Variant first of all not necessarily after thunder and lightning. And if we had the green one Golf 3 did not hear it coming, but only saw it, we would have spontaneously returned to the 1.6 from the 75 HP shifting dune that we were traveling with in our mid-twenties in the 1990s. This is not a traffic obstacle at all, but a VR6, one with the big 2.9 and 190 hp and all-wheel drive called syncro.
Yes, VW has one Six-pack built into a Golf, wanted to be next to all the rowdy ones GTI and 16V make a contribution to driving culture. That the two Screwdriver buddies Lars Kitzmann (29) and Mario Wipper (31) arriving today and here of all places with their VR6 is of course not a coincidence, but the result of hard research. We wanted to introduce the new Sause station wagon to its ancestor, the Golf 8 R Treat yourself to a "Meet and Greet" with the Golf 3 VR6. VW does have one 190 hp representativebut not as Station wagon. So call in VW intranet among ALL employees, including the subsidiaries. And so Lars and Mario reported: "We have, and at first we didn't even know what kind of treasure we had bought."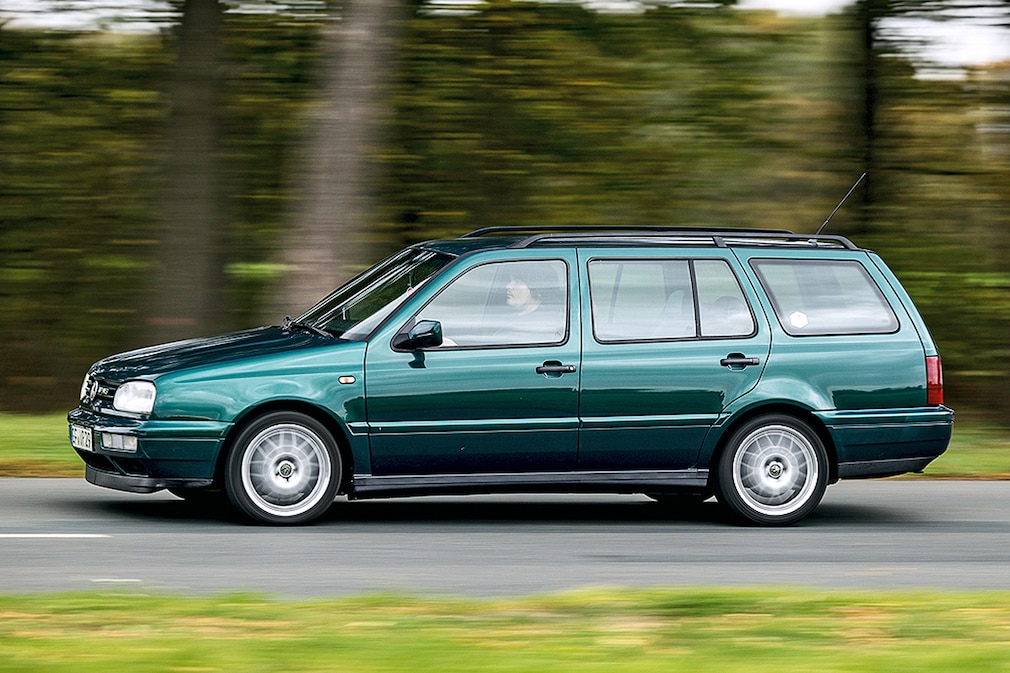 The price was a proud 50,610 marks in 1994

Before we set off, Lars tells his story: "I have a Golf 2 'Fire and Ice' and wanted to convert it to a VR6, so I have the right one
engine
wanted. "The mechatronics technician found what they were looking for, but the 190 hp machine was also involved
259,000 kilometers
in a green Golf Variant. "I listened to the engine, it ran great for
1450 euros
we came to an agreement. "In the evening, Lars rummaged in the net to see what he had actually bought. A rarity of which there is only
around 100 pieces
should give! Goods with
50,610 marks
1994 in the highline equipment not cheap either. And you still notice that today.
Leather seats
whose adjustment wheels are somewhat figurine because of the overflowing center console,
electric windows
in the door panel, radio with cassette and CD changer control, including the automatic air conditioning, including the stick for the
Five-speed manual transmission
like in the 75 hp Golf.
Lars clears the driver's seat, 1450 euros are a manageable risk, the Golf sounds like this when you step on the gas for the first time cultivatedso well behaved. When you put it on rotational speed bring the needle to the one o'clock position, first at 4000 tours comes a punch. 245 Nm torque were really a lot back then, when the 16V only had 180. Today it feels as if Lars had secretly hung his three Sprinter loads of Corrado parts, which he recently had to buy, on the back of the agricultural hook for us.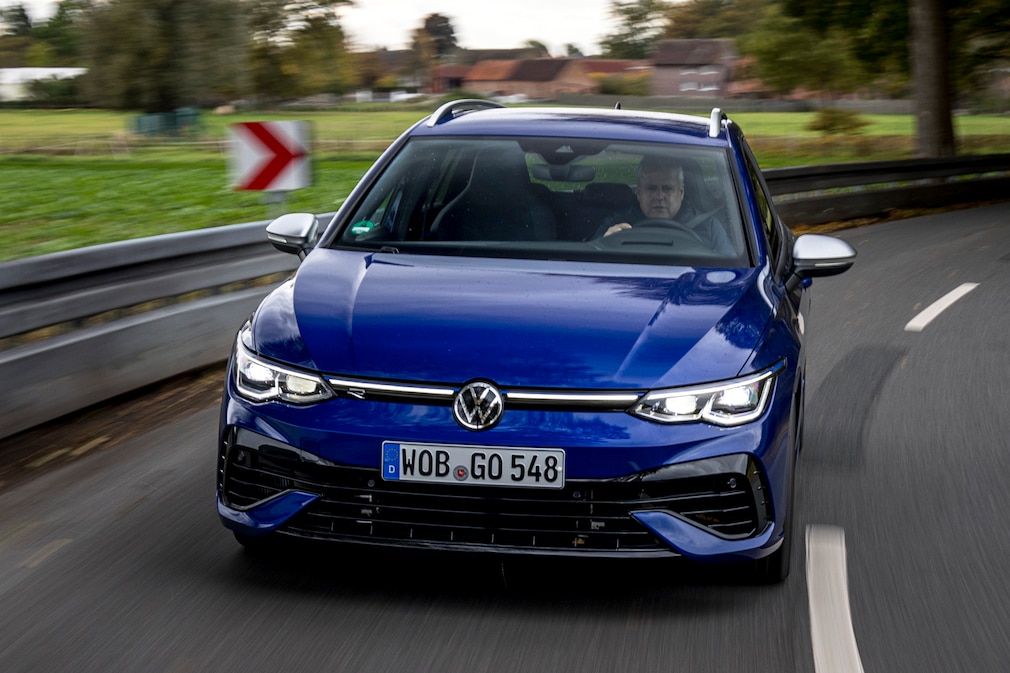 In the new Golf R there is a circuit and country road

VR6, the horny wild boar? Yes, in our memory. But in our memories, the blonde with braces was also the most beautiful from high school. What matters is today. And today we have one Golf R under your very best and sit on the best seats that ever existed in a Golf. Pilot seats, tight and with the best Lateral support for the 370-degree curve yet to be invented. I bet this Golf will master them curviest tracks also with a combination rucksack, because its inventor gave it to him Magic landing gear implanted with you first on the Country road fluffy feathers and secondly on the Circuit stuck to the asphalt. So quickly press the sporty driving profile, and here it comes Driving dynamics manager in the game.
As in GTI and Club sport the control electronics also ensure the right grip in the R. That All-wheel drive system does not distribute the force in a ratio of 50:50 to both axes, but rather variable – and that also between the left and right wheel. The steering angle, accelerator pedal position and acceleration in the curve determine which wheel receives how much power to keep the load as one Board on the street to stick.
Number 8 is right at the till
And that there is 35 centimeters more sheet metal in the back than with a normal household Golf that is in the trunk
maximum 1642 liters
412 fit in more than in the normal that the station wagon with
1630 kilos
is exactly 154 heavier, no, you don't really notice it when you drive sporty, that's how tight and well they managed to get the Sause-Kombi. You can also expect for
at least 51,585 euros
, and there aren't even
19 incher
and
GPS
Series (the system with the further development from version 1.0 at Golf-Start to now 2.1 works quite well, by the way).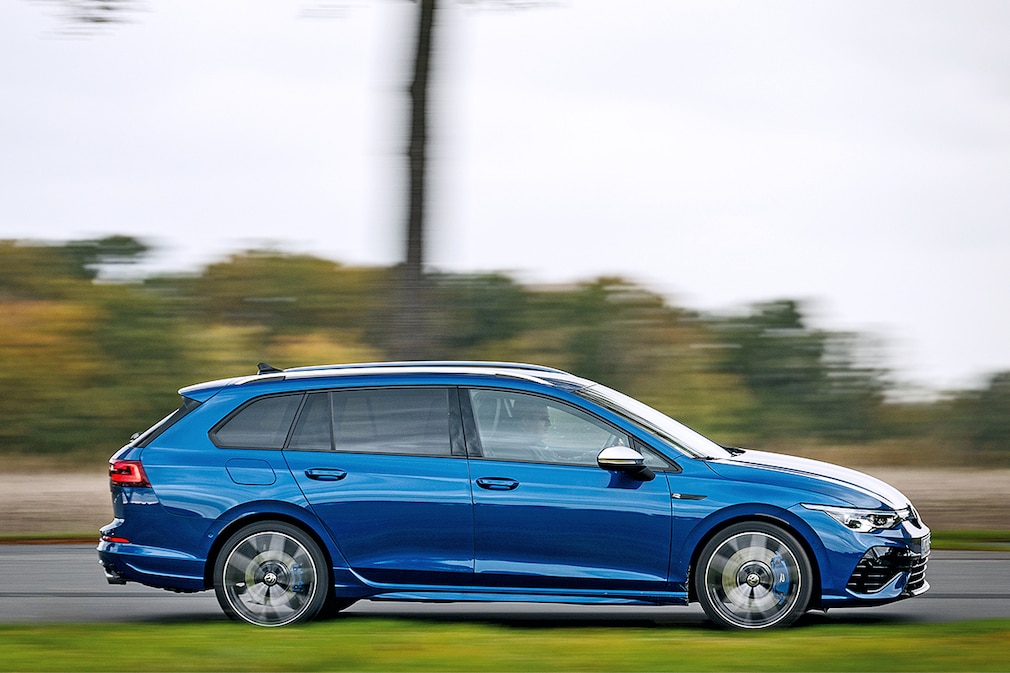 And what does Lars think of the new Golf R? "The suit is really great, the seats have the character of a living room," says the 29-year-old. And that the value is amazing, typically VW. Maybe Lars also just did four generations of golf missed, because when the two cars stand next to each other with the hood open, the sheet metal is each supported by a rod. VW makes it as mechanical again with number eight as with the Golf 3 after four gas pressure dampers.
Technical data VW Golf R Variant
• Engine: four-cylinder, turbo, transverse front • Displacement: 1984 cm³ • Power: 320
PS
at 5350 / min • max. torque: 420 Nm at 2100-5350 / min • length / width / height: 4644/1789/1466 mm • 0-100 km / h: 4.9 s •
Vmax
: 250 km / h •
Price:
51,585 euros.
Technical data VW Golf VR6 Variant
• Engine: six-cylinder, transverse at the front • Displacement: 2861 cm³ • Power: 190 PS at 5800 / min • Max. Torque: 245 Nm at 4200 / min • Length / width / height: 4340/1695/1430 mm • 0-100 km / h: 8.1 s •
Vmax
: 222 km / h •
Price:
50,610 marks (VR6 syncro Highline 1994).