Cars
VW ID.Life: test, electric, convertible, engine, price, ID.1
That the VW ID.Life is more than just a finger exercise for the design team around Jozef Kaban, is clear. There is no time for funny experiments, the internal combustion engine gets upset, first in the small car class. Called: VW Polo and T-Cross need probably with the coming at the latest Euro 7 standard (planned introduction 2025) an electric successor; otherwise the costly exhaust gas purification would drive prices immeasurably. (Important tips for buying a new car on the Internet)
The ID.Life uses the electrical kit with 234 hp

In the case of electric vehicles, on the other hand, the tariffs fall as the number of units increases, batteries become cheaper, and Volkswagen's platform strategy also lowers prices. The manufacturer therefore confidently announces: There will be a small city electric car in 2025 – for just now 20,000 euros! And if we have our way, it can look exactly like the ID.Life. Especially since the multi-million dollar single piece not only looks ready for series production, but also drives surprisingly well for a one-off model. Only a little over 30 km / h – but that is purely a safety measure, he could be faster. Under the sheet is to some extent the future series technology, basically the basic version of the modular electrical construction kit, but with it here 234 hp front-wheel drive.
Head-up display replaces the speedometer displays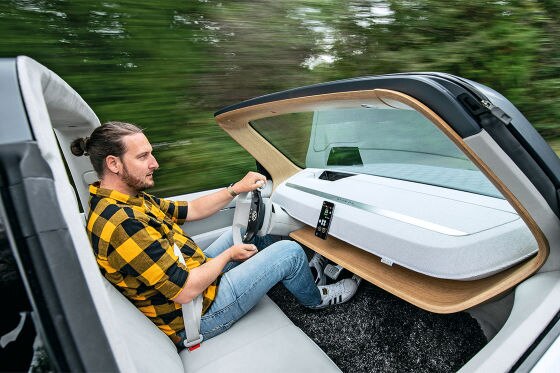 Surprise number one: That one from the steering wheel Control horn like in an airplane is not noticed at all when driving, the Life can be controlled with it without any problems. Surprise number two: No instrument cluster, no screen in the middle, no pitman arms, no mirrors – isn't there something missing? No! That Head-Up Display replaces the speedometer displays, cameras the mirrors, there are a few touch buttons on the steering wheel (among other things for the indicators), and the mobile phone becomes an infotainment system, magnetically attached to the center console. There is a dedicated appwho recognizes when the engine is started, and then switches to a driving menu. It all seems well thought out, works intuitively. But: Driving isn't everything. At the push of a button in the app, the ID.Life turns into a cinema, a screen extends in front of the windshield, the front seats can be laid flat, and the rear seat can be leaned back.
Lounging around and watching the film, the Waiting time at the charging station bridge. And maybe the drive-in cinema will even convince the cool kids from the gas station, from the lowered one 3 series BMW to switch to the ID.Life. Especially since the PlayStation can also be connected without any problems. Incidentally, the roof does not work quite as easily. Like the front hood, it's off Air chamber film (made from PET bottles) with zippers. Sounds simple, but the prototype is still quite fiddly to open. But if that remains the only construction site for the coming years, we will be happy to issue the building permit.