Cars
VW T-Cross as a flawless used vehicle for less than 19,000 euros
SUVs are still very popular. Above all, small and compact models are more popular than ever – that is also the reason why VW has adapted its SUV strategy and has two small SUV series on offer with the Taigo and T-Cross. But these small SUVs are only a real bargain to a limited extent. At least as a new car.
If a used vehicle meets your own requirements, you can quickly save a few thousand euros with the T-Cross. Particularly pleasing: Since the T-Cross is an extremely popular SUV, there are also plenty of vehicles to choose from on the used car market. Like this not even two-year-old T-Cross.
VW T-Cross as a petrol engine with low mileage

The VW T-Cross 1.0 TSI in the eye-catching "Flash Red" color was first registered in November 2020. In the past 21 months, the only previous owner has apparently not used his T-Cross very often, after all, the car has just 11,103 kilometers on the clock.
Such mileage is also no problem for the entry-level engine, the 1.0 TSI with 95 hp. The three-cylinder petrol engine with a displacement of one liter provides a torque of 175 Nm suitable for everyday use and accelerates the T-Cross to 100 km/h in 11.6 seconds.
The driver has to change gears manually via the five-speed manual gearbox. VW specifies the consumption as 4.8 liters per 100 kilometers.
The small SUV is well-balanced
The T-Cross for sale here was ordered two years ago in the "Life" equipment variant and already offers a very respectable range of comfort ex works.
The T-Cross Life is equipped as standard with a parking aid (front and rear), central locking and a hill start assistant. The young used also even has a two-zone automatic air conditioning on board.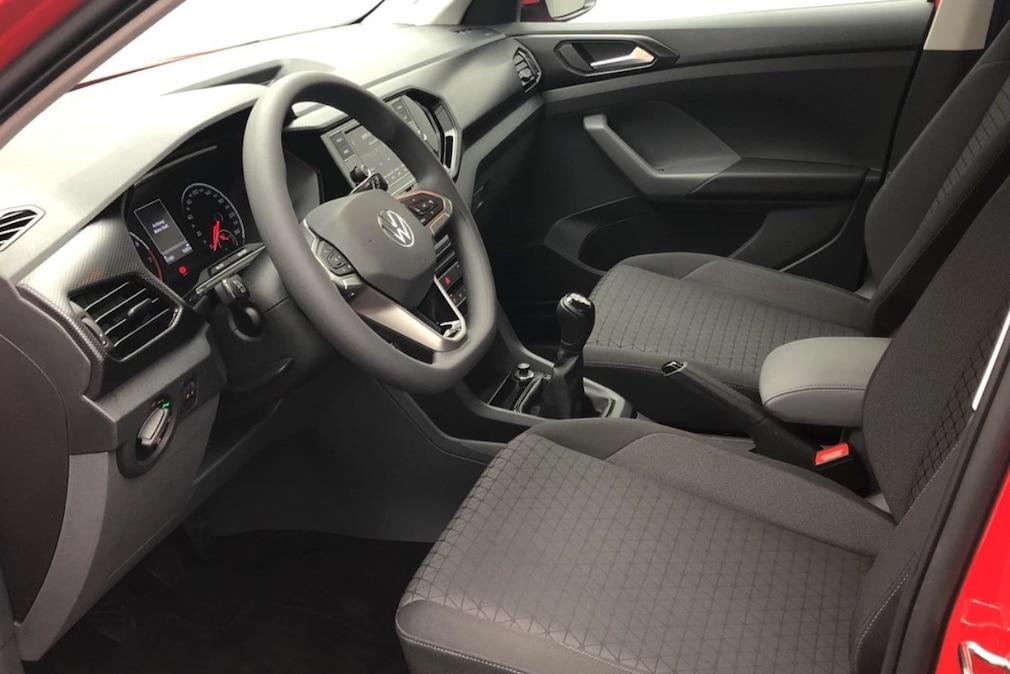 A look at the VW configurator reveals that a comparable T-Cross Life currently costs at least 25,000 euros as a new car. The SUV, which is available from the provider Ulrich Senger GmbH in Rheine (NRW), is already available for 18,880 euros. In this case, over 6000 euros can be saved when buying a used car.