Cars
VW Tiguan Allspace: used car test – AUTO BILD
It's amazing how flexible the car manufacturers' kits have become. The VW Tiguan Allspace presented in 2017, for example, uses the MQB platform like the much smaller VW Golf. The suffix Allspace can be taken literally in this case. The maxi version of the
Tiguan
measures an impressive 4.70 meters
and will be built in the Mexican plant in Puebla. Compared to the normal
Tiguan
she offers
ten centimeters more wheelbase and almost 22 centimeters more external length
. In terms of interior dimensions, it even rivals the well-known spacious Passat Variant B8. 1.90 meter people can endure it in the ergonomic front seats as well as in the rear.
The trunk is huge.
Further trump cards are the raised seating position and the
optional third row of seats
.
The Tiguan Allspace still looks fresh and valuable

Our test car from the Autohus in Gyhum near Bremen does without the latter extra. Instead, it offers great engine and equipment comfort. When 190 hp 2.0 TDI with all-wheel drive and highline equipment According to the Schwacke database, he was the Wolfsburg man who had been spruced up to a premium mobile new proud 50,290 euros expensive. Three and a half years and 166,890 frequent driver kilometers later it would be for more popular 24,980 euros to have. Where do you have to compromise?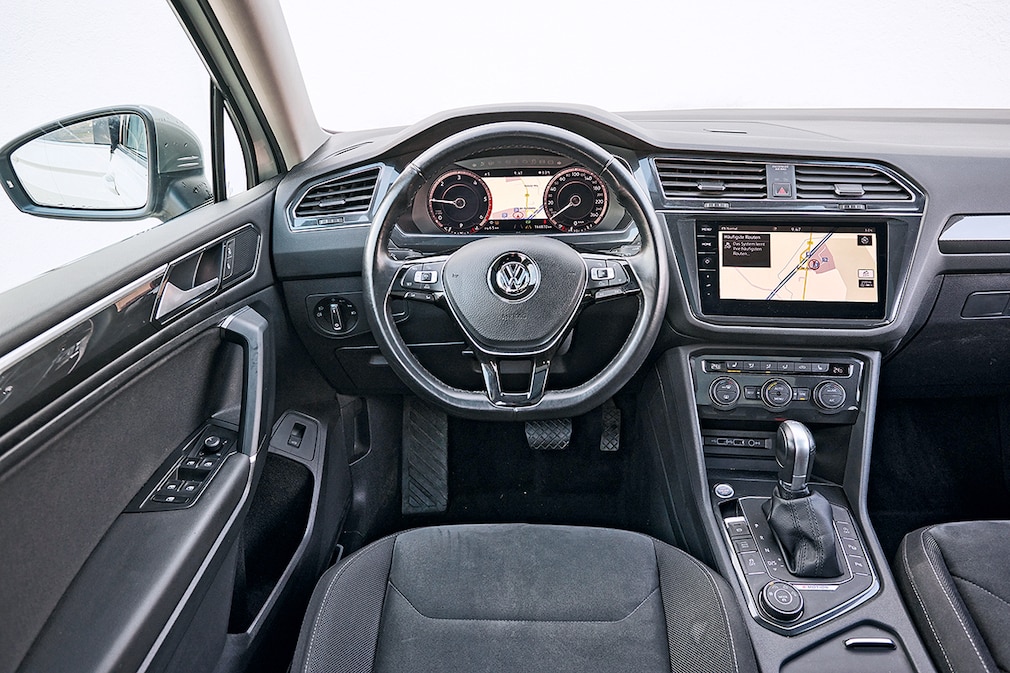 Visually, the only thing that catches the eye is a larger abrasion of the paint on the right corner of the bumper. Otherwise he does
Tiguan Allspace
, which still has to do without Euro 6d Temp engines from December 2018 and the subtle facelift from spring 2021, still has one
fresh and valuable impression
.
Not least thanks to the DCC chassis, which is subject to a surcharge, it runs smoothly without rumbling or crackling.
Roads and dirt roads are his terrain, we leave real terrain to Touareg and Amarok.
140 kW (190 PS) at 3500 rpm
Well thought-out details bring sympathy

Well thought-out details score like one in everyday life
foldable passenger seat back
for extra long loads and
Folding tables in the rear
. They provide additional sympathy points. The one running in an oil bath
DSG (DQ500) should switch more harmoniously in cold operation
and generally respond more quickly. And the expensive ones
Brake discs and pads rubbed
enormous on our test drive. Still can
Tiguan Allspace
the bottom line is convincing. Such a
versatile car at such reasonable prices
rarely found used.
Partially comprehensive (23) *
Fully comprehensive (19) *
Front left fender, painted