Cars
Wacky: Porsche Cayenne GTS convertible for sale!
Fixed pane frames

Instead of a fixed roof, the
Cayenne
about a
electric soft top.
To improve the torsional stiffness, a strut is installed between the B-pillars, which is what the
Cayenne
gives a touch of PT Cruiser flair when the top is open. Strangely enough, they have
Doors still over pane frames,
which looks rather misshapen, especially with the rear doors.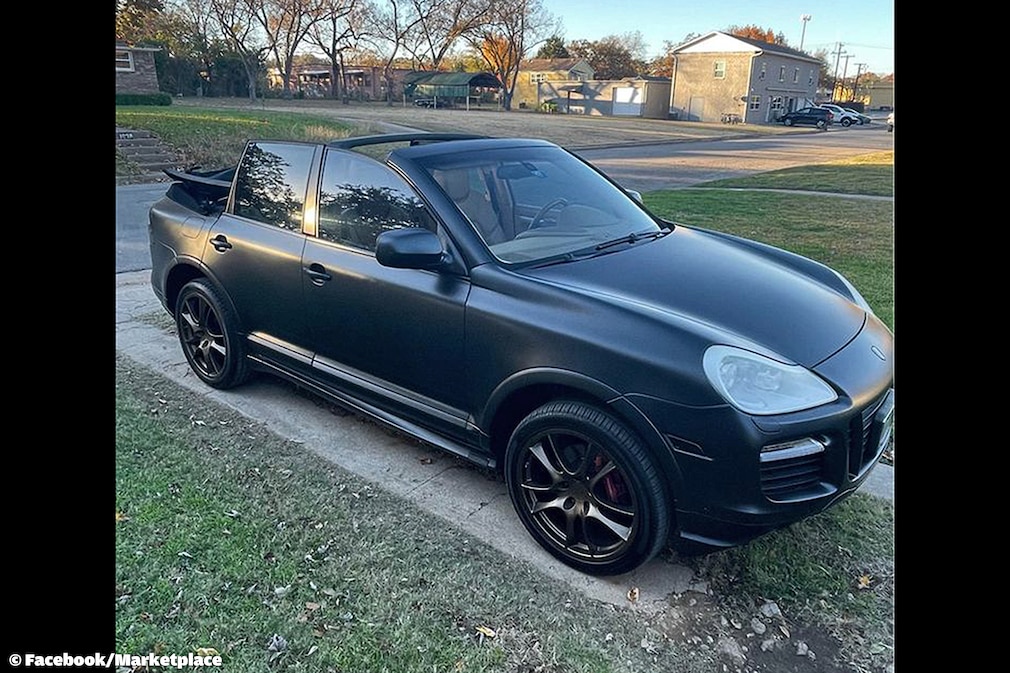 The roof towering in the rear is also not very aesthetic, after all, there is still a tarpaulin for it. When the roof is closed, there is still a trunk. We do not know what it looks like when it is open.

405 hp, naturally aspirated V8

The base of the remodeling is a

2010 Porsche

Cayenne GTS

with 405 hp 4.8 liter naturally aspirated V8

and automatic. The latter is not entirely unimportant to mention, after all, there was

GTS

also with manual transmission. According to the advertisement, it should even be one

Transsyberia version built only 600 times

Act. But that is doubtful, because identifying features such as specific rims, door sills and the raised chassis are missing in the pictures. Of course, the characteristic LED lights on the roof, too, with one of them

Convertible

is not surprising.

Price: around 40,000 euros

The Cayenne was repainted in matt black and provided with dark taillights. According to the advertisement, it should be the equivalent of around two previous owners 99,000 kilometers down and be in good condition. The car will be sold in Texas via the Facebook marketplace. The called price is converted around 40,000 euros.
Another clue that this isn't a true Transsyberia. They are usually well into the six-digit range. But the price shown here is steep, normal GTS 4.8 are around 10,000 euros cheaper on average. However, this Porsche is anything but a normal Cayenne.