Food & Drinks
What are we eating today? Brunch bread with bacon, egg and cheese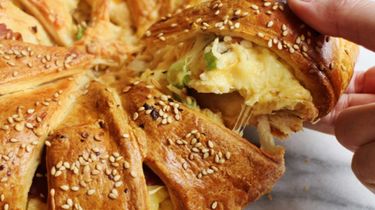 Fill your home with the scent of fried eggs, bacon and fresh bread with this brunch bread. Make it a few hours in advance and bake just before you go to the table, so that the cheese is still nice and warm.
By: Nancy van Batenburg of Culy.nl
Ingredients
For 1 loaf:
1 roll of croissant dough for 6 large croissants
12 slices of bacon
7 eggs
1 tablespoon of crème fraîche
2 thin spring onions
1 large teaspoon of chili flakes
100 grams of grated cheese
1 teaspoon of sesame seeds
This brunch bread is a real showstopper on the table. And it is not difficult at all to make.
Tip: would you rather not eat bacon? Then omit or replace it with smoked salmon or beef smoked meat. And can't you find dough for large croissants? Then use the normal size.
Brunch bread: this is how you make it
Preheat your oven to 180 degrees. Roll out the croissant dough and cut the slices along the "dotted lines". Cut the slices in half so that you have two long strings and place on a baking tray lined with baking paper. Make sure that wide sides overlap slightly.
Do this with the rest of the dough and so that the slices eventually form a kind of wreath.
Beat the six eggs with the crème fraîche, salt and pepper. It is not a problem if the crème fraîche does not mix completely with the egg, this is very tasty. Heat a pan with a knob of butter or oil over low heat and turn the eggs into scrambled eggs by stirring gently with a spatula.
Meanwhile, heat another pan and fry the bacon slices. Drain on kitchen paper and cut the spring onion into rings.
Place the fried bacon slices on the ends of the dough. Divide the scrambled eggs over the dough so that you have a nice ring in the middle and top with the spring onion, half of the chili flakes and cheese. Try to keep the cheese on the dough as much as possible, otherwise it may burn in the oven.
Now carefully fold each dough point to the center so that the cheese-egg mixture is covered. Keep it up until you have a nice wreath. Beat the last egg with a little water and brush the dough with it. Top with the rest of the chili flakes and sesame seeds.
Bake!
Bake the wreath in the oven for 10 minutes. Then lower the temperature to 140 degrees and bake for another 20 minutes, so that the top is golden brown and the dough is also cooked on the bottom.
Serve the brunch bread as soon as possible and enjoy!