Food & Drinks
What are we eating today? Lasagna carbonara to lick your fingers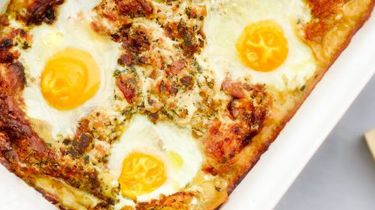 When we spotted the recipe for lasagna carbonara with our friends from the Bon Appétit website, we immediately thought: what a great dish. Comforting, original and incredibly easy. We had no choice but to try it out for ourselves. We can assure you: on certain days this is exactly what you need.
Ingredients
For 4 large portions
1 tablespoon of unsalted butter + extra
300 grams thickly sliced ​​pancetta or bacon, cut into 1 cm strips
2 shallots, in thin rings
500 grams of ricotta
150 grams of Parmesan cheese, grated
3/4 tablespoon of dried thyme
350 grams of fresh whipped cream
Pinch of salt & pepper
12 dried lasagna sheets
4 large eggs
Additional
Aluminium foil
Large oven dish of 30x40cm
Olive oil
The remarkable reader may have noticed that cream is used in this recipe. And indeed, in traditional pasta carbonara cream is not done. But here we break through all the rules and give a whole new meaning to the concept. Lasagna carbonara it is!
This is how you make the Lasagne carbonara
Preheat the oven to 200 degrees. Grease a baking dish with some olive oil. Melt 1 tablespoon of butter in a large saucepan over medium heat and fry the pancetta until golden brown and until most of the fat has melted (about 8 to 10 minutes).
Reduce the heat, add the shallots and cook for another 5 minutes. With a spoon, remove the shallots and pancetta from the pan and set aside in a large bowl. Allow to cool slightly and add the ricotta cheese and grated Parmesan cheese and stir well.
Return the skillet to medium heat. Add the cream and thyme and scrape the browned pieces off the bottom of the pan. Bring to a boil and season with salt and pepper. Remove from the fire.
Now start stacking the lasagna. Cover the bottom of the baking dish with lasagne sheets, then scoop 1/3 of the cheese-pancake mixture onto the dry sheets. Repeat 3 times and finish with a last layer of lasagna.
Pour the cream from the pan over it and spread evenly over the baking dish with a wooden spatula.
Bake in the preheated oven for 40 minutes.
With a round cookie cutter of 5 cm diameter (or a sharp-edged glass), press 4 circles into the top layers of the lasagna (up to about half of the lasagna). Carefully remove the top layers to create 4 dimples. Break the eggs and carefully drop the eggs one by one into the wells. Cover the baking dish with aluminum foil.
Bake for another 5 to 7 minutes longer in the heated oven. Allow to cool for a few minutes before serving.